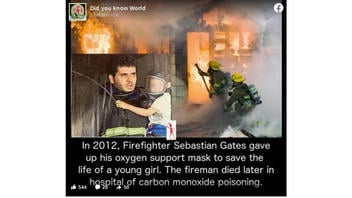 Did "firefighter Sebastian Gates" die of carbon monoxide poisoning after rescuing a young girl from a fire? No, that's not true: This meme has been circulating since 2013 and contains a mixture of several different stories. The story is so muddied that no one hero could be honored by the retelling of this vague and mixed-up tale, and a search turned up no mention of a real firefighter named Sebastian Gates.
The story reappeared as a post (archived here) where it was published by "Did you know World" on November 8, 2020. The text of the meme reads:
In 2012, Firefighter Sebastian Gates gave up his oxygen support mask to save the life of a young girl. The fireman died later in a hospital of carbon monoxide poisoning.
This is what the post looked like on Facebook at the time of writing:
(Source: Facebook screenshot taken on Mon Nov 9 18:33:28 2020 UTC)
The firefighter pictured in the meme, carrying a young boy to safety, is Abdullah Badhan Al Subai from Saudi Arabia. He rescued the child from an apartment building fire in the Saudi city of Jeddah on March 17, 2013. The firefighter did not die. The story was covered in a Gulfnews.com article titled, "Saudi firefighter becomes instant hero. Picture of firefighter carrying a small boy to safety goes viral on the internet"
The viral photo was posted in a tweet by 'Hashtag Saudi Arabia' on March 18, 2020.
صورة ترند: أحد رجال الدفاع المدني لحظة إنقاذ طفلة في حريق #جدة بالأمس. | #إنقاذ_البراءة pic.twitter.com/yJEq5iUdBn

-- هاشتاق السعودية (@HashKSA) March 18, 2013
Another firefighter, in Tehran, Iran, also used his own oxygen mask to help a child as he rescued her from a burning apartment building on May 14, 2013. Sadly this rescue did not have a happy outcome. After managing to get the little girl safely out of the building, Shahid Omid Abbasi collapsed from carbon monoxide poisoning and died later in the hospital. Huffpost.com wrote about it in an article on May 20, 2013, titled, "Omid Abbasi, Iranian Firefighter Who Died After Saving Young Girl, Saves 3 More Lives Through Organ Donation (VIDEO)"

A tribute to Abbasi was posted on social media in pictures (below) and a video, Devoted firefighter - Omid Abbasi.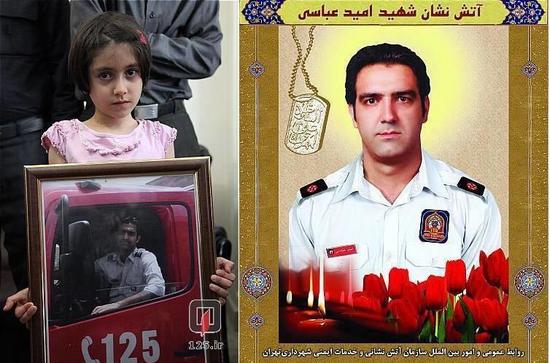 Right Photo: Public Relations and International Affairs of Tehran Municipality Fire and Safety Services Organization
There are several versions of this meme with different photos and lettering. One version of the meme shows a flag draped casket. This photo is from the funeral of New York City firefighter Lieutenant Joseph Graffagnino. The firefighter's family provided information to the National Fallen Firefighters Foundation for his memorial page on the Roll of Honor. Joseph Graffagnino died while battling a fire at the Deutsche Bank Building' on August 18, 2007. Firefighter Robert Beddia also of Engine 5' Ladder 24' New York City died that day in that fire as well.
Another photo appearing in some versions of the meme shows a fully engulfed building and two firemen with a hose. This photo appeared in an article about house fires in ThisOldHouse.com titled, "How a House Fire Spreads" and is credited to Corbis Flirt/Alamy.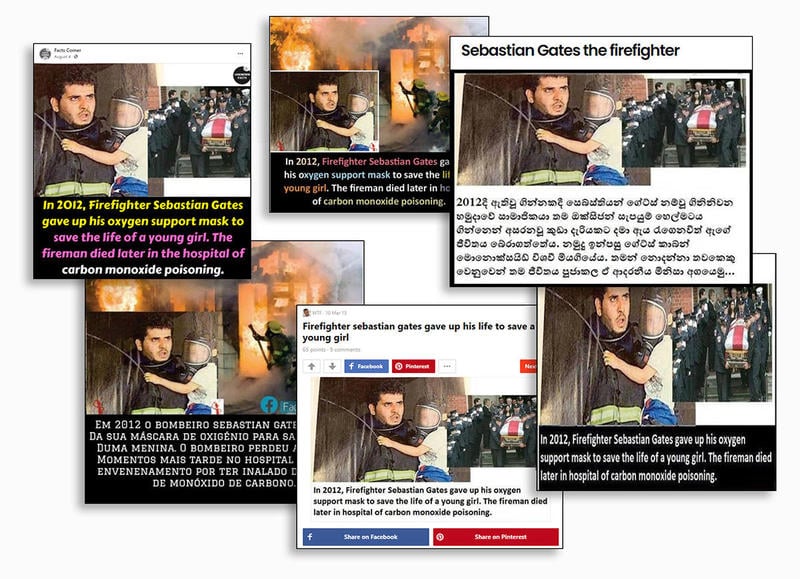 A search for the name "Sebastian Gates" has been complicated by numerous duplicate copies of this meme which has nothing to do with a person by that name. Other than this mixed-up meme, Lead Stories did not discover any mention of a firefighter by the name Sebastian Gates. There is one prominent result, a trust in the name of a young boy who died of a rare form of cancer. He died on Christmas Eve 2003. He was 9 years old. Sebastian's parents started a charity to support other families called Sebastian's Action Trust.