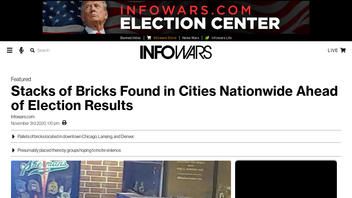 Did groups hoping to incite violence stage stacks of bricks in cities around the country to be used in post-election rioting? No, that's not true: All of the photos of bricks presented in this article were associated with local construction projects in the areas where they were spotted, and were not brought into the cities in advance by trouble makers setting the stage for rioting.
The claim about planted brick piles, which circulated widely in the summer of 2020, resurfaced on Election Day with a new assortment of photos in an article published by InfoWars on November 3, 2020, titled "Stacks of Bricks Found in Cities Nationwide Ahead of Election Results" (archived here) which opened:
Voters are reporting seeing stacks of bricks strategically placed in cities throughout the United States.

As America awaits 2020 election results, numerous Americans have reported seeing pallets of bricks placed in downtown areas near businesses, with many assuming left-wing rioters are preparing for total destruction if the election doesn't go their way.
Users on social media only saw this title, description and thumbnail:
Pallets of bricks located in downtown Chicago, Lansing, and Denver.
The main photo, which was tweeted by JJ Boogies, used in the InfoWars article allegedly shows a scene purported to be in downtown Chicago. It is actually in Downers Grove, a suburb about 20 miles outside the Chicago city center. Visible in the photo are the names of two businesses painted on the doors. A Twitter user named Mikael Thalen did a fantastic job locating the site in the photo and documenting his process. The ice cream business, "Sherman's" is now called, "Every Day's a Sundae." The bricks in the photo were used to build a patio enclosure for the new business on the corner, now bearing the name "Gia Mia."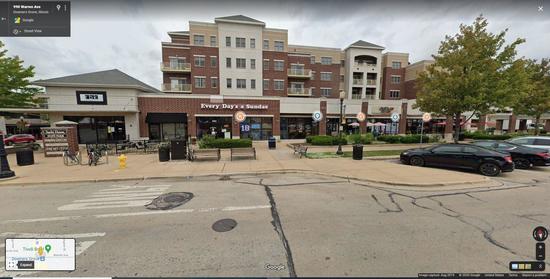 August 2019 Google Map Capture in Downers Grove Illinois
The photo above was captured in August 2019 for Google Street View, and below, Gia Mia sent out a tweet on October 19, 2020 showing the completed brick patio wall.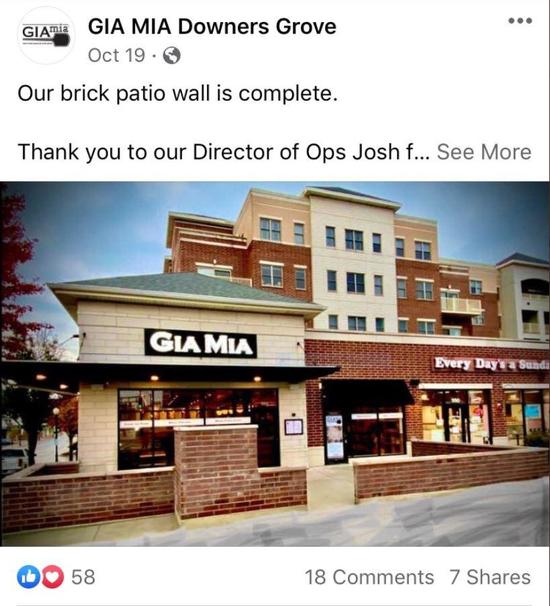 The next collection of suspicious bricks come as a set of three photos in a tweet by ReRead. One of the photos is the Gia Mio patio brics already discussed. One photo from "Robert's 'Common Sense'" is captioned:
Just delivered... Wallingford, CT. No construction going on. Is this nationwide?

Just because the tweet says there is no construction going on, openly visible is the pallet of bricks is sitting on bare disturbed ground and there is an orange traffic cone nearby. Below is a photo of how the Wallingford street appeared to Google in May of 2019. The gray building in the foreground had been standing empty for some time and was demolished last year. On September 26, 2019, myRecordJournal.com wrote an article titled, "Downtown Wallingford building to be demolished" with photos of the demolition and described that the lot where the building stood would be made into a parking lot.

The next pile of bricks from ReRead's tweet was a photo taken from a reddit post. This time apparently popping up downtown Denver. These "suspicious" piles of bricks are accompanied by traffic cones and yellow caution tape.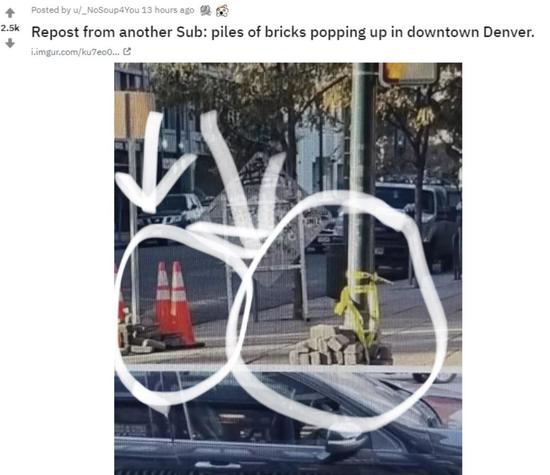 News Reporter Kyle Clark of nexton9news tweeted:
The original claim about the secret Antifa bricks came from a former major league baseball player who claimed he heard it from a friend. The claim was retweeted 4,000x.
NEW: The City of Denver says the pile of bricks identified by various right-wing figures as a cache of Antifa weapons was left over from a private construction project and has been removed, per @jeremyjojola. #9NEWS #copolitics

-- Kyle Clark (@KyleClark) November 3, 2020
Another image shared by InfoWars originated from the Twitter account of Lucas @Squidlfishous, it shows bricks and traffic cones next to a sidewalk planting with disturbed soil outside the Romney Building in Lansing, Michigan. Clearly another site where normal construction was taking place. Lucas has removed his original tweet.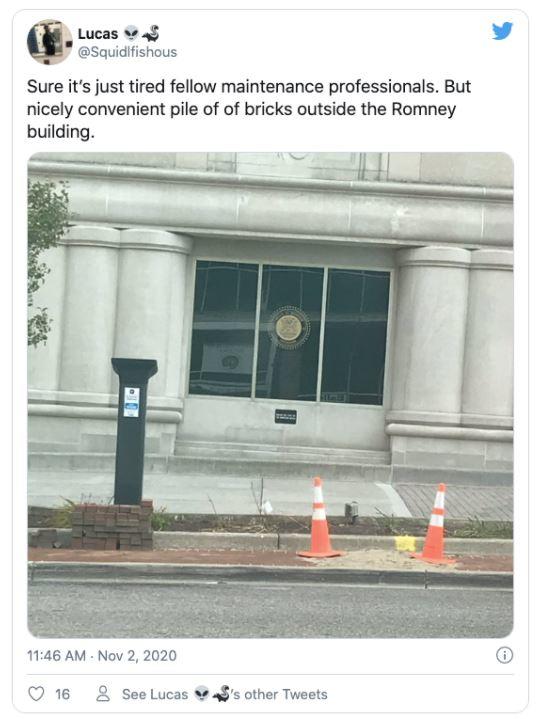 Another tweet included in the InfoWars article was from an account called Santa Monica Problems. They shared a video of a small pile of very unique bricks that were curved and came in two colors that matched the unique wave pattern sidewalk. Once again it is plain to see that these bricks and this sidewalk paving project go together. The bricks were not dropped off by those wishing to incite violence.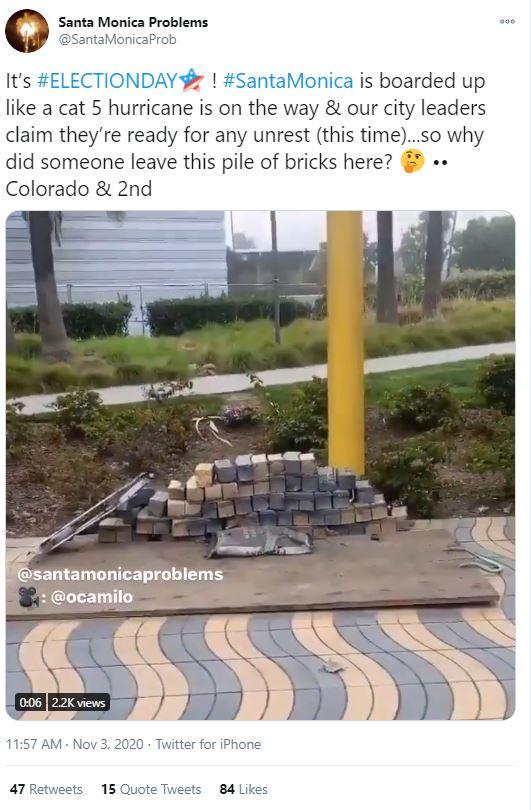 The article wraps up with a video with a very alarming title, "Domestic Terrorists Leave Bricks And Explosive Devices Ahead Of Riots" This video was originally posted on Jun 2, 2020, and does not discuss the subject of the title. Aside from a passing mention of brick-throwing rioters, there is no discussion of the theory that piles of bricks were planted at strategic places in urban areas.
Stories about piles of bricks circulated in the summer of 2020.
Lead Stories wrote, "Fact Check: Boston Police NOT Caught Planting Bricks Amid Protest" on June 2, 2020, and followed the next day with, "Fact Check: NO Evidence Brick Pallets For Riots From 'ACME Brick Co Own By Berkshire Hathaway, Warren Buffett & Bill Gates'"
On June 2, 2020, Buzzfeed wrote "People Say Pallets Of Bricks Are Showing Up Near Protests All Over The US. The Truth Is More Complicated."
NewsGuard, a company that uses trained journalist to rank the reliability of websites, describes infowars.com as:
A far-right website run by radio host Alex Jones that has reported that 9/11 was orchestrated by the U.S. government and the massacre at Sandy Hook Elementary School was a hoax, among other falsehoods.
According to NewsGuard the site does not maintain basic standards of accuracy and accountability. Read their full assessment here.