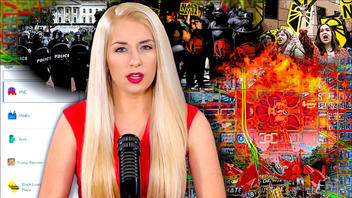 Are the Sunrise Movement, Black Lives Matter, other left-leaning organizations and the Democratic Party caught on tape coordinating a coup if President Trump wins re-election, including the takeover of government buildings like the White House along with transportation hubs and key U.S. cities? No, this is not true. Sunrise, an anti-Trump climate-change movement, told Lead Stories its Zoom meetings were hacked and video was deceptively re-ordered to make it seem the movement was planning a hostile takeover should Trump win. The truth, according to a Sunrise spokesperson, is just the opposite -- what to do in nonviolent protest if Joe Biden wins and there is "an attempt to ignore a democratic election."
The claim is found in a video (archived here) published to YouTube on November 2, 2020, titled "Election Night Coup D'état Plot Exposed!" The 34-minute video is hosted by "Millennial Millie," who states early in the post:
Regardless of who wins, the left plans to take over. Our undercover inside the Sunrise Movement was able to obtain exclusive video footage inside Zoom chats where Shutdown DC, BLM and other leftist organizations are coordinating a multi-level coup-action exercise utilizing insider help from Democrat Party members as well as federal employees and intelligence contractors."
Click below to watch the video on YouTube:
The claims made in the video are false, using stolen footage of the movement's virtual meetings and piecing together seemingly damning quotes -- "How do we take action to actually disrupt business as usual" -- that suggest a violent takeover will begin election night.
Lead Stories has reached out to the FBI, and the agency refused to comment on the claims. "We do not have a comment for you," according to a spokeswoman.
Regarding the host, she has been a correspondent for right-wing conspiracy talk show host Alex Jones. She was arrested in Ohio for robbery and tampering with evidence, according to this report from August 2020; the charges were later dropped. Her real name, according to the report, is Millicent "Millie" Weaver.
The story originated from Millennial Millie's News site, which included this text:
Shut Down DC, Black Lives Matter, the Sunrise Movement, federal workers and government contractors are participating in a planned coup against President Trump regardless of the outcome of the 2020 election. From prominent Democrats to street action organizers they are coordinating a massive uprising ranging from peaceful protesters to rioters and agitators.

Who's all involved and to what extent is their plan? We don't know. But what we do know is that our insider within the Sunrise Movement and other radical organizations was able to give us recordings of Zoom chat meetings involving 'Shut Down DC'.

They reveal a massive and ambitious plan of taking over the Whitehouse, Washington DC in general, and shutting down congress.

In one meeting they discuss training for high risk actions. In another meeting they schedule their uprising from election night through inauguration. Then, in another meeting, they organize with Federal employees many of whom work in security and intelligence.

The caliber of leadership, organization, tactical operations capabilities, and military intelligence experts all working together with street activists reveal this operation has the ingredients to over-through an elected government and install a political puppet."
She also tweeted it here:
Election Night Coup D'état Plot Exposed!https://t.co/X08CBdCCbI#sunriseexposed

-- Millie Weaver 🇺🇸 (@Millie__Weaver) November 3, 2020
Some of the people shown and mentioned in the story are, in fact real government officials, including a member of the Department of Labor and one from the Department of Energy.
Alex Jones's InfoWars site also picked up on the story and video, writing on November 2, 2020:
Documents and videos exposing a left-wing "coup" being planned by liberal federal workers and activists were leaked online Sunday.

A political organization called the Sunshine Movement, which claims to be an environmental activist group working to "stop climate change," is behind the coordinated effort...'It's a coup. Don't let anyone tell you it's not,' one woman blatantly admits during a call."
In an email to Lead Stories, a Sunrise spokesperson wrote:
A disinformation video about our work is apparently being promoted through the network owned by Alex Jones.

Our work is open and collaborative -- someone pretended to be interested in the Sunrise Movement and recorded some of our zoom calls. We are open about our work.

These videos are pure disinformation and are full of false statements that primarily rely on quotes from other organizations. The only purpose of disinformation and deceptive editing is to make false allegations about Sunrise and our work.

Thousands of volunteers, organizing under the Sunrise movement banner, are prepared to participate in nonviolent protest if there is an attempt to ignore a democratic election. This is so frightening to right-wing extremists that they are lying about our work and threatening young activists.
On its About Sunrise Movement page, it explains the effort this way:
Sunrise is a youth movement to stop climate change and create millions of good jobs in the process. We're building an army of young people to make climate change an urgent priority across America, end the corrupting influence of fossil fuel executives on our politics, and elect leaders who stand up for the health and wellbeing of all people."