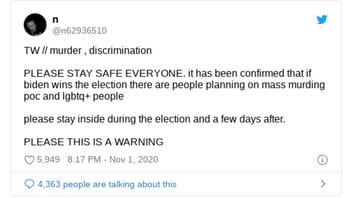 If Joe Biden wins the election are there people planning on mass murdering POC and LGBTQ+ people? No, that's not true. A claim has gone viral that if the Democratic nominee beats Donald Trump in the 2020 presidential election, there are people plotting to kill people of color and lesbian, gay, bisexual, transgender people, and warns that people should stay inside during and after the election. There is no proof that there have been any credible threats toward the people mentioned in the tweet.
The claim appeared as a post (archived here) where it was published on Twitter on November 1, 2020. It opened:
TW // murder ,discrimination PLEASE STAY SAFE EVERYONE.
This is what the post looked like on Twitter at the time of writing:
(Source: Twitter screenshot taken on Wed Nov 4 06:15:21 2020 UTC)
The claim went viral on social media without any evidence or proof that there were credible threats.
Commenters on Twitter asked for proof of the threats about mass murder and the account posted another tweet.
for everyone asking for evidence these are the most i could find. i'm not going to leave you in the dark about this and i'm not goint to spread fake information. please do not tell people to report my account because i am not fake, and i am trying to spread awareness. thank you pic.twitter.com/Uq86avedOG

-- n (@n62936510) November 2, 2020
The photograph in the tweet is a screengrab of an October 20, 2020, Facebook post by Craig "Sawman" Sawyer that linked to an article on the conservative website Federalist.com titled, "Trump Resistance Plans 'Mass Mobilization' After Election To Shut Down The Country If Biden Doesn't Win." The article discussed claims that the group Shut Down DC would be protesting if Donald Trump won the election.
Neither the post by Sawyer nor the article said anything about murdering POC or LGBTQ+ people if Biden won the election.