STORY UPDATED: check for updates below.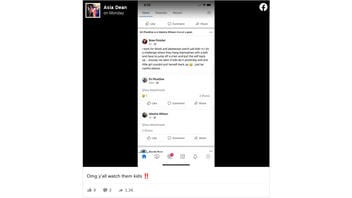 Is there a "suicide challenge" on TikTok in which children post video in which they hang themselves with a belt and jump off a chair, then pull themselves up? No, that's not true. Lead Stories searched TikTok and found no such video trending. A source with knowledge of content and trends on the platform confirmed there is no "suicide challenge" going viral on the app, and that the video mentioned in the claim was an internal company training video and not content that was currently available on the TikTok app. The source asked to speak on background, but Lead Stories confirmed they have such knowledge.
The claim appeared as a post (archived here) where it was published on Facebook on November 2, 2020. It opened:
Omg y'all watch them kids
This is what the post looked like on Facebook at the time of writing:
(Source: Facebook screenshot taken on Wed Nov 4 22:47:48 2020 UTC)
The "suicide challenge" rumor spread on social media after a person claiming to be an employee of TikTok posted a claim that she had seen multiple videos of it on TikTok and that one little girl couldn't pull herself back up. Lead Stories confirmed with its source that the videos are not current content on TikTok and were only used for training purposes for content monitors.
The Facebook post claimed to show a message from an employee at TikTok:
i work for tiktok and please watch yall kids rn! its a challenge where they hang themselves with a belt and have to jump off a chair and pull the self back up .. anyway ive seen 3 kids do it yesterday and one little girl couldnt pull herself back up . just be careful please."
There were several posts on Facebook using a screengrab of the claim.
Lead Stories is a fact-checking partner for TikTok, but the platform does not dictate Lead Stories coverage decisions nor pre-approve Lead Stories reports.
2020-11-05T18:27:56Z

2020-11-05T18:27:56Z

Updated to correct source identification.