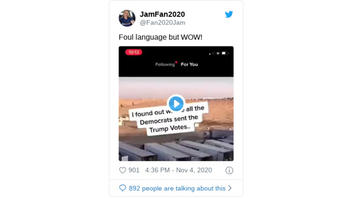 Did Democrats dump tractor-trailer loads of stolen Trump votes in the desert? No, that's not true: The scene in the video post dates back to 2016 and shows workers in Saudi Arabia throwing away thousands of pounds of expired packaged chicken not fit for human consumption. It has nothing to do with the 2020 U.S. election, nor did it take place in the United States.
The TikTok video by @redemptiontactical (an account that is no longer accessible) was re-uploaded to Twitter. The video (archived here) was posted on November 4, 2020, with the tweet caption, "Foul language but WOW!" The audio dubbed over the video, which does contain some cursing, comes from another TikTok video (here). The captioning and hashtagging that was added to the TikTok Video read:
I found out where all the Democrats sent the Trump Votes..

@redemptiontactical
I found all the missing #trump votes the democrats stole.. #landfill #election2020 #trumpismypresident #fyp #voting2020 #trash #secret
This is what the post looked like on Twitter at the time of writing:
(Source: Twitter screenshot taken on Thu Nov 5 15:17:42 2020 UTC)

A November 17, 2016, article from Alarabiya.net titled, "Video shows Saudi Arabia getting rid of 80,000 packs of 'spoiled chicken'" describes the scene:
Another video is currently making the runs on Saudi Arabia's social media, this time of officials getting rid of thousands of packaged chickens.