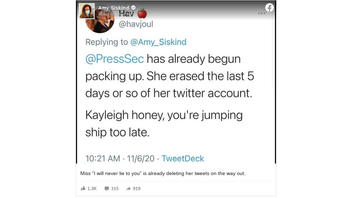 Did White House Press Secretary Kayleigh McEnany start deleting tweets from the days leading up to and following the November 3, 2020, presidential election? No, that's not true: A review of the @PressSec Twitter account shows no evidence of tweets being deleted in recent days.
The claim can be traced to a Facebook post (archived here) published November 6, 2020, which began, "Miss "I will never lie to you" is already deleting her tweets on the way out." The comment referred to a tweet the poster shared, which opened:
@PressSec has already begun packing up. She erased the last 5 days or so of her twitter account.
This is what the post looked like on Facebook at the time of writing:
(Source: Facebook screenshot taken on Fri Nov 6 18:01:29 2020 UTC)
The account to which both the tweet and the Facebook post refer is not McEnany's personal account. It is an official U.S. government Twitter account for the White House press secretary. Lead Stories reviewed the last five days of the @PressSec Twitter account using a database that archives the social media accounts of public officials, including revealing whether they have deleted posts, tweets or other information. Propublica's Politiwoops shows that no tweets have been deleted from @PressSec during the five-day period referred to.
The Facebook post and the tweet mentioned above were among many in social media that accused McEnany of erasing her Twitter history.
She has denounced the accusations, including in this tweet:
This is fake news. I have not deleted any tweets, but you should delete this patently false tweet. https://t.co/zQfDzuBnS1

-- Kayleigh McEnany (@PressSec) November 6, 2020