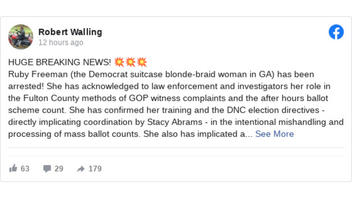 Has Fulton County, Georgia, election worker Ruby Freeman been arrested for voter fraud? No, that's not true: A top official at the Georgia secretary of state's office, which is constitutionally in charge of investigating voter fraud allegations, told Lead Stories the claim is "completely false." The social media posts actually misidentify Freeman as the "blonde-braid woman" seen in security video used by Trump lawyers to allege voter fraud. Ruby Freeman is an older woman with purplish hair. The woman with the blonde braids is her daughter.
The claim appeared in a post (archived here) shared on Facebook by Robert Walling on December 18, 2020. It read:
HUGE BREAKING NEWS! 💥💥💥
Ruby Freeman (the Democrat suitcase blonde-braid woman in GA) has been arrested! She has acknowledged to law enforcement and investigators her role in the Fulton County methods of GOP witness complaints and the after hours ballot scheme count. She has confirmed her training and the DNC election directives - directly implicating coordination by Stacy Abrams - in the intentional mishandling and processing of mass ballot counts. She also has implicated and named Dominion Officials in Fulton County in charge of the ballot machines engaged and confirmed methods on jump drives to tabulator changes at the adjudication.
It only takes one arrested participant to give full confirmation of the evidence already collected. Ruby is requesting complete amnesty for exchange of her testimony.
Source: GA FBI Statement of custody and verification of her cooperation, at 4 am 12/17/20. News link is forthcoming.
This is what the post looked like on Facebook at the time of writing:
(Source: Facebook screenshot taken on Sat Dec 19 02:34:30 2020 UTC)
Waller, whose public profile said he is head of security at Olympia Campground & Fuel in Washington state, offered no sourcing for his claim that Freeman was arrested in Georgia. He said a "news link is forthcoming" to support his claim, but none had been posted a day later. A Google news search also revealed no announcement of Freeman's arrest. Lead Stories reached out to Waller at the campground but we were told he was not on duty. We will update this if we hear back.
A top official at the Georgia secretary of state's office, which would by law be in charge of voter fraud investigations, reviewed the claim for Lead Stories and replied that it is "completely false."
Lead Stories reached out to the office of the U.S. attorney for the Northern District of Georgia and we will update this story when we get a response.
Ruby Freeman has been targeted by many social media posts since Trump lawyers presented security video recorded on November 3, 2020, of Fulton County's mail-in ballot counting center. Freeman has also posted on her personal Instagram page, which resulted in her name being matched to a woman in the video. Lead Stories has repeatedly tried to reach Freeman, but we were told that she is not taking calls because of threats against her on social media.
Lead Stories has previously debunked several false claims about what happened in the vote counting center at Atlanta's State Farm Arena, including claims that GOP observers swore they were told to leave before counting was ended (read that here) and that election workers pulled out suitcases stuffed with illegal ballots after the observers left (read that here.)