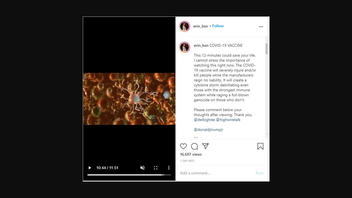 Will taking a COVID-19 vaccine kill you or lead to "debilitating" illness? No, that's not true: There is an abundance of evidence to the contrary. For one, between the two farthest along and most robust vaccine trials out of Moderna and Pfizer/BioNTech, there have already been tens of thousands of people administered the vaccine and not one person has died as a result of the vaccine, according to available evidence.
The claim appeared in a 12-minute Instagram video (archived here) where it was published on December 2, 2020. The caption opened:
COVID-19 VACCINE





This 12-minutes could save your life. I cannot stress the importance of watching this right now. The COVID-19 vaccine will severely injure and/or kill people while the manufacturers reign no liability. It will create a cytokine storm debilitating even those with the strongest immune system while raging a full-blown genocide on those who don't.
This is what the Instagram looked like at the time of posting: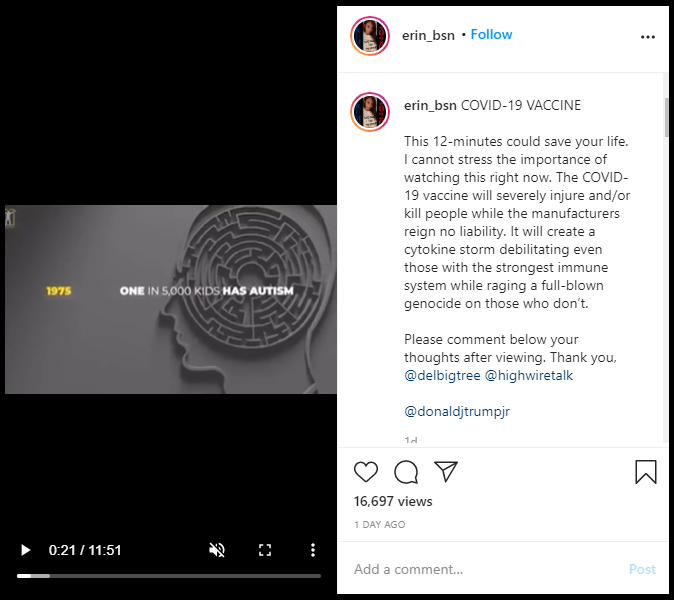 (Source: Instagram screenshot Fri Dec. 4, 21:35 UTC 2020)
If it is still on Instagram at the time you read this, the Instagram post is embedded here:
In the United States, COVID-19 vaccines will go through three phases of trials --in addition to other steps-- before they are deemed safe enough for the general population. Even within the trials, the vaccine candidate must qualify as safe enough to move onto phase three in which it is tested on tens of thousands of participants. According to the New York Times vaccine tracker, there are currently 13 vaccines in phase three, two of which are Pfizer/BioNTech's and Moderna's vaccines, which use mRNA (messenger RNA), to rewrite the protein-making instructions to specific cells so that they create antibodies needed to fight COVID-19.
Moderna and Pfizer/BioNTech's phase three trials included approximately 30,000 people and 44,000 people, respectively. In both phase three trials, half the participants received both doses of the vaccine and half received a placebo, meaning that roughly 37,000 people have received the vaccine in phase three of Moderna and Pfizer's trials alone, and no one has died as a result.
On December 2, 2020, the Pfizer/BioNTech vaccine obtained emergency approval in Britain.
Vaccine makers have reported adverse reactions to the mRNA vaccines reported, but none that point to a high likelihood of death. CNN reported that a Moderna vaccine trial participant had unpleasant but temporary symptoms following his second dose of the vaccine, and that doctors were reportedly not alarmed by his symptoms. The November 16 Moderna press release that announced positive preliminary data said the National Institutes of Health monitoring board found no significant safety concerns:
A review of solicited adverse events indicated that the vaccine was generally well tolerated. The majority of adverse events were mild or moderate in severity. Grade 3 (severe) events greater than or equal to 2% in frequency after the first dose included injection site pain (2.7%), and after the second dose included fatigue (9.7%), myalgia (8.9%), arthralgia (5.2%), headache (4.5%), pain (4.1%) and erythema/redness at the injection site (2.0%). These solicited adverse events were generally short-lived. These data are subject to change based on ongoing analysis of further Phase 3 COVE study data and final analysis.
Pfizer/BioNTech included a similar paragraph in a press release:
To date, the Data Monitoring Committee for the study has not reported any serious safety concerns related to the vaccine. A review of unblinded reactogenicity data from the final analysis which consisted of a randomized subset of at least 8,000 participants 18 years and older in the phase 2/3 study demonstrates that the vaccine was well tolerated, with most solicited adverse events resolving shortly after vaccination. The only Grade 3 (severe) solicited adverse events greater than or equal to 2% in frequency after the first or second dose was fatigue at 3.8% and headache at 2.0% following dose 2. Consistent with earlier shared results, older adults tended to report fewer and milder solicited adverse events following vaccination.
AstraZeneca, another far-along vaccine hopeful, has hit some bumps in their trials. In early September, a participant developed a worrisome form of inflammation, causing the trials to be temporarily paused. The trials resumed in most places a few days later, but in late October, a participant died of COVID-19 complications. It was speculated that this participant received the placebo, so trials continued. AstraZeneca did not comment on the death.
The Instagram video then goes on to make false claims about vaccines and their alleged connection to the rise in the number of diagnosed autism cases. Lead Stories in November, 2020 debunked the link between vaccination and autism.
It's possible that this Instagram video is taken down shortly. Facebook announced on December 3, 2020 that the company will begin to outright remove content that contains false claims about the COVID-19 vaccine. Since Instagram is owned by Facebook, this video may be deleted soon.
If you see any suspicious claims about the COVID-19 vaccines on your social media, send them to [email protected].