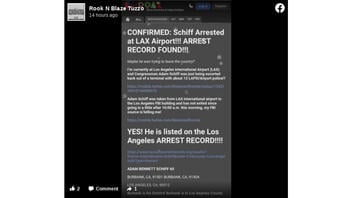 Are a couple of tweets and a link to a website named lacountyarrestrecords.com solid evidence Adam Schiff was arrested by the FBI at LAX Airport on December 24, 2020? No, that's not true: tweets are not solid evidence and there is no reason FBI arrests would show up on a website claiming to show county arrest records. The website itself goes out of its way to notify users it is not an "official" source. Among the people also listed on the website Lead Stories found Ronald Reagan, Eric Trump, Arnold Schwarzenegger, Vince Vaughn, Nancy Pelosi, Rudy Giuliani and even Santa Claus.
An example of the claim can be seen in this Facebook post (archived here) where it was published on December 25, 2020 in an image that references two tweets by an account named @MelaniasRhonda and a link at lacountyarrestrecords.org (archived here)
This is what the post looked like on Facebook at the time of writing:
(Source: Facebook screenshot taken on Sat Dec 26 11:04:33 2020 UTC)
These are the two tweets in question:
"I'm currently at Los Angeles international Airport (LAX) and Congressman Adam Schiff was just being escorted back out of a terminal with about 15 LAPD/Airport police!?"
(Source: Twitter screenshot taken on Sat Dec 26 11:08:48 2020 UTC)
"Adam Schiff was taken from LAX international airport to the Los Angeles FBI building and has not exited since going in a little after 10:00 a.m. this morning, my FBI source is telling me!"
(Source: Twitter screenshot taken on Sat Dec 26 11:08:28 2020 UTC)
However if a tweet is enough to be considered evidence then this tweet by Schiff would seem to contradict his arrest, since it shows him at home after the purported arrest date:
(Source: Twitter screenshot taken on Sat Dec 26 11:20:32 2020 UTC)
And if a tweet is not good enough evidence, then neither are the tweets by @MelaniasRhonda.
But what about the website? A site named "lacountyarrestrecords.org" that boldly proclaims in the header it has "LA County Arrest Records" and claims you can "Find arrest records in LA" must mean something, right? However, the fine print at the bottom is pretty clear that none of the info should be considered official:
Important Note: This website is not affiliated with the U.S. Government or any State or Federal government agency and is not an official source of information. This is a private site. For any questions you may have please consult a lawyer.

Information found on this site must be used for lawfully acceptable purposes only. It is against the law to stalk or harass anyone using the information found on this site. Visitors cannot search for public officials, minors, or celebrities. Anyone who uses this site to access information through purposeful misrepresentation of themselves, or uses the information accessed in illegal pursuits may face criminal and civil charges. Information that can be found on this site is compiled from records that may be incomplete or have errors. The owners of this site do not own the records found on this site or any public records database. All records presented on this site are gathered from third party databases that are not controlled by the owners of this site. Every search is subject to applicable laws, to this site's terms of use and to the terms of use of the third party vendors that provide access to such information. The website owners receive compensation if you complete a registration through our website. When you complete such registration you will receive access to a third party membership area - of which the owners of this website have no control of. Please further read this website's entire terms of use.
(Highlights by Lead Stories)
The website appears to turn up some information on anybody in LA County and even on people that don't live there. We found records for former President Ronald Reagan, former CA Governor Arnold Schwarzenegger, actor Vince Vaugh, an Eric Trump (though probably not that one), Nancy Pelosi, Rudy Giuliani (yes, that one), current CA Governor Gavin Newsom and even Santa Claus himself.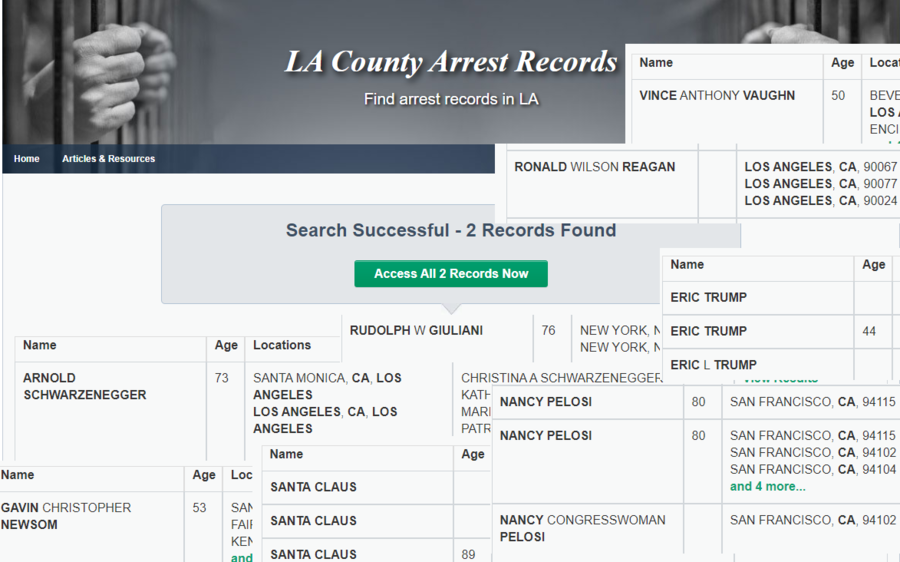 (Screenshot & collage by Lead Stories)
It appears the website is just pulling up data from several public sources like court records, property records, tax records, company information etc. in order to sell access to a subscription service. Simply appearing in the public records search results is not evidence that the person in question was ever arrested in LA County.