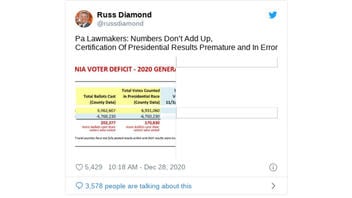 Is the certification of the Pennsylvania presidential vote premature and in error, based on an analysis that claims 202,377 more ballots were counted than there were voters who voted? No, that's not true: The analysis, released by a handful of state Republican lawmakers, was based on partial data, according to the Pennsylvania Department of State (DOS). The number of voters used by the lawmakers did not include completed totals from several major counties. The agency defended its certification, stating: "State and federal judges have sifted through hundreds of pages of unsubstantiated and false allegations and found no evidence of fraud or illegal voting."
The claim appeared in a Twitter post (archived here) published by State Rep. Russ Diamond on December 28, 2020. The post included two screenshots -- one of a chart that showed a purported "voter deficit" in Pennsylvania and one of a statement released by Republican lawmakers, alleging "troubling discrepancies" in the 2020 election. Diamond's post read:
Pa Lawmakers: Numbers Don't Add Up, Certification Of Presidential Results Premature and In Error
This is what the post looked like on Twitter at the time of writing:
(Source: Twitter screenshot taken on Tue Dec 29 17:27:29 2020 UTC)
The full text of the lawmakers' statement can be found on Diamond's website. It was supported by State Rep. Frank Ryan and by a dozen or so other Republican lawmakers in Pennsylvania. Collectively, they alleged "troubling discrepancies between the numbers of total votes counted and total number of voters who voted." The lawmakers' analysis reportedly relied on data from the SURE system, which is the statewide database used by county officials to maintain data related to elections and voters. Their statement read:
A comparison of official county election results to the total number of voters who voted on November 3, 2020 as recorded by the Department of State shows that 6,962,607 total ballots were reported as being cast, while DoS/SURE system records indicate that only 6,760,230 total voters actually voted. Among the 6,962,607 total ballots cast, 6,931,060 total votes were counted in the presidential race, including all three candidates on the ballot and write-in candidates.

The difference of 202,377 more votes cast than voters voting, together with the 31,547 over- and under-votes in the presidential race, adds up to an alarming discrepancy of 170,830 votes, which is more than twice the reported statewide difference between the two major candidates for President of the United States.
Joe Biden defeated Donald Trump in Pennsylvania by more than 80,000 votes, according to official state data.
Lead Stories reached out to the Pennsylvania DOS to comment on the lawmakers' claims. The agency responded with a lengthy statement that rejected their analysis, saying it displayed a lack of election-related knowledge and was based on incomplete information. The statement opened:
In [Monday's] release, Rep. Ryan and others rehash, with the same lack of evidence and the same absence of supporting documentation, repeatedly debunked conspiracy theories regarding the November 3 election. State and federal judges have sifted through hundreds of pages of unsubstantiated and false allegations and found no evidence of fraud or illegal voting.

Now, the legislators have given us another perfect example of the dangers of uninformed, lay analysis combined with a basic lack of election administration knowledge.
It continued:
We are unclear as to what data the legislators used for this most recent 'analysis.' But the only way to determine the number of voters who voted in November from the SURE system is through the vote histories. At this time, there are still a few counties that have not completed uploading their vote histories to the SURE system. These counties, which include Philadelphia, Allegheny, Butler and Cambria, would account for a significant number of voters. The numbers certified by the counties, not the uploading of voter histories into the SURE system, determines the ultimate certification of an election by the secretary.
The statement concluded:
To put it simply, this so-called analysis was based on incomplete data.
Pennsylvania Lieutenant Governor John Fetterman, a Democrat, similarly dismissed the lawmakers' claims, describing the group as a "fringe minority" and their analysis as a "truly bizarre, hot mess." He wrote on Twitter:
Let's be absolutely clear: This is 100% false. This is a fringe minority of PAGOP (15% of REPUBLICAN representatives) pitching a truly bizarre, hot mess.

Their own caucus rejects it, as of this writing not one single PA senator subscribes to this hot mess.

thank u next pic.twitter.com/Z8eOufcHIH

-- John Fetterman (@JohnFetterman) December 29, 2020
Lead Stories reached out to the offices of Reps. Ryan and Diamond to comment on what the Pennsylvania DOS said. We will update this story, as needed, if we receive a response.
The Pennsylvania DOS certified the presidential election results on November 24, 2020.