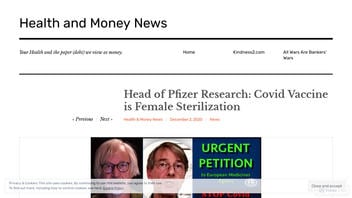 Did the head of Pfizer research say the COVID vaccine is female sterilization? No, that's not true: This clickbait headline doubles up on false claims. The person the claim refers to is Michael Yeadon, who nearly a decade ago held a high position in one of Pfizer's several research departments as vice president and chief scientist for Allergy & Respiratory. He left Pfizer in 2011. Pfizer's head of research at the time of this writing is Dr. Mikael Dolsten, chief scientific officer and president, Worldwide Research, Development and Medical of Pfizer Inc.
The claim also misrepresents statements made by Yeadon in a petition to the European Medicines Agency. He never said the "Covid Vaccine is Female Sterilization."
The claim originated from an article published by Health & Money News on December 2, 2020, titled "Head of Pfizer Research: Covid Vaccine is Female Sterilization" (archived here), which opened:
The vaccine contains a

spike protein (see image) called syncytin-1

, vital for the formation of human placenta in women. If the vaccine works so that we form an immune response AGAINST the spike protein, we are also

training the female body to attack syncytin-1,

which could lead to infertility in women of an unspecified duration.


Users on social media only saw this title, description and thumbnail:
The vaccine contains a spike protein (see image) called syncytin-1, vital for the formation of human placenta in women. If the vaccine works so that we form an immune response AGAINST t...
The Health & Money News article continued:
Dr. Wodarg and Dr. Yeadon request a stop of all corona vaccination studies and call for co-signing the petition 2020NEWS

On December 1, 2020, the ex-Pfizer head of respiratory research Dr. Michael Yeadon and the lung specialist and former head of the public health department Dr. Wolfgang Wodarg filed an application with the EMA, the European Medicine Agency responsible for EU-wide drug approval, for the immediate suspension of all SARS CoV 2 vaccine studies, in particular the BioNtech/Pfizer study on BNT162b (EudraCT number 2020-002641-42).


Health & Money News' alarming headline is spreading on social media as a screenshot of a portion of the article without the link to the article on WordPress.
Health & Money News is a blog publishing mostly anti-vaccine articles. The website provides no information about who runs or funds it and there are no bylines on the articles with the name of an author who can be held accountable for the contents. Although the article on WordPress does identify Michael Yeadon as the ex-Pfizer head of respiratory research, the screenshot that is circulating does not have that information, leaving only the headline to make two misleading claims. The current team of Pfizer's top administration vaccine researchers are listed here. A summary of Yeadon's professional profile is here. He is not an M.D., but a Ph.D. who studied respiratory disease.
An example of the screenshot that was posted on Instagram on December 6, 2020, is pictured below.
Source: Screenshot of a post on Instagram taken December 7, 2020
The 43-page petition that Yeadon and Dr. Wolfgang Wodarg presented to the European Medicines Agency on December 1, 2020, marked "!! URGENT !!" requests an administrative/ regulatory stay of action of Phase III of the clinical trials in the European Union. The section that mentions the question of female fertility is not a declaration that the vaccine is female sterilization. Rather, Yeadon and Wodarg pose a question: if the immune response toward the spike proteins of the SARS-CoV-2 virus developed from the vaccine might also cause a woman's body to attack the protein syncytin-1, which is an important part of the forming placenta.
They propose that because pregnant and breastfeeding women are being excluded from the trials, women of childbearing age in the trials are required to commit to a contraceptive routine, it would be a long time before cases of infertility after the vaccine might be known, and due to this unknown, more time is needed:
XI. Several vaccine candidates are expected to induce the formation of humoral antibodies against spike proteins of SARS-CoV-2. Syncytin-1 (see Gallaher, B., "Response to nCoV2019 Against Backdrop of Endogenous Retroviruses" - http://virological.org/t/response-to-ncov2019- against-backdrop-of-endogenous-retroviruses/396), which is derived from human endogenous retroviruses (HERV) and is responsible for the development of a placenta in mammals and humans and is therefore an essential prerequisite for a successful pregnancy, is also found in homologous form in the spike proteins of SARS viruses. There is no indication whether antibodies against spike proteins of SARS viruses would also act like anti-Syncytin-1 antibodies. However, if this were to be the case this would then also prevent the formation of a placenta which would result in vaccinated women essentially becoming infertile. To my knowledge, Pfizer/BioNTech has yet to release any samples of written materials provided to patients, so it is unclear what, if any, information regarding (potential) fertility-specific risks caused by antibodies is included. According to section 10.4.2 of the Pfizer/BioNTech trial protocol, a woman of childbearing potential (WOCBP) is eligible to participate if she is not pregnant or breastfeeding, and is using an acceptable contraceptive method as described in the trial protocol during the intervention period (for a minimum of 28 days after the last dose of study intervention). This means that it could take a relatively long time before a noticeable number of cases of postvaccination infertility could be observed.
Three infectious disease experts at the University of Washington in Seattle, site of the first major U.S. outbreak, reviewed Yeadon's warning and found the risk he describes as unlikely. In a December 7, 2020, email reviewed by two other members of the UW faculty, microbiology Prof. Deborah Fuller, whose lab is working on a COVID vaccine, said the spike similarity to syncytin-1 is insufficient to trigger the reaction Yeadon predicts:
If you do a BLAST comparison (https://blast.ncbi.nlm.nih.gov/Blast.cgi) comparing the sequence of SARS-CoV-2 Spike to human syncytin-1, it looks like there is only about a 3-5 amino acid (gene match). That's not a big enough sequence to induce an immune response so the idea that the vaccine could induce cross-reactive immune responses based against this protein is not supported by the sequence...Finally, if this were the case, then ...this issue would pop with natural infection since infection with the virus induces immune responses to the spike protein. There are plenty of cases of COVID-19 infection in women (and of the first SARS-CoV infection in 2003) and to my knowledge, no evidence it's causing infertility.
Also reviewing and commenting on Fuller's de-bunk of Yeadon's warning to the European Medicines Agency: Dr. Anna Wald, Director of the University of Washington Virology Research Clinic and Jesse Erasmus, a Ph.D. virologist who is acting professor of molecular virology at the University of Washington. Said Erasmus:
Our immune system does a good job of differentiating between our proteins and those of pathogens and there is mechanism in place to provide tolerance for these small regions of homology (gene match).
Although there have not been clinical studies conducted to look at this proposed scenario in women who have had the vaccine who become pregnant, the natural antibodies developed through COVID-19 infection would respond the same way as antibodies developed from receiving a vaccine to the syncytin-1 protein in question.
A recent cohort study published on November 19, 2020, by Adhikari et al showed that there were no placental abnormalities in women who were pregnant while COVID positive.
In this cohort study of 252 SARS-CoV-2-positive and 3122 negative pregnant women tested in outpatient and inpatient settings at a large county medical center, adverse pregnancy outcomes were similar, and neonatal infection occurred in 3% of infants, predominantly among infants born to asymptomatic or mildly symptomatic women. Placental abnormalities were not associated with disease severity, and the rate of hospitalization was similar to rates among nonpregnant women.
Another study by Cosma et al published in the American Journal of Obstetrics & Gynecology came to this conclusion:
Severe acute respiratory syndrome coronavirus 2 infection during the first trimester of pregnancy does not seem to predispose to early pregnancy loss; its cumulative incidence did not differ between women with spontaneous abortion and women with ongoing pregnancy. Coronavirus disease 2019 appears to have a favorable maternal course at the beginning of pregnancy, consistent with what has been observed during the second and third trimesters.
Lead Stories reached out to Pfizer's Global Media Relations office to ask if the company had a statement regarding the blog article or the petition the article is based on. Their reply:
We encourage the public to seek information about the COVID-19 pandemic from trusted public health bodies and/or their individual healthcare providers.
Lead Stories has written about Yeadon in the past, when he declared the COVID pandemic had run its course: Fact Check: Former Pfizer Scientist NOT Correct Saying 'Second Wave' Based on False-Positive COVID Tests, 'Pandemic is Over'