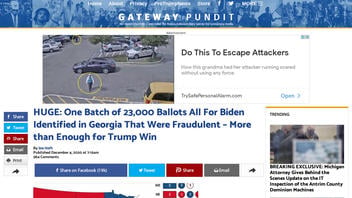 Were 23,000 "fraudulent" ballots for Joe Biden identified in Georgia? No, there's no evidence that's true. An article making that claim cites as its source a video on YouTube, which relies on unofficial results reported in real time. State election officials have repeatedly defended the integrity of the vote. "We have now counted legally cast ballots three times, and the results remain unchanged," said Georgia Secretary of State Brad Raffensperger.
The claim appeared in an article (archived here) published by The Gateway Pundit on December 4, 2020. It opened:
Tonight a batch of 23,000 Biden-only ballots have been identified and determined to be fraudulent - removing these fraudulent ballots will give Georgia to President Trump.
Users on social media saw this:
HUGE: One Batch of 23,000 Ballots All For Biden Identified in Georgia That Were Fraudulent - More than Enough for Trump Win https://t.co/26gdmcrQND via @gatewaypundit

-- Jim Hoft (@gatewaypundit) December 4, 2020
The article continued:
A video has surfaced showing a batch of 23,000 ballots all for Biden that were reported in Georgia - a state where the media says Biden is leading by 10,000 votes.
That video can be seen here:
Although the article made a number of allegations, this fact-check is limited to the specific claim about the 23,000 "fraudulent" Biden ballots. The article's source for that claim is the above-mentioned video.
What's important to note about that video is that it relies on unofficial election data reported in real time on The New York Times website. They're not official results.
Here's how the Cybersecurity and Infrastructure Security Agency explains the difference between official and unofficial results:
Election results reported on election night are always unofficial and are provided solely for voters' convenience. In fact, no state requires that official results be certified on election night itself. Fluctuations in unofficial results reporting will occur during and after election night as more ballots are processed and counted, often including military and overseas ballots, and validated provisional ballots. Variations in state processes may also mean ballots cast through different methods (e.g., early in-person voting, mail-in voting, and election day voting) are counted and unofficially reported in different orders. Official results are released after rigorous canvassing (verification) and certification by local and state election officials.
In other words, unofficial election results may contain irregularities or errors that are later explained or corrected. In Antrim County, Michigan, for example, a clerk did not update software, which led to the erroneous reporting of unofficial results. The mistake did not impact vote totals.
Lead Stories has written about election data scraped from The New York Times website before. Read that story here.
We reached out to the office of Georgia's secretary of state to ask about the 23,000 claim of "fraudulent" votes and will update this story, as necessary, if we receive a response.
On December 7, 2020, Raffensperger, a Republican, recertified the results of the presidential election. He did so after recounts, including a hand recount, upheld the original outcome of the vote. Raffensperger told reporters:
We have now counted legally cast ballots three times, and the results remain unchanged.
Biden beat Donald Trump in Georgia by some 12,000 votes. Raffensperger added:
I know there are people that are convinced the election was fraught with problems, but the evidence -- the actual evidence, the facts -- tell us a different story.
He spoke the same day a federal judge dismissed a lawsuit, filed by former Donald Trump attorney Sidney Powell, that sought to overturn the state's election results.
Lead Stories has covered voter fraud claims in Georgia before, as can be seen here.
NewsGuard, a company that uses trained journalist to rank the reliability of websites, describes thegatewaypundit.com as:
A partisan conservative website that regularly publishes hoaxes, conspiracy theories, and unsubstantiated claims, including those related to the COVID-19 pandemic.
According to NewsGuard the site does not maintain basic standards of accuracy and accountability. Read their full assessment here.