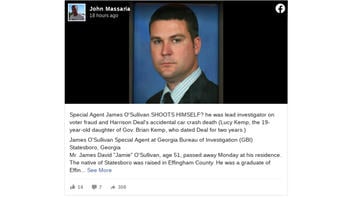 Did the lead Georgia Bureau of Investigation agent investigating both voter fraud in Georgia and the death of a young GOP campaign volunteer die in a suspicious shooting"? No, that's not true: The agent who was found dead of a self-inflicted gunshot wound at his southeast Georgia home on Monday, December 14, 2020, was not involved in the investigations of a car crash that killed Harrison Deal, 20, on Friday, December 4, 2020, nor the allegations of voter fraud in the Georgia presidential election in November, Georgia Bureau of Investigation Director Vic Reynolds told Lead Stories.
The claim appeared in many social media posts, especially by people who promote conspiracy theories about the Georgia presidential election that gave Joe Biden the state's 16 electoral college votes. One example is a Facebook post (archived here) on December 16, 2020, which opened:
Special Agent James O'Sullivan SHOOTS HIMSELF? he was lead investigator on voter fraud and Harrison Deal's accidental car crash death (Lucy Kemp, the 19-year-old daughter of Gov. Brian Kemp, who dated Deal for two years.)
This is what the post looked like on Facebook at the time of writing:
(Source: Facebook screenshot taken on Thu Dec 17 19:19:11 2020 UTC)
People upset with Biden's surprise victory in Georgia are promoting conspiracy theories of voter fraud to argue that Trump really won the state. With the collapse of all court challenges, the certification of Georgia's election results, and the casting of electoral college votes for Biden, those theories are getting even wilder. The tragic death of GBI agent James O'Sullivan is now the cornerstone of another. Tweets and Facebook posts suggest he was murdered because he knew too much about voter fraud and the death of Harrison Deal. They claim O'Sullivan was the lead investigator in both cases. GBI Director Reynolds, in an interview with Lead Stories on December 17, 2020, made it clear that the claims were "absolutely, categorically untrue."
The death of Deal, who was dating Georgia Gov. Brian Kemp's daughter, was "a horrible multi-car accident," and not murder, Reynolds said. A team of GBI bomb experts took a close look at Deal's car, which exploded when it collided with another vehicle, but O'Sullivan "had no involvement in it whatsoever," Reynolds said. They found no evidence of a bomb. The Georgia State Patrol is the lead agency in the probe of what he said was "just a classic terrible, tragic accident."
O'Sullivan was also not part of the GBI team assigned to help the Georgia secretary of state's investigators look at voter fraud, Reynolds said. He was not one of the 30 agents who are deployed to help verify signatures. He certainly was not the "lead agent," since the GBI is only an assisting agency in the probe that is led by the secretary of state's office as required by the state constitution, he said.
"It's just not true," Reynolds told Lead Stories concerning claims that O'Sullivan's death was connected to Deal's death or voter fraud.
The GBI posted a denial on Twitter:
A GBI agent passed away this week and there are online rumors that it was somehow connected to the election. This baseless claim is irresponsible & reckless. (1/2)

-- GA Bureau of Investigation (@GBI_GA) December 16, 2020
The GBI issued a plea to citizens to stop sharing the false claim online out of respect for the deceased agent's family:
It is hurtful to the agent's family and co-workers. Please be mindful of the things you write, repeat, or share - especially when there is absolutely no truth in them. (2/2)

-- GA Bureau of Investigation (@GBI_GA) December 16, 2020
Despite this, the false claim flourished on Twitter, including this tweet from blogger Diana West:
All we ever get are rumors. No official comms, no reports, no transparency.

So I ask: Are deaths of 21 y/o Perdue intern/Loeffler staffer/Kemp family friend Harrison Deal (12/4) and 51 y/o Georgia Bureau of Investigation agent James O'Sullivan (12/14) connected to #TheBigSteal? pic.twitter.com/4Yeny75WHO

-- Diana West (@diana_west_) December 16, 2020
West followed up with another tweet acknowledging that she had no evidence it was true:
Nope. Nothing but "Twitter." What I have are questions abt fatal occurences whose timing & possible significance are too strong to pass w/o notice, esp when Media & authorities are in full-on #Blackout mode to cover & power #TheBigSteal. https://t.co/r6puf3EaFq

-- Diana West (@diana_west_) December 16, 2020
Atlanta lawyer Lin Wood, who unsuccessfully sued to overturn the state's elections, used the rumor about the deaths of Deal and O'Sullivan to support his claim that Georgia "is horribly corrupt."
I love TRUTH. As a trial lawyer, I pursue TRUTH to achieve justice.

There are no coincidences.

I want to know TRUTH about tragic death of Harrison Deal. I also pray the death of @GBI_GA investigator was not related.

My home state of GA is horribly corrupt.

Very sad but true.

-- Lin Wood (@LLinWood) December 17, 2020
Claims of voter fraud in Georgia have become a major distraction for Republicans in Georgia as they try to hold on to the state's two U.S. Senate seats on a January 5, 2020 runoff.