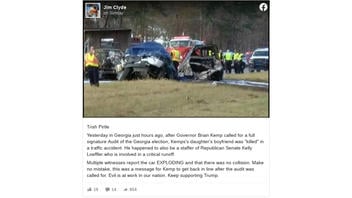 Was a fatal car crash a message for Georgia Gov. Brian Kemp "to get back in line"? No, there's no evidence that's true: Although the cause of the crash, which killed an aide to Georgia Sen. Kelly Loeffler, remains under investigation, a police spokeswoman told Lead Stories the accident involved a collision. "We've gotten the calls about possible bombings and all that -- that is not even on our radar," she said.
The claim appeared in a Facebook post (archived here) published on December 6, 2020. The post opened:
Yesterday in Georgia just hours ago, after Governor Brian Kemp called for a full signature Audit of the Georgia election, Kemps's daughter's boyfriend was "killed" in a traffic accident. He happened to also be a staffer of Republican Senate Kelly Loeffler who is involved in a critical runoff.
This is what the post looked like at the time of writing:
(Source: Facebook screenshot taken on Mon Dec 7 14:50:56 2020 UTC)
The post continued:
Multiple witnesses report the car EXPLODING and that there was no collision. Make no mistake, this was a message for Kemp to get back in line after the audit was called for. Evil is at work in our nation. Keep supporting Trump.
The post, which did not identify any of the "multiple witnesses," was in reference to a multivehicle crash that happened on Interstate 16 East in South Georgia on December 4, 2020.
The crash involved three drivers. Two suffered minor injuries and were treated on the scene, according to Lindsey Heintzman, a spokeswoman for Pooler, Georgia, police. The third driver, identified as Harrison Deal, was killed. Deal was a young campaign staffer for Loeffler, a Republican, who is facing Democratic challenger Raphael Warnock in a closely watched runoff.
Heintzman told Lead Stories that the accident is under investigation. It can take weeks, sometimes more, to determine the cause of a crash, especially a fatal one. She confirmed, however, that the accident involved a collision. Heintzman said:
We've gotten the calls about possible bombings and all that -- that is not even on our radar.
Heintzman added that people in the area did report hearing loud exploding sounds. That's not unusual. She said:
When you hear a crash, especially one involving that many vehicles, it's going to be loud. And then, of course, as things catch on fire, you're going to hear pops and booms and things like that.
Deal was close to the Kemp family. They released a statement, describing him as "a person of deep faith, unmatched integrity, and incredible kindness." Deal was 20 years old.
Statement from the Kemp Family on the Passing of Harrison Deal: pic.twitter.com/l5uSWuo05H

-- Governor Brian P. Kemp (@GovKemp) December 4, 2020