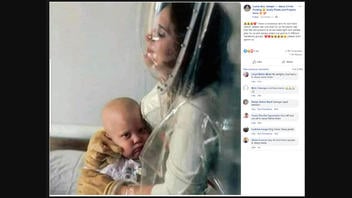 Does a photo of a mother in protective gear holding a baby show a mom hospitalized with COVID-19 holding a child with cancer? No, that's not true: The image was taken in 1985, 35 years before the COVID-19 pandemic. A photo agency website revealed the child was being protected from infection in a Laminar Air Flow Room after undergoing irradiation just before going into bone marrow transplant surgery.
The claim that this photo was from 2020 and related to COVID-19 circulated widely on social media in the early weeks of the pandemic and has reappeared in a post (archived here) shared on Facebook on December 17, 2020. The text above the photo read:
😭😭😭💔 I have coronavirus and my son have cancer please can you pray for us the doctor say that the lord prayers is all we need right now please pray for us and please share our post to 5 different Facebook groups. 💔💔😭😭😭😭😔 please don't ignore us.
This is what the post looked like on Facebook at the time of writing: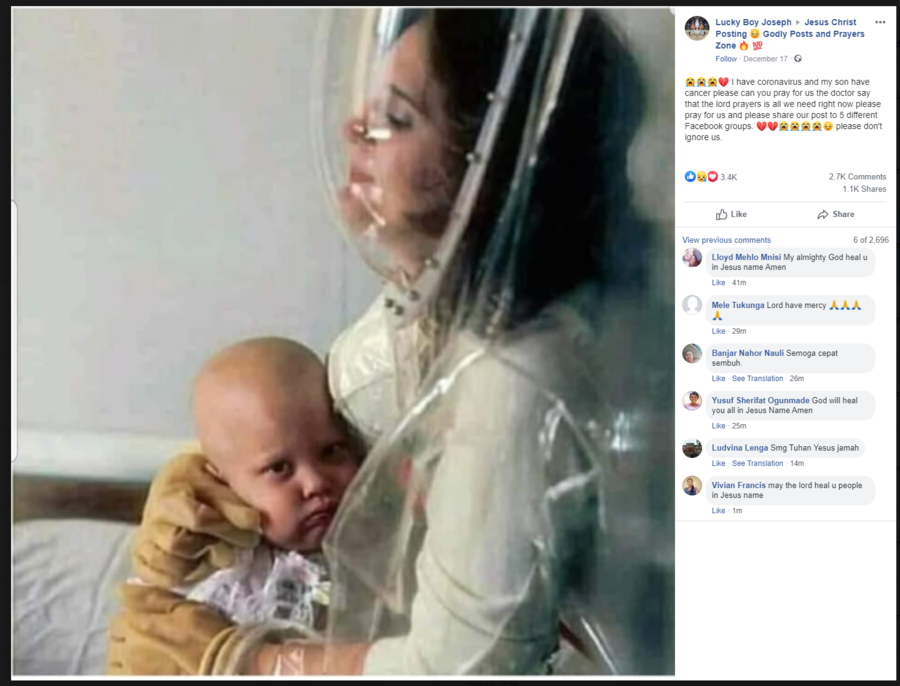 (Source: Facebook screenshot taken on Sun Dec 20 16:46:20 2020 UTC)
This is an example of someone stealing an old photo and using it to stir emotions and "likes" for their Facebook page. A reverse image search showed that not only was this photo taken in 1985, but several websites previously debunked claims that it showed a mother with COVID-19 holding a baby. AltNews.In in India appeared to be the first to fact check the claim in March 2020, after the director of a charity shared it to support a call for people to stay locked in to protect against the spread of the novel coronavirus. This is a screenshot of that debunk: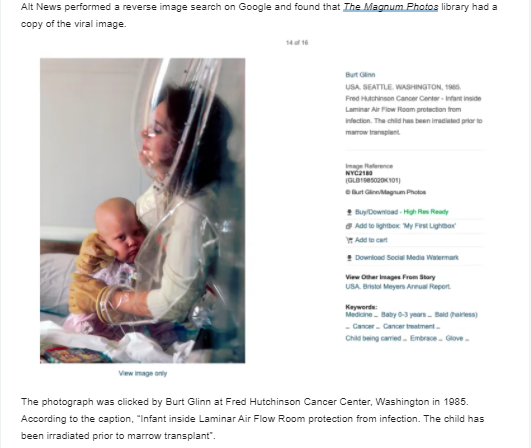 AltNews.In found the image in the Magnum Photos library:
The photograph was clicked by Burt Glinn at Fred Hutchinson Cancer Center, Washington in 1985. According to the caption, "Infant inside Laminar Air Flow Room protection from infection. The child has been irradiated prior to marrow transplant".
AFP in India also fact checked the claim in April 2020.