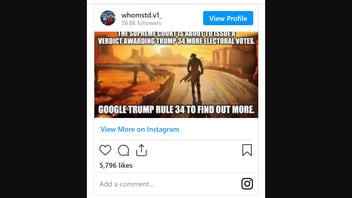 Did the Supreme Court issue a decision granting Donald Trump 34 more electoral votes than originally tabulated following the general election? No, that's not true: This is a satirical post. The Supreme Court issued no such ruling nor did the court hear any case that would result in this outcome. People who follow the meme's instructions to do a Google search of " Trump rule 34" will potentially expose them to porn images.
The claim appeared in an Instagram meme (archived here) where it was published by @whomstd.v1_ on December 14, 2020. The meme read:
THE SUPREME COURT IS ABOUT TO ISSUE A VERDICT AWARDING TRUMP 34 MORE ELECTORAL VOTES.

GOOGLE TRUMP RULE 34 TO FIND OUT MORE
This is what the meme looked like at the time of posting:
This meme chose the number 34 and told readers to "Google Trump rule 34" as a reference to an old internet joke. "Rule 34" is an online joke that states that there is pornography of every conceivable topic or thing. In other words, if you can think of it, there is a pornographic or erotic depiction of it. So in telling Instagram users to "Google Trump rule 34," the meme is hoping to trick people into seeing erotic depictions of President Trump.
@whomstd.v1_ is not trying to hide its humorous nature. The account is filled with humorous memes and the bio says, "the essential in devolving humor."
Because Joe Biden got 306 electoral college votes and Trump got 232, even if the Supreme Court did rule that 34 of Biden's electoral college votes must be transferred to Trump, Biden would still be president-elect with 272 votes to Trump's 266. But that's beside the point.