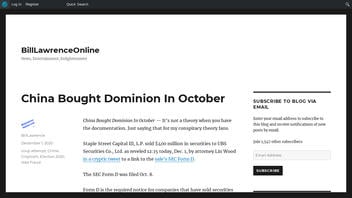 Did China buy Dominion Voting Systems for $400 million in October 2020? No, that's not accurate: A Swiss investment bank's New York subsidiary, UBS Securities LLC, in October bought $400 million in shares Dominion's parent company, Staple Street Capital LLC. While it appears three of the four board members of that subsidiary's board are Chinese and could represent Chinese investors, shareholder information is private, so it is unknown if China or any other government owns shares. The parent company, UBS, does substantial business in China and is partial owner of a China-based firm, UBS Securities Co. Ltd., which did not buy the Staple Street shares.
The claim appeared in an article published by BillLawrenceOnline on December 1, 2020 titled "China Bought Dominion In October" (archived here) which opened:
China Bought Dominion In October -- It's not a theory when you have the documentation. Just saying that for my conspiracy theory fans.

Staple Street Capital III, L.P. sold $400 million in securities to UBS Securities Co., Ltd. as reveled 12:15 today, Dec. 1, by attorney Lin Wood in a cryptic tweet to a link to the sale's SEC Form D.
Users on social media only saw this title, description and thumbnail:
In order to better understand the issue, it is necessary to first look at the parties involved:
1) UBS is a Swiss investment bank and financial services company with around $1 trillion in assets that says it provides services in more than 50 countries.
Its subsidiary in the United States, founded November 14, 1995 and incorporated in Delaware, is based in New York City. It is called UBS Securities LLC.
The UBS non-wholly-owned subsidiary in China is called UBS Securities Co Ltd. It was established in 2006, and UBS and partner International Finance Corp. bought a combined 24.9% share of the company in 2007. The rest of the company was owned by a handful of Chinese investment firms with ties to the government.
In 2014, UBS increased its ownership from 20% to 24.9% by buying out International Finance Corp.'s shares.
In 2018, UBS increased its ownership of the China subsidiary to 51% by buying out two of its Chinese partners.
The Financial Times pointed out in a December 1, 2018 story that UBS became
... the first foreign bank in China to increase its stake in a local securities joint venture to 51 percent.
The South China Morning Post reported on May 3, 2018 that UBS had said in a statement:
China is a key market for UBS. The further opening up of China's financial sector represents great opportunities for our China businesses, including investment banking, wealth management and asset management. The Chinese government's decision to allow foreign companies to take up to 51 per cent in securities joint ventures is another important step in the opening up of China's markets.
When UBS is mentioned in this report, Lead Stories is referring to the parent company based in Switzerland. The subsidiaries are identified by their individual names.
2) Staple Street Capital LLC is a private equity firm founded on June 9, 2009 and based in New York City. Staple Street bought Dominion Voting Systems for an undisclosed amount in July 2018.
3) Dominion Voting Systems Inc. was founded in Canada in 2003 and incorporated in the United States on July 7, 2009. It is headquartered in Denver, CO., with an office in Toronto, Canada. The company, which sells electronic voting hardware and software and operates in 28 states, has been at the center of disproven allegations that its equipment was used to flip votes from President Trump to Joe Biden in the November 3, 2020 presidential election. Lead Stories debunked that and other false election claims at length here. The company issued a statement November 26, 2020 denying the allegation here. And Dominion President and CEO John Poulos wrote a column published November 30, 2020, in The Wall Street Journal, which can be found here.
According to U.S. Securities and Exchange Commission (SEC) documents, which can be found here, here, here and here, the U.S.-based UBS Securities LLC bought from Staple Street Capital $200 million of shares in December 2014 and $400 million on October 8, 2020, less than a month before the U.S. presidential election.
But some supporters of President Trump's disproven election vote conspiracies incorrectly attribute the purchase to the Chinese subsidiary, UBS Securities Co, Ltd. So BillLawrenceOnline reports:
Staple Street Capital III, L.P. sold $400 million in securities to UBS Securities Co., Ltd.
Nor is it certain that the $400 million was meant to acquire Dominion Voting Systems. It appears that, instead, UBS Securities LLC was buying a partnership interest in Staple Street Capital. That would be a hedge fund investment. The NTD News site further explained in a story posted December 5, 2020:
But UBS is not necessarily the eventual buyer in the transaction.

As an investment firm, it could have just served as a middleman, selling partnership interests of State Street Capital to UBS clients or holding it on behalf of clients through its prime broker.
None of this is to say, though, that there are no strong connections between UBS and China. There are several. There are also strong connections between the U.S. and China subsidiaries.
For example, NTD News notes in a Dec. 11, 2020 story that:
The subsidiary is closely linked to UBS's Beijing-based joint venture. There, current and former board members are tied to Chinese communist military and intelligence agencies. In New York, three out of four UBS board members are Chinese. Some board members serve the company in New York and Beijing at the same time.
Board members are appointed by shareholders, so this could indicate there's a strong Chinese presence among the shareholders. The New York subsidiary is a private company, so information about the shareholders is not publicly available.
Among the four board members listed in a December 9, 2020 Bloomberg company profile of UBS Securities LLC are: Luo Qiang, Ye Xiang and Mu Lina.
NTD says:
Mu Lina was a board member with China TransInfo, a major surveillance camera producer in China. It provides big data and artificial intelligence to Chinese authorities. Its chairman is a Chinese Communist Party (CCP) member.
Ye has extensive experience working in the financial, banking and regulation sectors in China and Hong Kong. A Reuters profile says he worked early in his career as an economist at the state-owned People's Bank of China from August 1994 to July 1998. He obtained a doctoral degree in economics in 1995 from the Financial Research Institute of the People's Bank of China.
According to the profile, he went on to hold senior posts such as director of China affairs of the Securities and Futures Commission of Hong Kong from August 2001 to October 2007.
A profile on the web page for Vision Gains Capital Limited states Ye founded the company in 2008 and currently serves as managing director.
Reuters notes Ye has been a director of UBS Securities LLC since March 2010.
An unconfirmed December 5, 2020 report by NTB News said Ye was among 12 board members who resigned recently. NTB News said:
According to Chinese company profiling website Qixin, after the 2020 election, the Beijing UBS's went through a major leadership turnover on November the 30th.
No reason was cited for the purported mass resignation.
Lead Stories has been unable to verify the report, but the reported changes in leadership in China also may have occurred in the New York subsidiary because a business profile by Bloomberg for UBS Securities LLC that on December 9, 2020 listed Luo, Ye and Mu as directors no longer listed them on December 11, 2020. The sole director now listed is Samuel Molinaro. The listing for the subsidiary's executives has changed, too.
UBS has not made any official announcement about changes in any of its boards of directors and its website offers no information about board changes.
Lead Stories also was unable to find any official information about the third possible Chinese national previously listed by Bloomberg as being on the board of UBS Securities LLC: Luo Qiang.
Although it's not clear they are the same person, someone named Luo Qiang is listed on a June 23, 2005 SEC document as having been appointed to the board of directors of the China Media Group Corp. The document offers a brief professional biography:
Mr. Luo is a graduate of Hunan University in China. Mr. Luo has held senior positions in the Government of Changsha, Hunan province for the past 20 years and he is now currently the Secretariat to the Changsha Government. Mr. Luo brings a wealth of experience and contacts in China's commercial and regulatory sector.
There is no known relation between China Media Group Corp. and UBS Securities LLC.
In addition to its majority ownership of
UBS Securities Co, Ltd
, UBS services to Chinese clients seeking to move assets offshore were highlighted in a January 21, 2014
report
by the International Consortium of Investigative Journalists (ICIJ) that alleged the company was among several that played:
... a key role as middlemen in helping Chinese clients set up trusts and companies in the British Virgin Islands, Samoa and other offshore centers usually associated with hidden wealth ...
A two-year investigation by the investigative journalists highlighted how extensive a role UBS played. Said the journalists:
In total, UBS helped incorporate more than 1,000 offshore institutions for clients from China, Hong Kong or Taiwan,
In response to ICIJ's questions, UBS issued a statement saying its "know-your-client" policies as well as procedures to deal with politically-sensitive clients are among "the strictest in the industry."
The Guardian reported that a UBS spokesperson said:
"We operate to the highest standards in our business operations to meet all our legal and regulatory requirements."