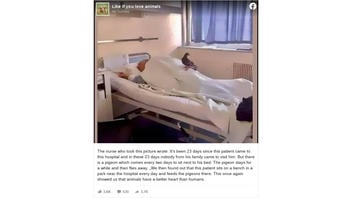 Did a nurse take the viral photo of a pigeon perched upon a man sleeping in a hospital bed, to show how the bird frequently "visited" the man while his family never came to see him? No, that's not true: Ioannis Protonotarios, a photographer and independent filmmaker in Athens, Greece, took the photo in 2013. His photo has often gone viral since then. So has the claim of a nurse taking the photo of a pigeon that regularly "visited" the hospitalized man, whose family appeared to have all but forgotten him. In a January 27, 2021 email to Lead Stories, Protonotarios said the claim of the pigeon "visiting" was false. He said a social media influencer in the Middle East is believed to have hatched the story, which then spread to India. In recent years, the erroneous claim has gained some momentum in the West.
The claim appeared again in a Facebook post (archived here) published January 24, 2021, which opened:
The nurse who took this picture wrote: It's been 23 days since this patient came to this hospital and in these 23 days nobody from his family came to visit him. But there is a pigeon which comes every two days to sit next to his bed.
This is what the post looked like on Facebook at the time of writing:
(Source: Facebook screenshot taken on Tue Jan 26 22:56:24 2021 UTC)
The post continued:
The pigeon stays for a while and then flies away. We then found out that this patient sits on a bench in a park near the hospital every day and feeds the pigeons there. This once again showed us that animals have a better heart than humans.
Protonotarios was visiting his father on a cardiology ward at an Athens hospital when he saw the pigeon resting on a man sleeping in a nearby bed. In the email, he told Lead Stories about his immediate reaction when he saw a bird in a hospital:
I am a photographer (among other things) and I look around for interesting images all the time. I look for images that "tell a story" themselves. I like people more than landscapes and I look for interesting everyday human moments. I don't seek the obvious but rather the subtle. I like humour, kitsch, imperfection. I am interested in what makes us human. You may browse my other photos in Flickr to get a better understanding of my work.

So when I saw this pigeon on top of a sleeping patient in the cardiology ward the only thing that crossed my mind was "Do I have enough time to take the picture before it flies away?". Luckily the bird took its time so here we are!

The photographer posted the photo, taken October 19, 2013, to his flickr page.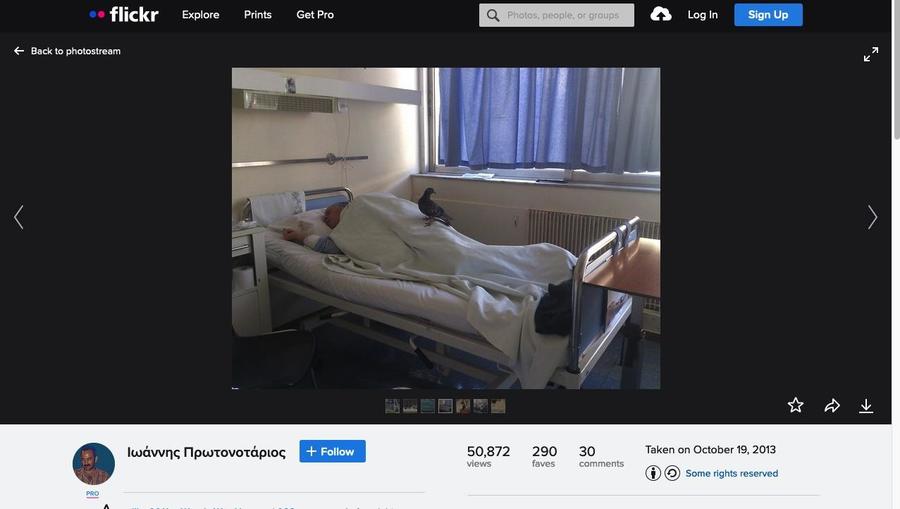 (Source: flickr screenshot taken on Tue Jan 26 23:40:00 2021 UTC)
Members of the flickr community complimented Protonotarios for capturing an image that resonated with so many. Then, the photo became a favorite of "click-baiters," the photographer said.
They see a photo, they make up the most sensational story about it and share it like crazy.
Lead Stories did a reverse image search of the photo. The image and story, which appears in an array of languages, remains popular. While the story may sometimes vary slightly, this theme remains constant: The man could count on the pigeon to visit him, even though his family had seemed to have forgotten him. The social media posts, and even news websites, spreading the claim often decried or lamented what they saw as growing isolation and alienation among the elderly.
On one level, Protonotarios is baffled by how such a claim could have ever taken flight.
OK, seriously now, we are talking about a big hospital, and its cardiology ward. Even in a laid-back country like Greece, there is no way the medical personnel would allow a street bird near patients. City birds and especially pigeons carry so many diseases. If you google "pigeon" and "hospital" you'll find numerous cases of patients that got infected and died by pigeons in hospitals. There is absolutely no way that a nurse would leave a pigeon come in everyday and sit for hours with a patient and also take a picture of it and brag about in social media. Not only would she be fired from the hospital but she would loose her professional license at the least. So it's just a matter of putting two and two together. It was just a "lucky" moment and I was an irresponsible visitor who, instead of chasing the pigeon away, took a picture of it. No nurse came into the room otherwise they would chase it away themselves (and probably yell at me too).
On another level, he understands the popularity of the false claim. Protonotarios, who has a master's degree in social information systems, used to run a fact-checking blog. Still, he finds it "very interesting" that his photo contributed to an "internet myth," given his background. These are his theories about why the false claim based on his photo has remained viral for years:
One reason I think is because people are lazy. They prefer the easy answers over the truth which may require some energy to discover it, even if this energy is in the form of plain thought. People prefer ready made answers instead of having to think for themselves. That's why conspiracy theories are thriving. Because they provide easy answers to difficult questions.

Another reason is that people like stories, they like narration. OK, but one may argue that a photo (or a painting, or a musical piece, or any form of art for that matter) contains narration in itself, just of a different form. Yes, but, what did I just say about people being lazy? To understand a visual work of art requires more energy than understanding plain text. So, a lot of people saw my photo all those years but very little tried to "listen" to the story that the photo itself has to say. But when someone puts a verbal story next to the image then it appeals to orders of magnitude more people.

A third explanation may be: sensation. People like sensational stories. "A faithful bird regularly visiting a homeless man in a coma" is much a better story than "a random bird momentarily sitting on a random sleeping man".
He offered additional possibilities:
And, there are other reasons too, like the nature of social media that rewards such behaviours, and so on.

Then, we have those who exploit all this for profit. They make up and sell sensational stories for likes and clicks.