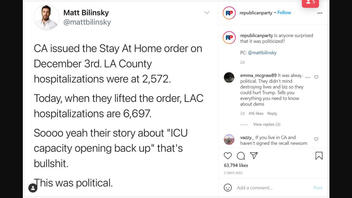 Did California lift the state's regional stay-at-home order in January 2021 even though hospitalization numbers are much higher than when the order was put in place in 2020? Yes, but that summary leaves out context: California Gov. Gavin Newsom lifted the stay-at-home order on January 25, 2021, after the Los Angeles County Health Department reported a declining number of people hospitalized with COVID-19. That is the metric governing stay-at-home rules. The numbers of people hospitalized with COVID-19, while high, has been steadily decreasing according to the health department in California's most populous county.
The claim appeared as a post (archived here) where it was published by Republican Party News on Instagram on January 26, 2021. It opened:
CA issued the Stay At Home order on December 3. LA County hospitalizations were at 2,572. Today, when they lifted the order, LAC hospitalizations are 6,697. So yeah their story about "ICU capacity opening back up" that's bulls**t. This was political.
Social media users saw this post: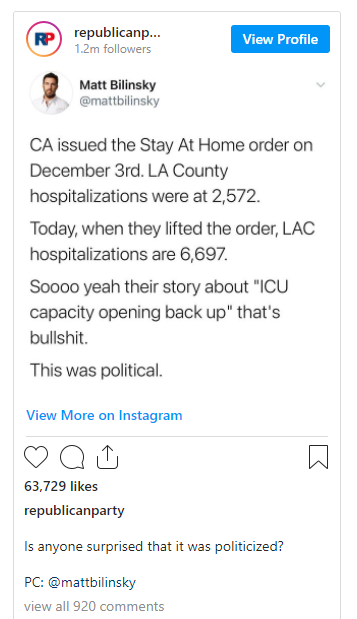 There are guidelines dictating what numbers were used to determine that Los Angeles County was eligible to re-open after the shutdown. The meme is missing context about the reason why, even though the hospitalizations are high, the county was moving forward with re-opening.
The metrics Los Angeles County uses for reopening were explained as the "3-day number of hospitalized patients has not increased over the past 14 days."
The Los Angeles County Public Health Department published the details regarding the decrease in people hospitalized with COVID-19 on January 27, 2021, with data through 6:00 p.m. January 25, 2021: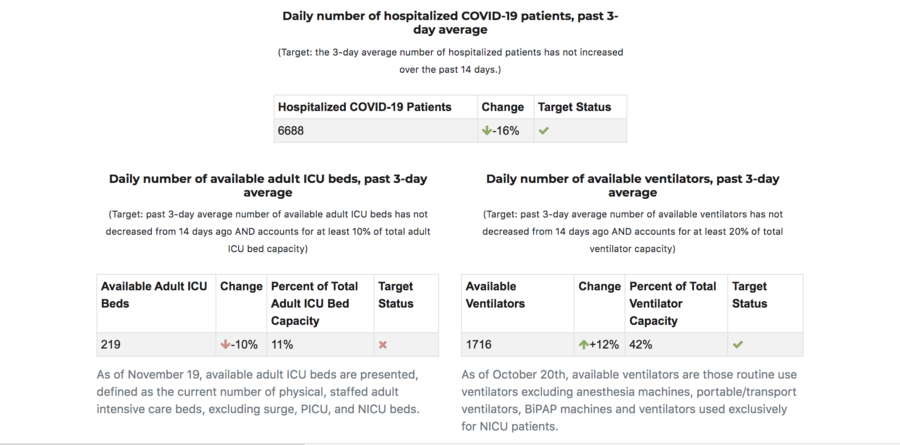 According to county statistics, the number of hospitalization of COVID-19 in Los Angeles County had decreased since January 6, 2021.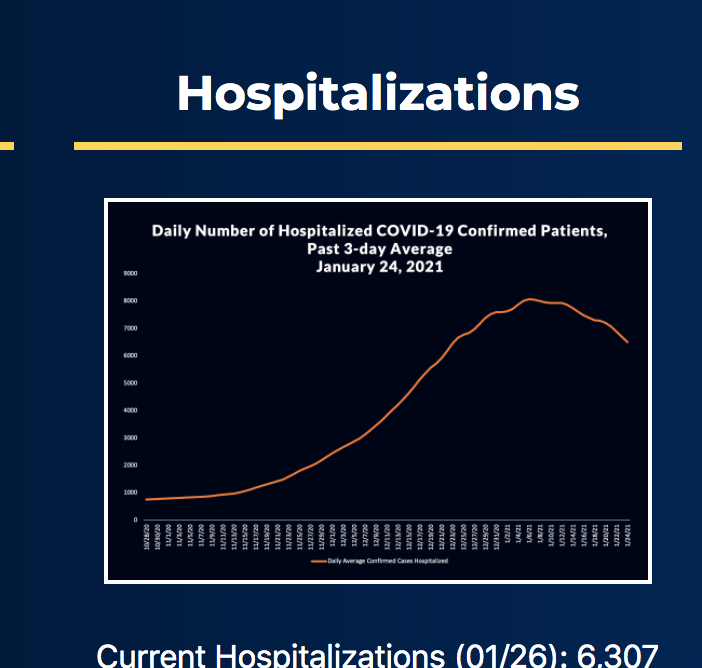 The post claims, "So yeah their story about 'ICU capacity opening back up' that's bulls**t." According to the Public Health Department "the past 3-day average number of adult ICU beds has not decreased from 14 days AND accounts for at least 10% of total ICU bed capacity."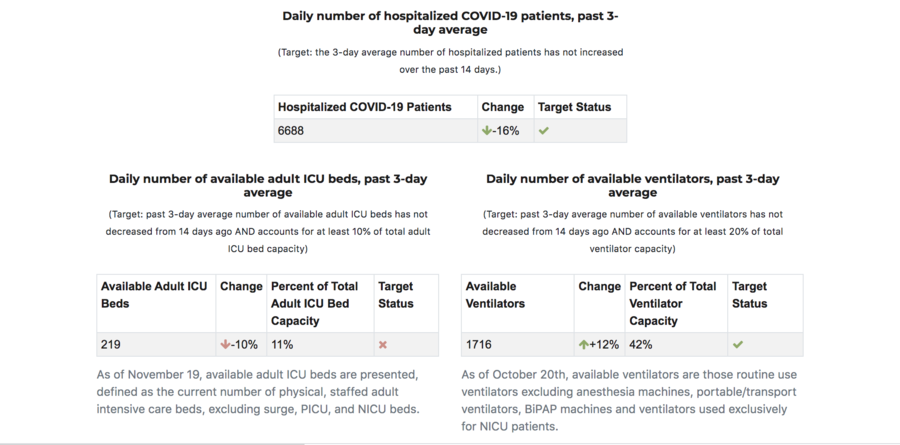 In other words, the fact that more beds are becoming available indicates a decline in severe cases.
Newsom lifted the order less than two months after announcing that it would be put in place on December 3, 2020. The order took effect at 12:59 p.m. on December 5 and was lifted on January 25, 2021.