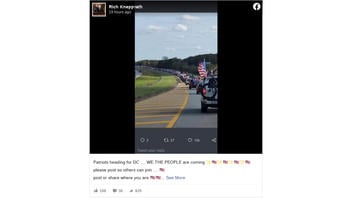 Does this photo show a caravan headed to DC from California in support of the pro-Trump rally on January 6, 2021? No, that's not true: The photograph on social media showing a long line of cars with American flags traveling on a highway is from October 2020 and shows cars on New York's Long Island, New York, not vehicles traveling from California.
The claim appeared as a post (archived here) where it was published on Facebook on January 3, 2021. It opened:
Patriots heading for DC .... WE THE PEOPLE are coming ✨🇺🇸✨🇺🇸✨🇺🇸✨🇺🇸

please post so others can join .... 🇺🇸

post or share where you are 🇺🇸🇺🇸

where you are leaving from 🇺🇸🇺🇸🇺🇸

day and time 🇺🇸🇺🇸🇺🇸🇺🇸
.... so people can meet up ...🇺🇸🇺🇸🇺🇸🇺🇸🇺🇸
This is what the post looked like on Facebook at the time of writing:
(Source: Facebook screenshot taken on Mon Jan 4 20:15:01 2021 UTC)
The picture that has gone viral is from a pro-Trump parade prior to the November 3, 2020, election.

The photograph was one of several shared on Twitter by rally organizer Shawn Farash on October 19, 2020.
We had reports of 9000+ cars... And one airplane today at the #LongIslandLOUDMajority Trump Parade from Seaford to Montauk!@realDonaldTrump @DonaldJTrumpJr
IF NY FLIPS THIS YEAR YOU'LL KNOW WHY. #LILM #STAYLOUD #Trump2020 pic.twitter.com/V8bsjFw7A0

-- Shawn Farash ❌🐻 (@Shawn_Farash) October 19, 2020

The car parade was held on Long Island, from Seaford to Montauk, Patch.com reported in an article titled, "Trump Parade Across Long Island Draws Thousands," published on October 18, 2020.
News 12 in Brooklyn reported on October 18, 2020, rally:

The parade, dubbed "MAGA-gras," began at the Seaford Train Station. Thousands of people attended and drove all the way to the end of Long Island at Montauk Point. Many donned flags and signs in support of Trump.