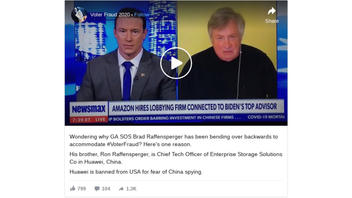 Does Georgia Secretary of State Brad Raffensperger have a brother named Ron who is the chief technology officer for the China-based Huawei Corporation? No, that's not true: While Huawei does have a Ron Raffensperger working as the CTO of its subsidiary Huawei Enterprise Storage Solutions, he is not the Georgia sercretary of state's brother. "Secretary Raffensperger does not have a brother named Ron," Walter Jones, spokesman for the secretary's office, said in an email to Lead Stories. "He does not have a brother who is an executive with a Chinese electronics company."
The claim appeared in social media posts soon after publication of the explosive phone call recording between President Trump and Sec. Raffensperger on January 3, 2021. It was a claim first made weeks earlier, including in video in a Facebook post (archived here) on December 30, 2020. The video was a segment from a December 29 NewsMax interview with political operative Dick Morris. The text intro read:
Wondering why GA SOS Brad Raffensperger has been bending over backwards to accommodate #VoterFraud? Here's one reason. His brother, Ron Raffensperger, is Chief Tech Officer of Enterprise Storage Solutions Co in Huawei, China. Huawei is banned from USA for fear of China spying.
This is what the post looked like on Facebook at the time of writing: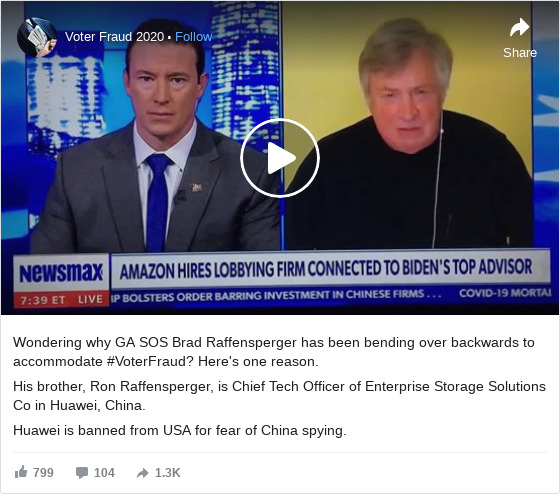 Morris, a notorious political operative, acknowledged in his interview with NewsMax host Greg Kelly that he had no evidence that this alleged connection had anything to do with voter fraud in Georgia:
Dick Morris: There's something else that I do need to talk about, that's breaking, breaking news. You remember Brad Raffensperger, the Georgia secretary of state who has been standing in the way of recounts and refused to verify signatures and kicked the Republican inspectors out of the vote and the counting? It turns out, which is a story we're breaking tonight, that his brother, Ron Raffensperger, is the chief technical officer for Huawei's enterprise storage solutions company. And Huawei, as I guess you know, has been sanctioned by the American government that has prohibited anyone from selling its semiconductors. It's almost destroyed their business. And here you have the brother of the secretary of state of Georgia who works for them and lives in Shenzhen, China.

Greg Kelly: Ok, so I mean, those all may be how they are but do do you have any evidence that the two are connected, that he's working on the behalf of his brother working for the Chinese government?

Morris: Absolutely none. Draw your own conclusion.
Watch the video shared in this tweet that called its accuracy into question:
That bullshit story Trump tweeted about the Georgia Secretary of State Brad Raffensperger's brother working for a Chinese company was spouted by Dick Morris on Newsmax last night (he doesn't have a brother). pic.twitter.com/kjFymyZWaw

-- Matthew Gertz (@MattGertz) December 30, 2020
The claim appeared earlier on Twitter on December 10, 2020:
(Source: Twitter screenshot taken on Mon Jan 4 17:24:47 2021 UTC)
Conspiracy theorist looking for support for claims that Joe Biden's win in Georgia was achieved through voter fraud have been attacking Secretary Raffensperger, a Republican who runs the state's elections. They stumbled upon what they thought was gold when they found a webpage listing Ron Raffensperger as the CTO for a subsidiary of Huawei, a Chinese tech company whose smartphone technology has been branded as a security risk and sanctioned by the U.S. government.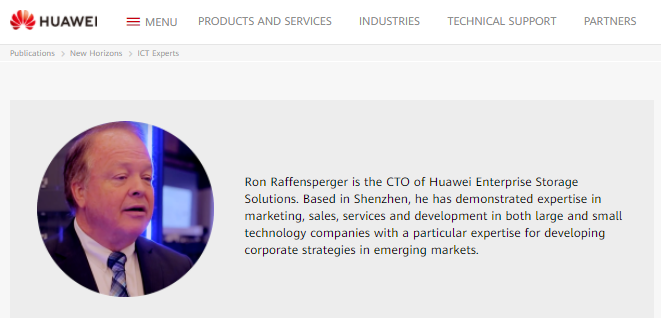 But it turned out to be fool's gold, as noted by Gabriel Sterling, a top election official with the secretary of state's office. "Secretary Raffensperger does not have a brother named Ron Raffensperger," Sterling told reporters at a news conference on January 4, 2021. Watch that video:
Georgia Public Broadcasting reporter Stephen Fowler was the first to debunk the claim:
GPB News has confirmed via public documents and records that Raffensperger does have four siblings, including a brother, but none of them are named Ron, none work for Chinese technology companies nor have any ties to voting machine vendors used by Georgia to conduct its elections or to count five million votes three separate times to confirm that Joe Biden won the state's electoral votes.