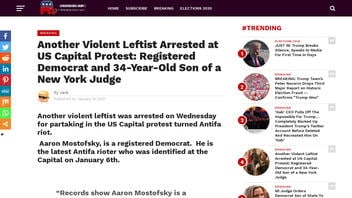 Is this man clad in fur pelts and a police vest a "violent leftist" and antifa member, videotaped participating when supporters of President Donald Trump stormed the U.S. Capitol January 6, 2021? No, that's not true: In a video published on the New York Post website, Aaron Mostofsky said he believed Trump had won the election and that his supporters "were cheated." The U.S. District Court for the District of Columbia criminal complaint, which charges Mostofsky with the felony of theft of government property, describes him as a Trump supporter.
The claim appeared in an article (archived here) published January 14, 2021 by the Conservatives Army on conservativesarmy.com under the title, "Another Violent Leftist Arrested at US Capital [sic] Protest: Registered Democrat and 34-Year-Old Son of a New York Judge. ". It opened:
Mr. Mostofsky is a 3

4 year old registered Democrat

and the son of a New York Judge. He is seen in the picture above dressed in fur, carrying a stick and wearing a bullet proof police vest he had stolen.

Mostofsky is standing beside the man who carried a Confederate flag into the event. This indicates they possibly knew each other and both appear to be outsiders and leftist demons plotting to smear Trump supporters.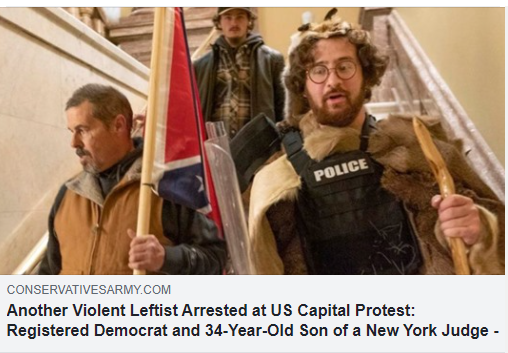 (Source: ConservativesArmy.com screenshot taken on Fri Jan 14 7:13:32 2021 UTC)
Mostofsky's case received much media attention. Two things played prominently in most news reports about the Brooklyn, New York man being charged in connection with the insurrection at the Capitol. The first is that he is the son of Kings County [Brooklyn] Supreme Court Judge Steven Mostofsky. The second is the fur pelts Mostofsky is wearing in the video. He was often refered to as the "caveman" because of the prehistoric look of his clothing.
The video on the New York Post website shows Mostofsky being interviewed inside of the Capitol after Trump supporters had taken over the building in an attempt to prevent Congress from certifying President-elect Joe Biden's Electoral College win. An interviewer asks him, "Can you tell me what you're doing here today? At about 3 seconds into the 1:37-minute video, Mostofsky responds:
Well, what I'm doing here today is to express my opinion as a free American: My beliefs that this election was stolen. We were cheated. I don't think that 75 million people voted for Trump. I think that it was 85 million. I think that certain states that have been blue for a long time have been [turned to] red -- and were stolen, like New York.
Mostofsky is a registered Democrat according to several media accounts, including one on the New York Times website. Lead Stories has contacted the New York State Board of Elections to confirm his registered party affiliation. We will update this fact check when we get confirmation.
Shortly before the 1-minute mark in the video, the interviewer asks, "Should senators be afraid? Should House members be afraid?" Mostofsky responds:
They shouldn't be afraid. They should get the courage to do their duty -- their duty to examine the fraud, maybe delay the election.
The criminal complaint, dated January 11, 2021, charges Mostofsky with four offenses, including a theft of government property felony for being in possession of a U.S. Capitol Police vest, valued at $1,905 and a department riot shield, valued at $256.65. In the video, Mostofsky says that he found the shield on the floor at the Capitol. The other charges against him include entering and remaining in a restricted building and grounds "without lawful authority," intent to impede government business and "engaging in disorderly conduct on Capitol grounds." Mostofsky was arrested in New York January 12, 2021.