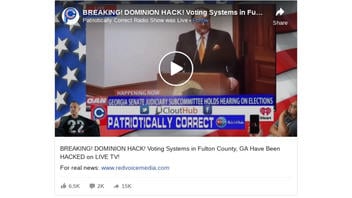 Did someone hack into the electronic voting system being used in Georgia for the January 5, 2020, U.S. Senate runoff races? No, Georgia election officials say that's not true: The digital poll book was not even in use on December 30, 2020, the day J. Hutton Pulitzer told lawmakers he had hacked his way into it. On two occasions since Pulitzer told a state Senate subcommittee that he had hacked into Dominion Voting Systems' balloting computers, the Georgia secretary of state's office has said it would be physically impossible. The poll book component of Dominion's system that does have Wi-Fi and that Pulitzer claimed to have hacked is not involved in marking ballots or counting them and is not connected to those parts of the voting system, which do not have Wi-Fi capabilities.
The claim originated in a post (archived here) published on Facebook on December 30, 2020, under the title "BREAKING! DOMINION HACK! Voting Systems in Fulton County, GA Have Been HACKED on LIVE TV!...". The post was part of the "Patriotically Correct Radio Show" broadcast live on Facebook.
This is what the post looked like on Facebook at the time of writing:
(Source: Facebook screenshot taken on Mon Jan 4 21:56:45 2021 UTC)
There are three Dominion Voting Systems components involved in the Georgia election: Poll Pads, scanners and touch screen interfaces and attached printers.
Poll Pad is basically an electronic poll book. KnowInk, the company that sells Poll Pad, describes it this way on its website.
Poll Pad has replaced the outdated and inefficient paper model that is often the cause of long lines at the polls and inefficient election record keeping.
Scanners and touch screen interfaces and attached printers are what is used for actual voting.
After the baseless accusations of voter fraud in the November 3, 2020, election by President Trump and other Republican officials and supporters, the Georgia Senate Judiciary Subcommittee on Elections held four hearings. The final one occurred December 30, 2020.
That hearing was held after early voting had started for the January 5, 2021, runoff in Georgia for two U.S. Senate seats. The alleged hacking also occurred while voting for the runoff was under way.
Pulitzer said in a public comment at that hearing that unspecified people had hacked a Poll Pad in Fulton County, where Atlanta, the state capital, is located:
At this very moment at a polling location in the county, not only do we now have access to the devices, to the Poll Pad, the system, but we are in. And it's not supposed to have wifi and that's not supposed to be able to happen. So we've documented it in real time. It's now communicating two ways in real time. It's receiving data and sending data. Should never happen. Shouldn't be wifi. We've now documented it in real time. That's going on right there where everybody's voting.
In answer to a question, Pulitzer said:
It only takes one device where you chain them together and do it.
Wrong on all counts, said the Georgia secretary of state's office, which supervises elections in the state. Secretary of State Brad Raffensperger issued a blistering news release on January 1, 2021, titled "Fact Check: Georgia Senate Masquerades Failed Treasure Hunter as Hacker and Election Security Expert." The release said in part:
In another election disinformation filled hearing, a small group of Republicans in the Georgia State Senate featured the claims of failed inventor and failed treasure hunter J. Hutton Pulitzer as a star witness. In his presentation, Hutton Pulitzer, formerly J. Jovan Philylaw, claimed without providing any evidence that he had "hacked" a poll pad. He then went on to claim that meant that the entire voting system was compromised even though the poll pad, like the poll books which they have replaced, are never connected to the rest of the voting system.
Raffensperger goes on to say:
Despite Hutton's claims, the Poll Pads are the only piece of election infrastructure that is ever hooked up to the internet or connected to devices that are hooked up to the internet. The poll pads have that capability so election workers can download updated voter lists to the poll pads that are used to check people in on Election Day. However, the Wi-Fi capability is disabled before the poll pads are put in to use at the polling place.

Additionally, the touch screen interfaces and attached printers are never attached to the poll pads and are air-gapped so they cannot be connected to the internet. Finally, the scanners, which scan and tabulate the printed paper ballots that voters can review before casting, are not connected to any of the other equipment at any point either.
KnowInk, creator of the Poll Pad, had already issued a statement on December 31, 2020, strongly refuting the allegations:
The assertions made about unauthorized access to our systems are patently false. The man claiming that someone 'got into' our systems did not happen according to our forensic analysis. There was no 'hack,' there was no 'back door' entry, there was no 'pump and dump,' and there was no access through a 'thermostat' located hundreds of miles away in Savannah.

We also take exception to the misidentification of our systems in the man's testimony, which attempted to conflate our electronic poll books with voting machines and tabulators. Let us be clear about what our company does and doesn't do. We do provide secure electronic poll books, which help voters check in at their polling place and reduce lines at the polls. We do not produce, provide or service voting machines or tabulators, and our systems are not connected to voting machines or tabulators. We check voters in our electronic poll books and voters use another system to vote.

Moreover, our electronic poll books are not being used for voter check-ins during the early voting process currently underway in Georgia, and they won't be used until next Tuesday on Election Day.

Our products have been lauded as providing the most secure elections, but we never stop there. We routinely and voluntarily subject our election technology to the highest security scrutiny including by government and private technology security agencies.
Gabriel Sterling, Georgia's voting system implementation manager, also refuted the hacking during a news conference in Atlanta on January 4, 2020, in which he debunked a series of unproven voting irregularity allegations:
The other really fantastical thing we saw the other day was a potential hacking of Dominion equipment during a Senate hearing last week. That did not happen either. Let's go over a couple of reasons why.

First of all, ballot-marking devices and scanners, neither one have modems. It's very hard to hack things without modems. There's no one to talk to. So let's set that clear.

The Poll Pad, which is a no-link device, does have the ability to connect to Wi-Fi, which we use for loading purposes and in case there's an issue on election day, but they're not hooked up live all the time. And if they saw anything, they could see traffic back and forth but it would basically be like watching a river go by, you couldn't get in. It's essentially if they did this, which we have no proof of it. We have claim after claim after claim with zero proof. Zero.

And signed affidavits are part of an evidentiary trail, but they have to be investigated. Let's remember, everybody who came and gave testimony is public comment at the Senate hearing. This office was never asked to come and discuss those items with the state Senate subcommittee. That didn't happen either, which I find interesting because, obviously, they're making wild claims that, again, undermine people's faith in the system.
Dominion Voting Systems has been a target of unproven allegations that their voting systems were hacked to help Joe Biden win the presidency. Lead Stories has written extensively to debunk those false claims. You can find some of those stories here.
Dominion also denied on its website accusations that it was involved in fixing the election.