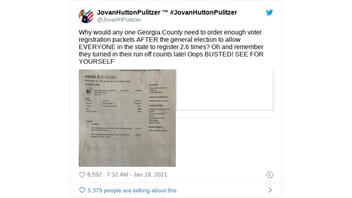 Did a Georgia county mean to order 25 million voter applications after the 2020 election? No, that's not true: The order was the result of an input error. Officials meant to order 250,000 individual voter applications, not 250,000 packs of voter applications, each one of which contains 100 applications, according to an election official in DeKalb County.
The claim appeared in a Twitter post (archived here) published by "Jovan Hutton Pulitzer" on January 18, 2021. It read:
Why would any one Georgia County need to order enough voter registration packets AFTER the general election to allow EVERYONE in the state to register 2.6 times? Oh and remember they turned in their run off counts late! Oops BUSTED! SEE FOR YOURSELF
This is what the post looked like at the time of writing:
(Source: Twitter screenshot taken on Tue Jan 19 15:40:57 2021 UTC)
The post included images of what looked to be order confirmations for voter applications from three Georgia counties: Chatham, Murray and DeKalb. All were dated after the 2020 general election, which is not at all unusual, despite what the post implies. County officials typically place orders for applications after any major election cycle. It's a standard restocking process.
According to the confirmations, Chatham County ordered 100 packs of voter applications, Murray ordered 10 and DeKalb ordered 250,000. Each pack contains 100 individual voter applications, which would mean that DeKalb's order was for 25 million applications. That number, for good reason, raised a red flag, as the total number of active voters in the whole state of Georgia, as of November 1, 2020, was around 7 million (7,233,584 to be exact).
Lead Stories reached out to elections officials in DeKalb County to ask about the apparent discrepancy. Erica Hamilton, director of DeKalb voter registration and elections, responded:
An input error resulted in 250,000 packs of voter applications initially being ordered as opposed to 250,000 individual voter applications. This order has not been filled and the input error, which was likely already flagged by the SOS [Secretary of State], will be corrected.
We reached out to the Georgia Secretary of State for comment. Spokesman Walter Jones confirmed that the office did not send 25 million forms. He wrote in an email:
Elections officials managed tens of millions of pieces of information. It's not entirely surprising that human beings, who are entering in data, occasionally make an error. DeKalb County identified the issue and addressed the error appropriately.
The office of the secretary of state has previously commented on the man responsible for the post, "J. Hutton Pulitzer", blasting his efforts to undermine confidence in the integrity of the 2020 election. Lead Stories has also debunked his activities before.