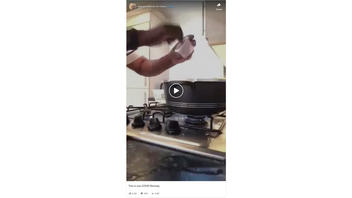 Will this tonic routine treat COVID-19 in the way that is claimed, and can it prevent anyone who adheres to this regimen from dying of COVID? No, that's not true: This COVID remedy, which is intended to be used as both an inhaled steam treatment and as a drink, contains several aromatic and natural ingredients as a tonic, and those may help an ill person to feel better -- but the ingredients do not act to fight a COVID-19 infection in the manner described.
The claim originated as a video in a post (archived here) where it was published by Men and Women for Christ on January 12, 2021, under the title "This is one COVID Remedy." The video begins:
My name is Eulay, I am a nurse, I work in intensive care and I work for Hanson Grey Agency, a very good agency to work for.
Now I would like to do a brief demonstration of something called COVID tonic.
Ok, because whenever time someone is diagnosed with COVID, they went home, they stayed at home until they deteriorated and then they end up in the hospital -- which you might die, or luckily recovered.
But you don't have to die. No one needs to die from COVID. Don't stay at home and sit there and do nothing about it with your diagnosis.
What you do when you diagnose the symptoms -- go home and get:

An Onion




A Lemon




Piece of ginger about this size




Four cloves of garlic
This is what the post looked like on Facebook at the time of writing:
(Source: Facebook screenshot taken on Tue Jan 19 16:51:57 2021 UTC)
The instructions are for the four ingredients to be chopped and grated and added to a pot of boiling water to simmer. After cooking, some of the boiling liquid is put in a bowl and the patient is to cover their head with a towel to make a steam tent over the bowl. The narrator describes the steam treatment as if the heat of the steam will sterilize the airways and destroy any virus present. This is not possible. The narration continues:
All the steam is going straight into your nostril, your mouth and down into your lungs. This steam is very hot! Therefore if there is any virus in your throat or in your nostril, then this will destroy it. So it goes through your nostril, through your mouth down into your lungs -- OK? And because it is so hot and it has got all these health benefits in it, it really helps to destroy covid.
I have used it before in patient's homes and it really helps the whole recovery -- OK? You don't have to stay home and die from COVID.
Do something about it. Use the COVID tonic. Steam yourself if you are COVID positive, steam yourself three times a day. And drink at least two cups of the tonic twice a day: one in the morning and one in the evening.
While steam treatments can help a person to feel better by opening the airways and loosening mucus, steam can not actually kill a virus in the airways of a living person. The steam could even burn or irritate the lungs. An article in the Times of India quotes one doctor who observed people coming into the hospital with scalded airways at a time when unscientific social media posts were promoting steam therapy as a COVID-19 prevention.
Dr Satyanarayana Mysore, HOD, pulmonology, Manipal Hospitals who has been treating Covid cases since March, said steam inhalation for a week is "very unscientific". "We have seen patients coming in with respiratory symptoms not due to Covid, but because of the scalding of the airways. Such cases have a history of steam inhalation. Unscientific steam inhalation is probably going to burn the airways, causing problems much worse than Covid," Dr. Mysore said.
This video claims that ginger is very rich in zinc and that zinc helps the immune system. It is true that zinc is a very important nutrient and plays a critical role in supporting the immune system, but it is not true that ginger is very rich in zinc. Daily zinc recommendations for adult women and men are about 8 to 11 milligrams respectively. A teaspoon of raw ginger has 0.01 milligrams of zinc. An adult man would need to eat about 23 cups of raw ginger to get the daily recommended amount of zinc, or he could find the full daily equivalent in one four-ounce hamburger and a cup of peanuts.
There is also a claim in the video that the acid of the lemon will become alkaline when boiled, and that "COVID doesn't like alkaline." This rumor that COVID would be destroyed in an alkaline environment is the reverse of other disproven COVID home-remedy advice that promoted lemon remedies for their acidic quality. Lead Stories was unable to find any source for the claim that boiling lemons changes the acidity. The acidity of lemons, a pH between 2 and 3, is balanced out by the body's own digestive system. This question is touched on in the thoughtco.com article, "What Is the pH of Lemon Juice?"
Although lemons are acidic, drinking lemon juice really does not have an impact on the pH of your body. Drinking lemon juice increases the acidity of urine, as the kidneys rid the body of excess acid. The pH of the blood is maintained between 7.35 and 7.45, regardless of how much lemon juice you drink. While some people believe lemon juice has an alkalizing effect on the digestive system because of its mineral content, there is no scientific data to support this claim.
Lemon juice is high in vitamin C, but orange juice has even more. The daily recommended amount of vitamin C for adult women and men is about 75 to 90 milligrams respectively. A cup of lemon juice has 94.4 milligrams of vitamin C while orange juice has 124 milligrams.
Since the start of the COVID-19 pandemic, garlic and onions appear over and over in social media remedies purported to either help avoid or cure COVID-19. These foods are known to have certain antimicrobial properties, but coronavirus is not treated with antibiotics because it is not a bacteria, it's a virus.
The best known practices to avoid contracting COVID-19, according to the World Health Organization and other health agencies, are washing hands regularly, social distancing and wearing a mask when out in public.
In March of 2020 Lead Stories countered a claim that the coronavirus could be killed with time spent in a sauna. Lead Stories wrote about another boiled remedy of orange peels, onions, and garlic and addressed the claim that an alkaline diet can prevent you from getting COVID-19 in April of 2020.