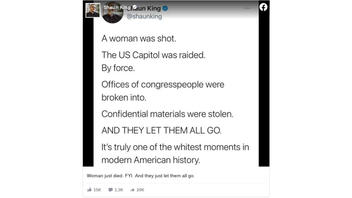 Is it true that all insurrectionists were let go after storming the U.S. Capitol building on January 6, 2021? No, that's not true: A number were arrested on the day of the riots and charged in connection with the violence and destruction.
The claim appeared in a Facebook post (archived here) where it was published by Shaun King on January 6, 2021 with the caption "Woman just died. FYI. And they just let them all go." The post opened:
A woman was shot. The US Capitol was raided. By force. Offices of congresspeople were broken into. Confidential materials were stolen. AND THEY LET THEM ALL GO. It's truly one of the whitest moments in modern American history
This is what the post looked like on Facebook at the time of writing:
(Source: Facebook screenshot taken on Fri Jan 8 15:21:36 2021 UTC)
On the day of the riots, January 6, 2021, U.S. Capitol Police arrested 14 people in connection with the storming of the Capitol Building. Of those, 11 were arrested for unlawful entry among other charges.
D.C. Metropolitan Police Department arrested 26 people on January 6 for unlawful entry to the U.S. Capitol building all of whom were also charged with curfew violation, according to arrest records. The people charged with unlawful entry by MPD now have federal charges pending against them "due to insurrection at the U.S. Capitol," according to an MPD spokesperson. Which federal agency has taken these over is not yet known as there are a number of federal law enforcement agencies involved.
In total, MPD arrested 61 people on January 6, 2021 for offenses committed on that day. Only three of these people were not charged with curfew violation, however.
The mayor of Washington, D.C., Muriel Bowser, said at a January 7, 2021 press conference she's curious how so many pro-Trump protesters were able to breach the security meant to protect the House and Senate in a building that has its own 2,300-member security force:
Well I think that there's gonna be a lot of time for us to figure out what happened. Obviously it was a failure or you would not have had police lines breached and people enter the Capitol building by breaking windows and terrorizing the people, the members of congress who were doing a very sacred constitutional requirement of their jobs. so clearly there was a failure there... There's gonna have to be a real investigation into what happened.
The false claim that no one was arrested has been an element of criticism that compares the police response at the Capitol January 6, 2021 to the police presence and response to during 2020's racial equality protests sparked by the May 25, 2020 death of George Floyd, asphyxiated by a Minneapolis, Minnesota, police officer who kneeled on his neck. From the night of May 30, 2020 to the morning of June 3, 2020, the peak period for racial equality protests, 427 people were arrested in D.C. on unrest-related charges.