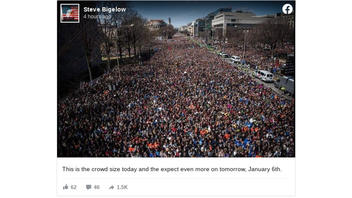 Does this photo show crowds thronging the streets of Washington, D.C., on January 5, 2021, a day ahead of when supporters of Donald Trump planned to demonstrate in favor of his crusade to overturn the results of the 2020 presidential election? No, that's not true: Washington, D.C., was overcast on January 5, 2021, and a simple image search online shows a clear match to a 2018 photo of the crowds that turned out for the "March For Our Lives" gun control demonstration organized by high school students.
The photo, used in multiple false reports on social media, was used in a Facebook post (archived here) where it was published on January 5, 2021, under the title, "This is the crowd size today." It opened:
...and the (sic) expect even more on tomorrow, January 6th.
This is what the post looked like on Facebook at the time of writing:
(Source: Facebook screenshot taken on Tue Jan 5 23:37:05 2021 UTC)
Lead Stories staff stationed in Washington, D.C., reported the sunny-day scene shown in this and other identical posts was impossible, since January 5, 2021, was an overcast day in Washington on which WeatherTAB had predicted a 45% chance of precipitation.
Copying the entire image from the Facebook post and using it in this image search on TinEye retrieves the following summary:
WASHINGTON, DC - MARCH 24: Attendees are seen at the March for Our Lives rally on Saturday, March 24, 2018, in Washington, D.C. (Photo by Salwan Georges/The Washington Post via Getty Images)
As part of its coverage of the march in 2018, CBS News had reported it hired a crowd-estimating service on the day, calculating more than 200,000 marched on the U.S. capitol, demanding changes to U.S. gun laws in the wake of the shooting at Marjory Stoneman Douglas High School in Parkland, Florida.
More than 200,000 people attended the March for Our Lives demonstration in Washington D.C. on Saturday, according to Digital Design & Imaging Service Inc (DDIS). The Virginia-based firm uses a proprietary method for calculating crowd size using aerial photos.

The peak crowd size was 202,796 people, with a margin of error of 15 percent, the firm said. The crowd reached its largest size at 1 p.m., according to the company's estimates.
Following are other examples of conservative activists using the March For Our Lives crowdshots to claim strong support for the effort to invalidate Joe Biden's 306-232 Electoral College win over Donald Trump.
The first example is from the "Gilded Truth" account.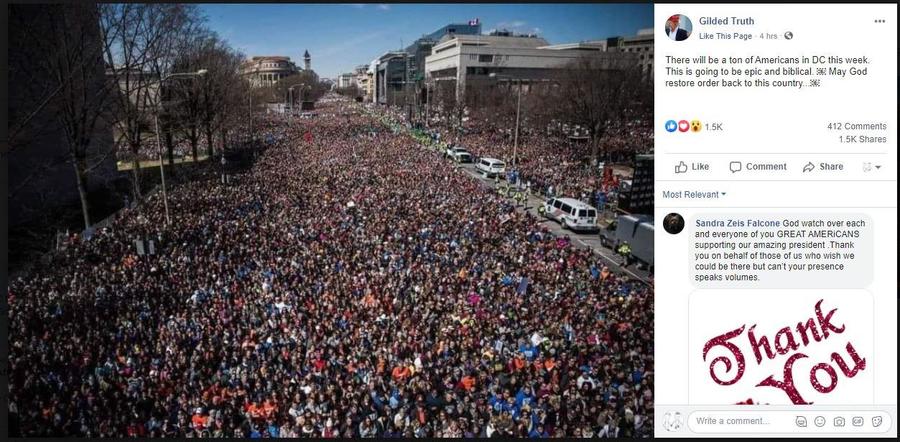 (Facebook screenshot Tue Jan 5 23:19 2021 UTC)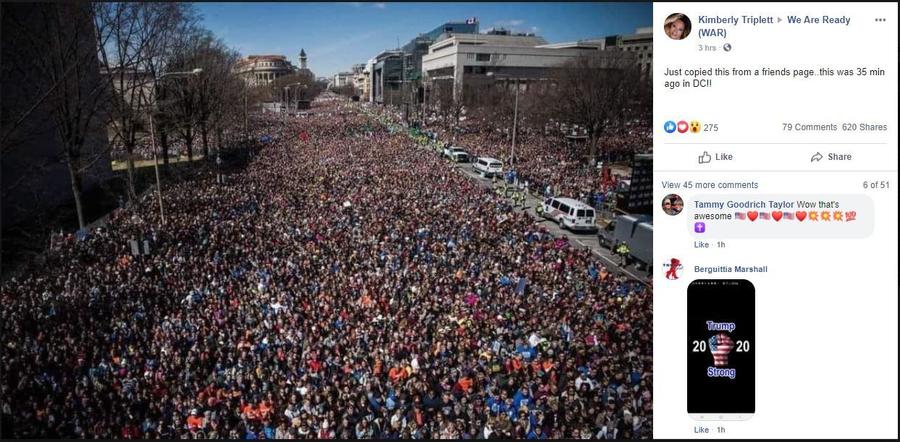 (Facebook screenshot Tue Jan 5 22:30 2021 UTC)