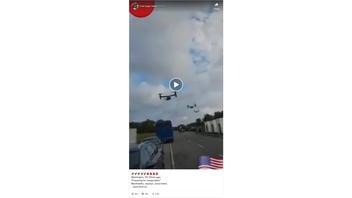 Did an assortment of military combat helicopters, including Blackhawks and Ospreys, buzz Washington, D.C. on the morning of January 15, 2021 as shown in an online video? No, that's not true: The video posted on Friday that purported to be "50min ago" was shared months earlier on TikTok and appears to have been recorded at an airshow in Denmark at least nine months earlier. There is no other video circulating publicly that shows the same aircraft flying low over the U.S. capitol on or about January 15, 2021.
The claim appeared in a post (archived here) shared on Facebook on January 15 2021. The accompanying text, which implied that the aircraft would be used in some military operation in Washington, read:
🦅🦅🦅🦅🦅🚨🚨🚨🚨 Washington, DC 50min ago. "Preparing for inauguration" Blackhawks, ospreys, scout helos. ...dont think so...
This is what the post looked like on Facebook at the time of writing:
(Source: Facebook screenshot taken on Sat Jan 16 20:26:48 2021 UTC)
First, there is nothing in the video that indicates the video was recording in Washington. No local landmarks or signs are visible.
Since the Facebook video purportedly showing the helicopters flying over Washington on January 15, 2021 is identical to a video uploaded more than a week earlier on TikTok, it could not have been recorded that day.
The same TikTok account also uploaded a video in April 2020 that appeared to be recorded at the same time and place:
The hashtag ##tiktok_denmark suggests it was recorded in Denmark. Also, a car license plate seen in the video is consistent with Danish tags: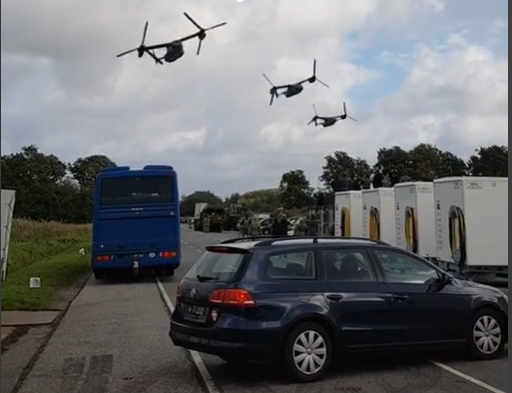 While we cannot conclusively say the flyover was in Denmark or exactly when it happened, we can decisively say it was before April 27, 2020 and not on January 15, 2021 in Washington, D.C.