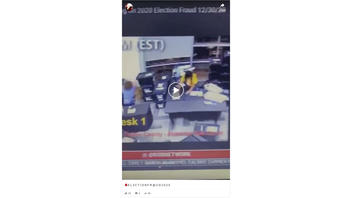 Does security camera video from Fulton County, Georgia, show an election worker on November 3, 2020, improperly scanning the same ballots multiple times? And were media representatives and other observers told to go home before this scanning took place following a water main break? No, those claims are not true: The director of registration and elections in Fulton County told Lead Stories in an email that the scanner was jamming, so the election worker had to re-run some ballots. Gabriel Sterling, Georgia's voting system implementation manager, explained during a press conference that data from this initial count and the subsequent hand recount showed scanning was done properly. The chief investigator for the secretary of state previously told Lead Stories that the media and other observers were not told to leave, but instead followed workers who left when their work was finished.
The claim appeared as a video in a post (archived here) on Facebook on January 4, 2021, under the title "E L 3 C T I O N F R @ U D 2 0 2 0". The narrator in the video states:
You can see that this lady is taking the same stack of ballots and once she runs them through the scanner, there she goes, she sticks them back in, and runs them a second time and a third time.
This is what the post looked like on Facebook at the time of writing:
(Source: Facebook screenshot taken on Thu Jan 7 21:05:32 2021 UTC)
The security video from the State Farm Arena in Atlanta appears to show a woman at about 11 p.m. on November 3, 2020, putting the same grouping of ballots through a scanning machine more than once.
Richard Barron, director of registration and elections in Fulton County, told Lead Stories in an email on January 7, 2021, the worker was dealing with some type of jam with the scanner. He explained:
She did not accept the ballots she had run, (but) instead re-ran them before accepting the batch. It (is) no different than with paper jams in a copier and you have to pull it out and rerun it.
During a press conference on January 4, 2020, Gabriel Sterling, a Republican and Georgia's voting system implementation manager, addressed the same claims about ballots being scanned multiple times, with the remarks transcribed below coming at 8 minutes, 49 seconds into the press conference video, also below:
One of the things you need to understand is a normal ballot processing, if there was a problem with the ballot what it does is, it stops. But before that, four or five will get through. So they say, 'Delete that last batch and rescan it so they scan properly.' That is the normal process that is done.
Georgia also completed a hand recount of presidential votes after its initial tally. Sterling said that if there was this type of nefarious scanning taking place, "you would have a lot of votes with no corresponding ballots." But the numbers did not reflect such a discrepancy. He said during the press conference:
Statewide, for the sheer number of ballots, they were off by 0.153%. For the margin, they were off by 0.0099%, which shows that the machine scanned properly, our counties did a great job of following these batches and doing the hand count properly, appropriately, with scrutiny and with observers.
Sterling also clarified during the press conference that the water leak that was discovered at the facility was in fact due to a urinal overflowing.
Lead Stories previously fact checked the erroneous claim that the media and other observers were instructed to leave the room where ballot scanning was taking place on the evening of November 3, 2020. Frances Watson, chief investigator for the Georgia secretary of state, told Lead Stories there were never instructions given to the media or other observers about them needing to leave. She explained observers and journalist just followed the "cutters" (Workers whose job it is to open absentee ballot envelopes and verify ballots for eventual scanning and counting), once they were dismissed because their work was finished for the evening.
She said during a phone call on December 3, 2020:
Nobody told them to stay. Nobody told them to leave. Nobody gave them any advice on what they should do. And It was still open for them or the public to come back in to view at whatever time they wanted to, as long as they were still working.
The Associated Press and The New York Times previously debunked similar claims.
President-elect Joe Biden, a Democrat, narrowly won Georgia and its 16 Electoral College votes during the 2020 presidential race.