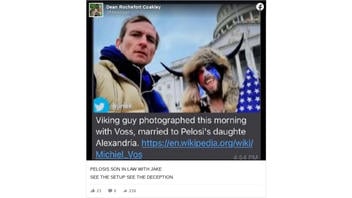 Did a photo show Michiel Vos, son-in-law of Speaker of the House Nancy Pelosi, meeting the shirtless, horned QAnon supporter who was widely mistaken for an Antifa activist during the January 6 events and is that a sign the two were in cahoots somehow? No, that's not true: the photo showing Vos next to Jake Angeli (aka "QAnon Shaman") was real, but besides being married to Pelosi's daughter Alexandra, Vos is also the foreign correspondent for several Dutch television shows and he regularly covers events in Washington D.C., which is what he was doing on January 6, 2021 as House and Senate prepared to certify the election results.
An example of a post (archived here) questioning what was going on in the photo was published January 6, 2021 on Facebook with following words:
PELOSIS SON IN LAW WITH JAKE
SEE THE SETUP SEE THE DECEPTION
This is what the post looked like on Facebook at the time of writing:
(Source: Facebook screenshot taken on Thu Jan 7 22:59:20 2021 UTC)
Vos is a contributor to several shows on Dutch television, for example Pauw, Jinek, RTL Boulevard and EenVandaag. The photo seems to have been taken from a snippet from the January 6, 2021 episode of "Jinek", a talk show hosted by Eva Jinek on channel RTL, which you can watch here if you speak Dutch.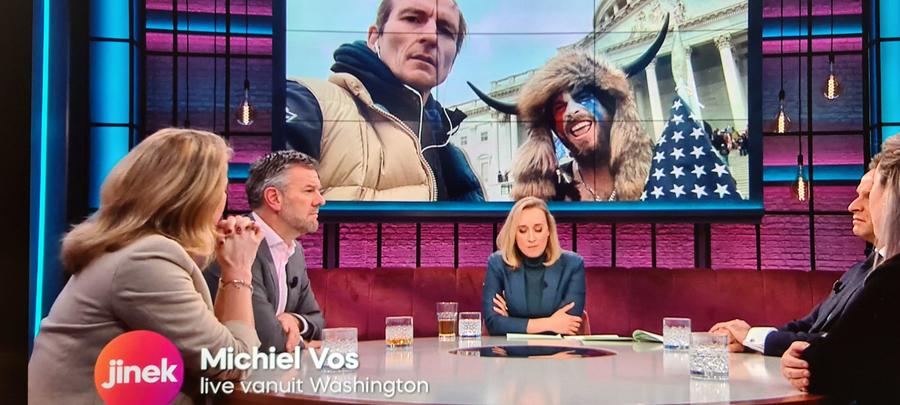 (Screenshot: RTL Jinek, January 6, 2021 episode)
During the segment Vos is telling presenter Eva Jinek about his experiences covering the events around the Capitol (segment starts around 5:20). He says he "never experienced anything like this" and that he was standing outside as he watched people climbing the walls "like some post-apocalyptical movie" while shouting things about "pedophiles" and "liars". He described the protesters as people going to the bitter end, angry and very "un-Washingtonian".
He also described getting a panicked phone call from his wife, who was inside the building with his son and mother-in-law and who said "It's getting weird, we got to get out of here, we are just inside, they are shooting tear gas". He further tells Jinek of being outside, watching fights and not knowing what was happening inside, while inside an evacuation was going on led by the DC Police and the security detail of his mother-in-law. He said he heard they were being taken to some kind of military base and he felt stupid waiting outside "like a tourist" and that he hadn't been in touch with them for three hours because he couldn't get a connection. He spoke of confusion and that things had gotten completely out of hand, opining this wasn't America anymore.
Vos appearing in pictures with people in Washington is totally what you would expect for a foreign correspondent. For example here you can see him meet President Trump:
Correspondent Michiel Vos wil met zijn docu ook Trumps Amerika laten zien en niet alleen het Amerika van New York en Los Angeles.

Posted by AD.nl on Thursday, May 18, 2017
On his website you can also find pictures of him with George W. Bush and Bill Clinton for example.