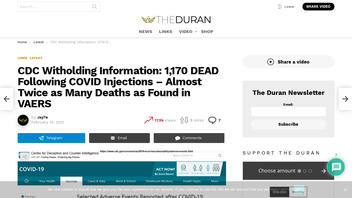 Did the Centers for Disease Control and Prevention withhold data that showed a federal vaccine reaction-reporting database -- VAERS -- was under-reporting the number of people who have died after receiving a COVID-19 vaccine? Does the CDC not even collect data on vaccine-related deaths? Is it "not credible" that vaccines have caused none of the 1,100 reported deaths of Americans who have received the COVID-19 vaccination? None of those three claims is true.
1. CDC staff told Lead Stories the federal government's database of unresearched reports of post-vaccine medical problems was updated when managers found that foreign deaths were being included in the data, which explains discrepancies in the totals.
2. The CDC does have a code for tracking vaccine-related death: "Y59.0" .
3. The "not credible" claim was made without reference to epidemiological or other data that proves COVID vaccines are killing Americans. More than 50 million Americans had been vaccinated by mid-February when the claim was made and the CDC reported as of February 23, 2021, it had received zero medical confirmation of any death caused by reaction to a COVID vaccine.
The claim appeared in an article (archived here) published by The Duran on February 14, 2021, under the title "CDC Witholding Information". It opened:
1,170 DEAD Following COVID Injections - Almost Twice as Many Deaths as Found in VAERS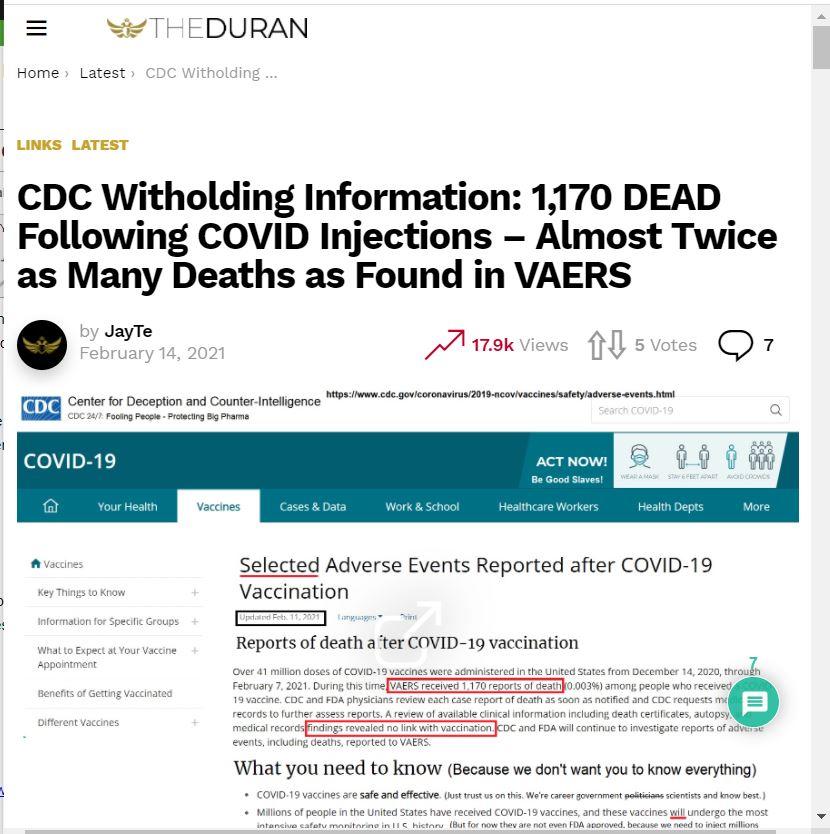 (Source: The Duran Screenshot Thu Feb 18 18:11 UTC 2021)
The discrepancy in post-vaccination deaths, noted by The Duran was due to an oversight in the way the Vaccine Adverse Event Reporting System (VAERS) database was collecting reports, said Martha Sharan, public affairs officer for the CDC. In a February 23, 2021 email to Lead Stories, Sharan wrote:
last week the number of deaths reported to VAERS following COVID-19 vaccination decreased from 1,170 to 934. The drop, found on this website page, represents the number of deaths reported internationally to VAERS from December 14, 2020 through February 7, 2021. International reports will no longer be combined with U.S. reports of deaths following COVID-19 vaccination to VAERS.

... we have added an asterisk following the number of deaths reported with a footnote that explains the change to domestic cases. The change was made to match the number of U.S. doses to the number of U.S. deaths reported to VAERS following COVID-19 vaccination.
The article in The Duran suggests CDC is ducking press coverage by updating its reports on Fridays. Sharan said it's no secret that the Vaccine Adverse Events Reporting System updates every Friday, which media and other observers can plan around. She reiterated the warning ignored by many users of VAERS data: that users can't conclude every reported event in the database actually happened and was actually caused by a vaccination. Doctors are required to report, regardless if they have proved a link and anyone else may add to the database. It's a big untested set of data that is not used for pinpoint analysis, but as an early warning system in case clusters of similar cases show up. Sharan wrote:
It is important to remember that VAERS does not determine if the vaccine caused the reported adverse event. While some reported adverse events may be caused by vaccination, others are not and may have occurred coincidentally.

For reports classified as serious, like death, CDC follows up to get medical records: hospital records, clinic records, death certificates, and autopsy reports to verify and better understand the adverse event. The determination of the cause of death is done by the certifying official who completes the death certificate or the pathologist who conducts the autopsy.

At this time, CDC has not received any confirmation of a COVID-19 vaccine-related death.
Robert Anderson, Ph.D., chief of the mortality statistics program at the National Center for Health Statistics, pointed out two falsehoods in the article in The Duran. In a February 18, 2021, email to Lead Stories, Anderson said that, contrary to assertions in the article, the CDC doesn't control the contents of death certificates (a different reporting system than VAERS) and The Duran is wrong about CDC data-keeping on vaccine deaths:
CDC does not determine the content of death certificates. Death certificates are governed by state laws and regulations. In any case, the cause of death is reported by the certifier (physician, medical examiner or coroner) in free text, so death certificates do not limit what can be reported as the cause of death.

We take that free text and assign corresponding ICD-10 codes. The ICD-10 code for deaths involving viral vaccines causing adverse effects in therapeutic use is Y59.0. So, we do have a code that is assigned when a death involving a vaccine is reported on a death certificate.
As Lead Stories pointed out in a January 27, 2021, fact-check, the fact people are dying after receiving the vaccine is not proof it is lethal:
Correlation Does Not Imply Causation

A certain number of people can be expected to die in any given week, for any given reason. Assuming that a particular death or illness is caused by the vaccine because it was administered just before someone got sick is an example of a logical fallacy. The fact that one event precedes the other does not necessarily mean that the first event caused the second. Correlation and causation are not the same thing.
In that fact-check, public health experts also reminded readers that in the first weeks of the U.S. vaccination campaign, the COVID shots are only available to the most vulnerable: health care workers and the elderly and those with underlying health problems that make them particularly vulnerable to numerous health crises and therefore more likely to die, with or without the vaccination.
NewsGuard, a company that uses trained journalist to rank the reliability of websites, describes theduran.com as:
A pro-Russia website that has published conspiracy theories and false information to advance its views, including misinformation about the COVID-19 pandemic.
According to NewsGuard the site does not maintain basic standards of accuracy and accountability. Read their full assessment here.