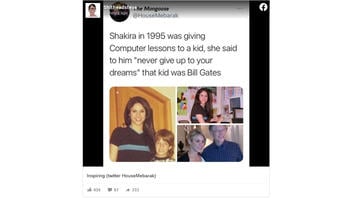 Did Shakira give computer lessons to Bill Gates in 1995 and encourage him to never give up? No, that's not true: This is a silly satire; Shakira was born in 1977 and Bill Gates was born in 1955. In 1995 Gates was 39 years old, not only was the Microsoft mogul not a young boy taking computer lessons, that was the first year he was listed by Forbes as the richest private individual in the world. That year, 1995, was also the year Microsoft released Internet Explorer.
The claim originated as a tweet on February 22, 2021, but has moved to Facebook as a screenshot. One example is a post (archived here) published on February 24, 2021. The text in the screenshot reads:
Shakira in 1995 was giving Computer lessons to a kid, she said to him "never give up to your dreams" that kid was Bill Gates
This is what the post looked like on Facebook at the time of writing:
(Source: Facebook screenshot taken on Thu Feb 25 14:40:06 2021 UTC)
The photo of a young Shakira at her computer seems to have surfaced publicly in 2018. The Spanish-language edition of Huffington Post published a piece about it on January 19, 2018, "This 90s photo of Shakira in front of a computer reveals many clues about her future"
One of the photos showing Shakira and Bill Gates together had been tweeted by Shakira in February of 2012.
Bill Gates is tackling some of the world greatest problems, guided by the belief that all lives have equal value. Shak pic.twitter.com/VFy39e4L

-- Shakira (@shakira) February 22, 2012
The forbes.com timeline of Bill Gates' professional life includes this entry for the year 1995:
Gates writes a historic memo to staffers warning of an "Internet tidal wave." The message marks a new chapter for Microsoft as it moves to dominate the Internet with initial plans for its now ubiquitous Internet Explorer browser. Gates, 39, becomes the richest man in the world, with a fortune of $12.9 billion. Microsoft sales near $6 billion after the release of Windows 95.