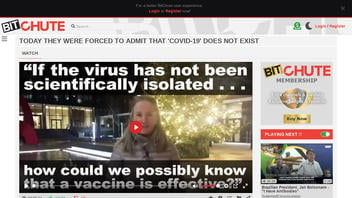 Did Irish Health Service officials "admit" COVID-19 does not exist? No, that's not true: The claim rests on a purported Irish Health Service (HSE) letter the agency says does not exist. The person based her claim on a bit of sophistry: She declares that since she demanded and did not receive HSE documentation of lab isolation of the novel coronavirus, effectiveness of lockdowns, masks and social distancing, HSE officials have therefore "admitted" there is no virus and that lockdowns, masks and social distancing don't work.
HSE is not a research lab and would not hold lab data about SARS-CoV-2 isolation, nor would it have conducted the accepted studies of lockdowns, mask-wearing and social distancing that were conducted at large university and government labs worldwide.
The claim originated in a video a video (archived here) where it was published on BitChute by Systems of Consciousness on December 23, 2020, under the title "TODAY THEY WERE FORCED TO ADMIT THAT 'COVID-19' DOES NOT EXIST". It opened:
If the virus has not been scientifically isolated...how could we possibly know that a vaccine is effective?
The claims are made on camera by Gemma O'Doherty, a veteran reporter dismissed by the Irish Independent in 2013, who now traffics in conspiracy theories on her BitChute channel. In the video, she holds up a sheaf of papers that she says -- without zooming in to show viewers -- are a letter from HSE:
They have failed to provide a response within the deadline...This morning lo and behold, this letter from the HSE which is proof of the answer we knew they would have to admit, which is that the virus doesn't exist.
O'Doherty then reads from the papers in her hand, saying the HSE wrote: "Following consultation with my colleagues, both from the scientific and medical areas of the HSE I can confirm that we would hold no records in relation to your request...I must inform you that having undertaken these searches, we were unable to locate the records in question."
O'Doherty then extrapolates from the lack of records that HSE would not necessarily hold that HSE has "admitted" there is no evidence:
As part of our legal action, we had been demanding the evidence that this virus actually exists... evidence that lockdowns actually have any impact on the spread of viruses; that face-masks are safe, and do deter the spread of viruses - They don't. No such studies exist; that social distancing is based in science - It isn't. it's made up; that contact tracing has any bearing on the spread of a virus - of course it doesn't. This organisation here - is making it up as they go along.
Lead Stories reached out to the HSE to request copies of any letter from O'Doherty or to her. In a January 22, 3031 email to Lead Stories, the agency's communications staff said Ireland's public health agency could not find O'Doherty's letters. HSE communications staff said the agency has clearly said the virus exists and that standard viral health measures like masks, distancing and lockdowns work:
I can't locate a record of an FOI request in the time frame mentioned, which asked the HSE 'to provide proof that the COVID-19 virus exists'. It may be that the request was phrased differently in practice and we can't see the phrasing of the original request from the material posted.

I cannot authenticate the papers being held in the video. The passage read appears to be an extract from a HSE Freedom of Information request response. This is a standard answer which we must provide to someone submitting an FOI request when we have searched, but we do not have any records that correspond with what's been requested.
The HSE spokesperson provided a number of HSE statements about COVID-19, including:
COVID-19 is a disease caused by the SARS-CoV-2 virus. SARS-CoV-2 was first described in early 2020 and declared a global pandemic by the World Health Organization in March 2020. The devastating impact of the COVID-19 pandemic has been seem and felt by everyone in Ireland and across the globe since that time, and in Ireland, the virus has been responsible for over 86,894 cases of the disease, and for the deaths of 2,205 people.

People over 65 and people with certain health conditions have a higher risk of getting seriously ill if they get COVID-19. Older people living in long-term care facilities also have a greater risk of getting seriously ill if they get COVID-19, as this virus spreads quickly among people living together. Healthcare workers have a higher risk of being exposed to COVID-19 than others.
O'Doherty's tactic -- asking the wrong agency for lab reports and then declaring no such evidence exists -- requires her viewers to ignore the fact that public health officials the world over rely on the following peer-reviewed research in making decisions about COVID-19.
Existence of the novel coronavirus was established at labs in Wuhan, China, where it is thought to have passed from wild animals to humans via a meat market. The Lancet medical journal summarizes the research in this article: The Origin of SARS-CoV-2. In this article on lab culturing of samples, the U.S. Centers for Disease Control and Prevention details laboratory isolation of the virus and documentation of its characteristics.
Lead Stories has de-bunked numerous claims that masks either don't work or will make mask wearers sick. While the U.S. government sought to protect the supply of masks for front-line workers early in the pandemic by discouraging non-professionals from buying them up, multiple reports have shown widespread use of medical masks reduce transmission and policy makers now urge Americans to wear medical masks to prevent spread of the virus. Lead Stories has previously debunked claims that mask-wearers risk excessive carbon dioxide. The CDC provides public lists of peer-reviewed studies that underpin the global consensus among health professionals that masks work.
Both social distancing, and its more stringent form (community lockdowns) have been repeatedly proven to slow the spread of COVID-19. The CDC provides a list of multiple studies it used when developing social distancing guidelines during the presidential administrations of George W. Bush and Barack Obama, including this look at the impact of mass gatherings and holiday travel on flu transmission. Since then, the National Institutes of Health has published research showing how lockdowns work.
In November, NatureHumanBehaviour, a scientific journal, published a study that found quarantines, lockdowns and social distancing were the most effective measures governments could take to slow the spread of COVID-19:
The most effective NPIs include curfews, lockdowns and closing and restricting places where people gather in smaller or large numbers for an extended period of time.