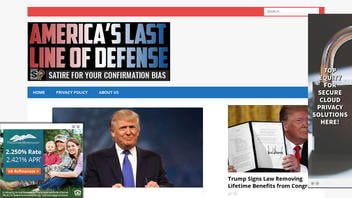 Do newly released flight logs put Joe Biden on Jeffery Epstein's "Lolita Express" jet? No, that's not true: The website that published the story is a satire website and the contents, including purported quotes, are fabricated. No new flight logs from Epstein's private plane have been released, and Joe Biden was never mentioned in any of the previously published flight logs.
The claim appeared as an article (archived here) published by America's Last Line of Defense under the title "Newly Released Flight Logs Put Biden On Epstein's 'Lolita Express' Jet." It opened:
The private jet of Jeffrey Epstein, the "Lolita Express," is known to have been a home of sexual perversion in the sky. By now, all have heard the stories of what took place on the plane.
This is what viewers saw on the website: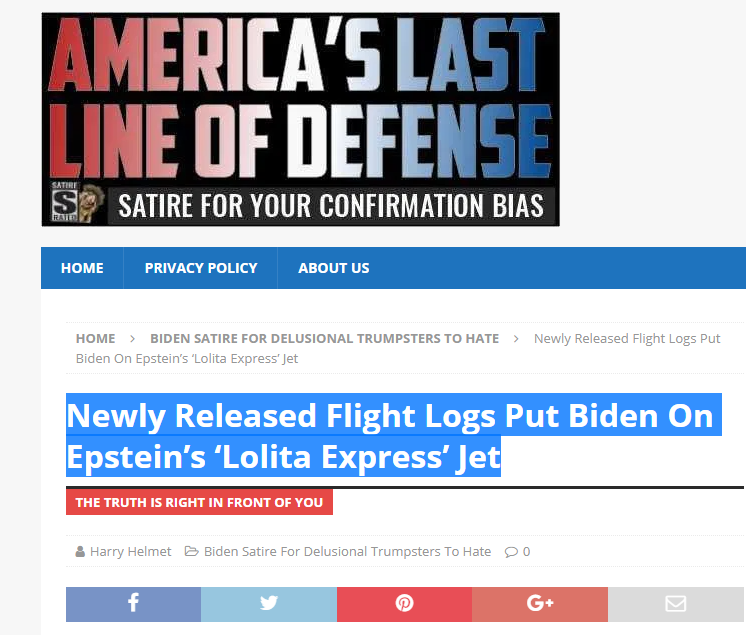 There is no evidence that Joe Biden was ever on Epstein's plane.
The article claims:
After that first release, we thought we had seen all the names, but that was not the case. Additional logs were eventually given to the press, on which a few more very high profile names stood out. One of these was none other than Sleepy Joe Biden, the Democrat running for President. Biden was on board the Express 15 years ago, traveling between Florida and Florida. It was a short trip, yes, But he was on the plane. And we all know what that means.
And the article included a fake quote about Biden on the plane:
Joe Biden does not deny having been on the plane. It should be noted, however, that he did not go to Epstein's Isle. He just went up in the air, clapped his hands repeatedly and screamed, 'WHEEEEE!' The entire trip lasted under 15 minutes.
Nothing sickening took place and no children were involved. The only way one could suggest anything close to that would be by noting the childlike sense of glee that overcomes Biden whenever he flies.
Convicted sex offender Epstein's flight logs have been public for years and Lead Stories has used them to debunk claims that various celebrities and politicians flew on the jet nicknamed "Lolita Express."
The flight logs were handwritten by pilot David Rogers and were obtained by reporters in January 2015 after they were filed as an exhibit in a federal lawsuit. You can download them and check them here:
Epstein Flight logs by Alan Duke on Scribd
The site where the Biden claim appeared is part of the "America's Last Line of Defense" network of satire websites run by self-professed liberal troll Christopher Blair from Maine along with a loose confederation of friends and allies. He runs several websites and Facebook pages with visible satire disclaimers everywhere. They mostly publish made-up stories with headlines specifically created to trigger Republicans, conservatives and evangelical Christians into angrily sharing or commenting on the story on Facebook without actually reading the full article, exposing them to mockery and ridicule by fans of the sites and pages.
Every site in the network has an about page that reads (in part):
About Satire
Before you complain and decide satire is synonymous with "comedy":

sat·ire
ˈsaˌtī(ə)r
noun
The use of humor, irony, exaggeration, or ridicule to expose and criticize people's stupidity or vices, particularly in the context of contemporary politics and other topical issues.

Everything on this website is fiction. It is not a lie and it is not fake news because it is not real. If you believe that it is real, you should have your head examined. Any similarities between this site's pure fantasy and actual people, places, and events are purely coincidental and all images should be considered altered and satirical. See above if you're still having an issue with that satire thing.
Articles from Blair's sites frequently get copied by "real" fake news sites who omit the satire disclaimer and other hints the stories are fake. One of the most persistent networks of such sites is run by a man from Pakistan named Kashif Shahzad Khokhar (aka "DashiKashi") who has spammed hundreds of such stolen stories into conservative and right-wing Facebook pages in order to profit from the ad revenue.
When fact checkers point this out to the people liking and sharing these copycat stories some of them get mad at the fact checkers instead of directing their anger at the foreign spammers or the liberal satire writers. Others send a polite "thank you" note, which is much appreciated.
NewsGuard, a company that uses trained journalist to rank the reliability of websites, describes americaslastlineofdefense.com as:
A network of sites that publish false stories and hoaxes that are often mistaken for real news, run by hoax perpetrator Christopher Blair.
According to NewsGuard the site does not maintain basic standards of accuracy and accountability. Read their full assessment here.