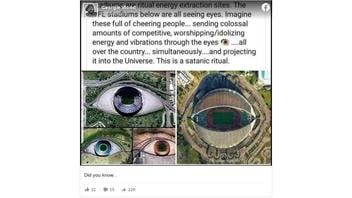 Do these photos show NFL stadiums that are allegedly "all seeing eyes" used for a "satanic ritual"? No, that's not true: The photos shown include those of a stadium located outside the United States -- therefore not NFL -- as well as one altered with computer graphics for use in a 2009 advertising campaign for Sony Bravia televisions.
The claim appeared in a Facebook post (archived here) published February 15, 2021, which stated:
Stadiums are ritual energy extraction sites. The NFL stadiums below are all seeing eyes. Imagine these full of cheering people...sending colossal amounts of competitive, worshipping/idolizing energy and vibrations through the eyes.... all over the country...simultaneously....and projecting it into the Universe. This is a satanic ritual.
This is what the post looked like on Facebook at the time of writing:
(Source: Facebook screenshot taken on Tue Feb 16 18:46:41 2021 UTC)
Lead Stories did a reverse image search on the four photos in the Facebook post. Three of them match images used in the Bravia TV ad campaign, mentioned on the websites of a few of the companies or individuals in Australia who were involved in the campaign. This page on coroflot.com says that the campaign won at least three awards in 2009. This website, electricart.com.au, of a company that was involved in the campaign, tells how the Sony Bravia "eye" was achieved:
Each landscape here was pieced together using many stock shots. Our retouching guys had to find a balance between building a realistic landscape & creating an eye that was still obvious enough to be noticed. We created one of the stadiums in CGI. [Computer-generated imagery, or CGI, uses software and sampling to create images in art and media.]
The fourth image in the post is based on a stadium in Malaysia, according to this 2018 photo of that stadium posted on shutterstock.com. Of course, there are no NFL teams located in Malaysia.