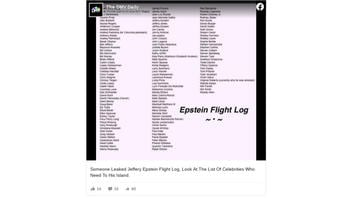 Does a "leaked" Jeffrey Esptein flight log show a list of celebrities, including Beyonce, Chrissy Teigen and Barack Obama, having flown on his plane nicknamed "Lolita Express?" No, that's not true. A list of 125 people circulating on social media claims A-list celebrities like Oprah Winfrey, Charlie Sheen, Steven Spielberg, Madonna and politicians were on Epstein's flight logs and went to his island is fake. The flight logs that are in the public domain do not show 40 of the Hollywood stars that the fake list claims traveled on the infamous plane to Epstein's Caribbean island.
The claim appeared as a post (archived here) where it was published on Facebook. It opened:
Someone Leaked Jeffery Epstein Flight Log, Look At The List Of Celebrities Who Need To His Island.
This is what the post looked like on Facebook at the time of writing:
(Source: Facebook screenshot taken on Fri Aug 14 20:41:34 2020 UTC)
Here is a screengrab of the list: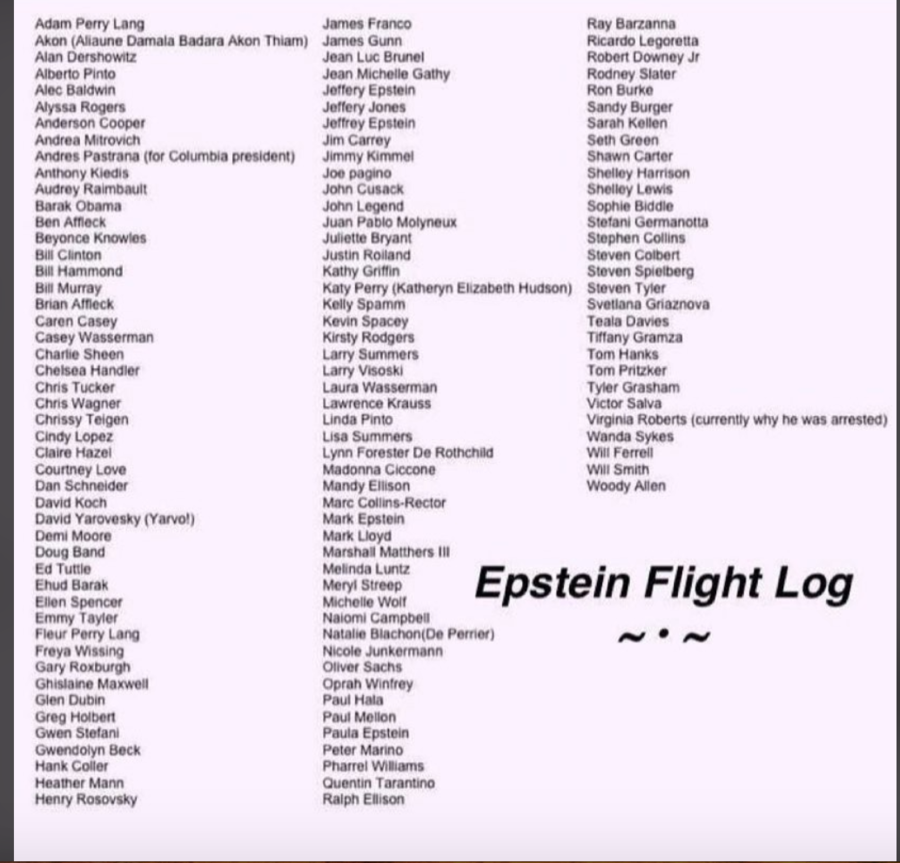 The list claiming to be "Epstein Flight Log" with 125 celebrities and politicians exposed as having been on Epstein's plane, dubbed Lolita Express is fake, and 40 of the celebrities and politicians listed do not appear on the Epstein flight logs.
The flight logs are handwritten by pilot David Rogers and were obtained by reporters in January 2015 after they were filed as an exhibit in a federal lawsuit. You can download them and check them here:
Epstein Flight logs by Alan Duke on Scribd
The flight logs detail trips taken between 1997 and 2005 and included former President Bill Clinton, lawyer Alan Dershowitz, Kevin Spacey, Chris Tucker, former Harvard president Larry Summers, Casey Wasserman, billionaire Ron Burkle (spelled incorrectly as Burke), former national security advisor Sandy Berger, and Virginia Roberts - the woman who claims she was a sex victim of Epstein. Jeffrey Epstein is on the list twice and Ghislane Maxwell is also on the list.
Here is the list of people who do not appear on the cross-referenced list of the Epstein flight logs. Some celebrities are listed by their stage names with their real name in parentheses and other celebrities are listed by their stage names:

Akon (Aliaune Damala Badara Akon Thiam), Alec Baldwin, Anderson Cooper, Anthony Kiedis, Barack Obama (misspelled Barak), Ben Affleck, Beyonce Knowles, Bill Murray, Charlie Sheen, Chelsea Handler, Chrissy Teigen, Courtney Love, Demi Moore, Gwen Stefani, James Franco, Jim Carrey, Jimmy Kimmel, John Cusack, John Legend (real last name Stephens), Kathy Griffin, Katy Perry (Katheryn Elizabeth Hudson), Madonna Ciccone, Marshall Matthers III (Eminem), Meryl Streep, Michelle Wolf, Oprah Winfrey, Pharrell Williams, Quentin Tarantino, Robert Downey Jr., Seth Green, Shawn Carter (Jay-Z), Stephani Germanotta (Lady Gaga), Steven Colbert (misspelled Stephen), Steven Spielberg, Steven Tyler, Tom Hanks, Wanda Sykes, Will Ferrell, Will Smith, and Woody Allen."
Courtney Love and Alec Baldwin both appeared in Epstein's "Black Book" of phone numbers, Vanity Fair previously reported.
The fake Epstein logs have increased on social media in the last few months. Chrissy Teigen furiously shut down the claims on her Twitter account.
every time I post food, some q anon loser asks if it contains baby. I'm honestly just gonna start posting things to drive them even more batshit insane. also like, was I on the island, do I eat babies, or just put them on my skin, or am a pedo?? like I'm everything? pick a lane.

-- chrissy teigen (@chrissyteigen) July 13, 2020
She fought back in since deleted Tweets after one person write to her, "You're on the flight log. #GislaineMaxwell #EpsteinIsland," responding: "if we wanna play with your lie just for fun, do you understand that if I were on the flight for the date of this 'manifest', I'd be a victim."
Epstein's plane, a large Boeing 727 built in 1969 and carrying the tail number N908JE, never landed on Little St. James Island, which is only a 75-acre retreat southeast of St. Thomas, according to the Associated Press. Epstein would take a helicopter from the airport in St. Thomas, locals claimed.
As Lead Stories previously reported, Clinton did not ever land on Epstein's Caribbean island, but did travel on the plane around the world.
Fact Check: Epstein Flight Logs Do NOT Record Bill Clinton Visiting 'Pedo-Island'

Here are other stories about Jeffery Epstein that Lead Stories has been debunking:
Fact Check: Jane Doe V. Donald J. Trump And Jeffrey E. Epstein Lawsuit Filing Is NOT Proof Trump Is A Rapist
Fact Check: Mark Zuckerberg Did NOT Post About Enjoying Adrenochrome On Jeffrey Epstein's Private Island