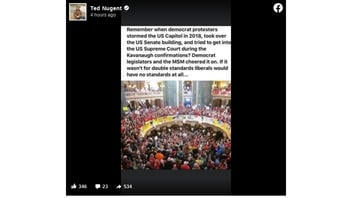 Does a photo show hundreds of people storming the U.S. Capitol building in 2018 during the Brett Kavanaugh Supreme Court confirmation hearing? No, that's not true: The photo is from protests at the Wisconsin state capitol in 2011 -- seven years before the Kavanaugh hearings.
The claim appeared as a post (archived here) published by Ted Nugent on Facebook on February 4, 2021. It opened:
Remember when democrat protesters stormed the US Capitol in 2018, took over the US Senate building, and tried to get into the US Supreme Court during the Kavanaugh confirmations?

Democrat legislators and the MSM cheered it on. If it wasn't for double standards liberals would have no standards at all...
This is what the post looked like on Facebook at the time of writing:
(Source: Facebook screenshot taken on Thu Feb 4 17:49:29 2021 UTC)
Nugent seems to be trying to compare the January 6, 2021, storming of the U.S. Capitol, when five people were killed, including a Capitol police officer, to the protests during the Kavanaugh hearings.
The biggest protest during the Kavanaugh hearings took place on October 4, 2018, in the Hart Senate Office Building, where 293 people were arrested for refusing to leave the atrium, as CNN reported. Nine others were arrested at the Dirksen Senate Office Building. Police had put barricades in front of the Capitol before protesters went to the Senate office buildings.
However, the photograph Nugent posted was taken in Wisconsin in February 2011 when thousands of Wisconsin teachers, state workers and unions were protesting Gov. Scott Walker's budget proposal in that state.
National news outlets published photos from the Wisconsin protests in 2011, including The New York Times and local news outlets in Madison.
Getty Images has photos of the protest in Wisconsin with the caption, "Thousands of Wisconsin teachers, state workers and unions protest Gov. Walker's legislation, in the Capitol in Madison, Wisconsin, Friday, February 18, 2011. (Abel Uribe/Chicago Tribune/Tribune News Service via Getty Images)."
Walker tweeted four photos on January 8, 2021, showing images from the protests in his Capitol building and images from the January 6 riot in Washington, D.C.
In 2011, 100,000 occupied the Wisconsin Capitol and square. They defied law enforcement and took over the building.

Riots and violence are never the answer! pic.twitter.com/Iihg2gCsAH

-- Scott Walker (@ScottWalker) January 8, 2021