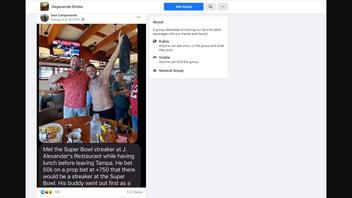 Did the Super Bowl LV streaker bet on himself, making a $50,000 "prop" bet that there would be a streaker at the game so that he netted $374,000? No, there is no proof that he collected. The "streaker", identified in several reports as Yuri Andrade, of Boca Raton, Florida has provided no evidence that he made the money and the offshore sportsbook claims they are investigating "betting irregularities." Technically, a streaker runs in the nude, which Andrade does not appear to have done, which might also void the bet.
The claim appeared as a post (archived here) where it was published on Facebook on February 9, 2021. It opened:
Met the Super Bowl streaker at J. Alexander's Restaurant having lunch before leaving Tampa.
This is what the post looked like on Facebook at the time of writing: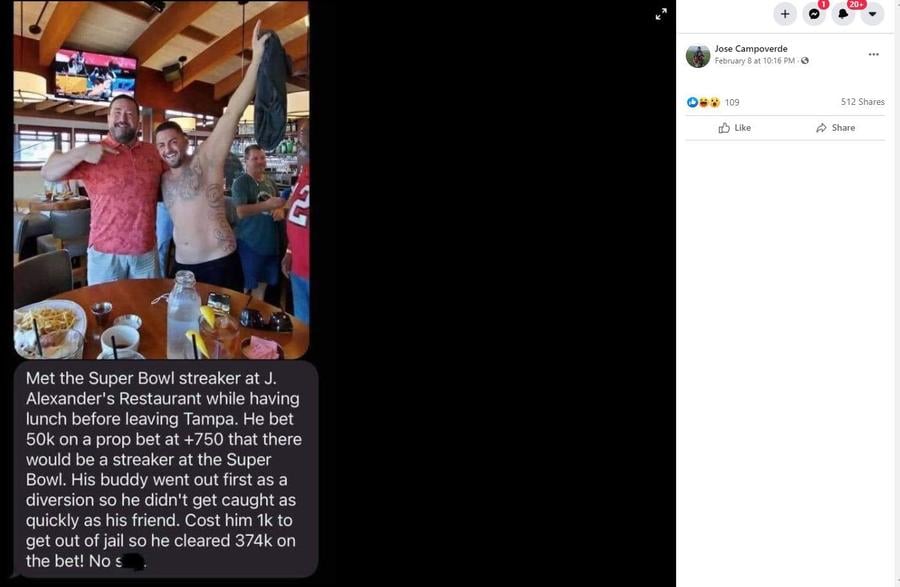 (Source: Facebook screenshot taken Fri Feb 12 03:29:36 2021 UTC)
Andrade has claimed multiple times that he placed a $50,000 wager with offshore sportsbook Bovada at +750 odds that there would be a streaker at the Super Bowl on February 7, 2021 in Tampa, Florida, netting him $375,000 (minus the $1000 he paid to get out of jail).
He hit the field during the game, running around in a hot pink thong swimsuit and was finally caught by security. He has given several media interviews in which he said that he had a friend place proposition bets for him in Vegas, giving him the huge win.
According to GamblingSites.com, "a prop bet is a proposition that you can or cannot do something that is wagered on:
In our two examples, you proposed that your friend couldn't jump over something and that you could eat more than five slices of pizza. You attached a wager amount to it, and voila, you've made a prop bet.

Prop bets, sometimes referred to as 'specials', come in all shapes and sizes and are usually offered in some form or another for all sports.

Prop bets will typically not have a direct effect on the final outcome of a game (though they sometimes can).
WFLA News Channel 8 video, posted to YouTube, shows the man in the pink thong swimsuit. The Cambridge English dictionary defines streaking as running in the nude in a public place.
Bovada released a statement about the situation on its Twitter page.
🚨 We identified some betting irregularities on our Super Bowl prop 'Will A Fan Run Onto The Field During The Game?' 🚨

Learn more 👇🏼 pic.twitter.com/WYScwiiMDw

-- Bovada (@BovadaOfficial) February 10, 2021
Andrade made the claims on Wild 94.1 radio show and on Instagram Live:
The Las Vegas Journal Review, which specializes in covering the gaming industry, reported additional details about the bets in a February 10 article titled "Offshore sportsbook refunds bets on Super Bowl streaker." The paper quotes a statement from the betting firm: "Bovada identified some betting irregularities on our Super Bowl prop 'will a fan run onto the field during the game?'"
The Journal Review reported Bovada is refunding "No" bets and checking "Yes" bettors to learn if they were in on Andrade's stunt:
In a follow-up email interview, the spokesman detailed the line movement on the prop: "The line moved a lot. It opened at +500, but the majority of players were betting 'No,' which forced us to move the line out for yes. It was only late on that all the money started coming for 'Yes.' It was then closed at +175. At one point it was at +750, but there were many different prices offered between open and close. "Later on, pretty much all of the bets were on yes."
The article noted the Las Vegas sportsbooks only offer props on events that can be "verified in the final box score," and not stunts like a fan running on the field or other props that a bettor can influence.