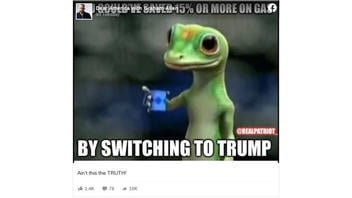 Did President Biden cause the early 2021 increase in the price of gasoline? No, that's not true: petroleum industry analysts agree that prices nearly doubled in less than a year for several reasons not under the control of any president:
rising demand as more people travel due to a stronger economy and waning COVID concerns,
a stagnant supply caused by a cold winter that halted production in the U.S. South as well as diminished output from OPEC nations and Russia,
the yearly switch to a summer blend, which is friendlier to the environment but more expensive to produce.
Biden was not responsible for any of those price triggers.
The claim appeared in a post (archived here) published by Facebook on March 16, 2021 under the title "Ain't this the TRUTH!" It opened:
You could've saved 15% or more on gas by switching to Trump
This is what the post looked like on Facebook at the time of writing:
(Source: Facebook screenshot taken on Thu Mar 18 17:07:09 2021 UTC)
Not only is Biden not responsible for the 2021 spike in gasoline prices, but the increase is pretty much a yearly phenomenon and also occurred during Donald Trump's four years as president, from January 2017 to January 2021.
Patrick De Haan, head of petroleum analysis for GasBuddy.com, pointed out in a March 17, 2021 tweet that gasoline prices were higher in 2018 and 2019 than in early 2021.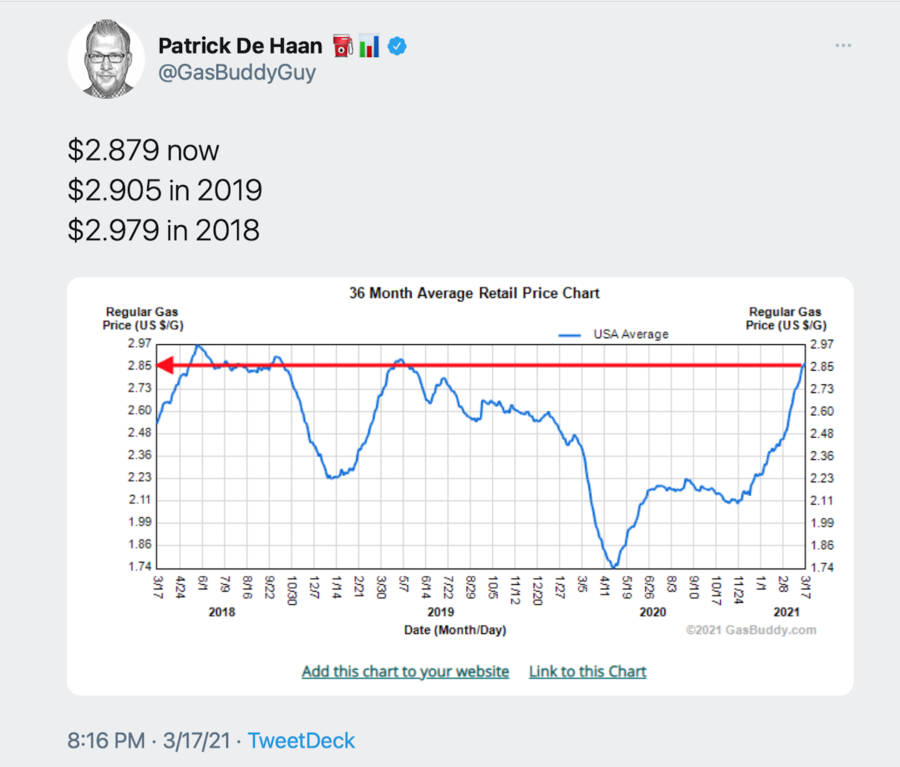 In fact, prices have been much higher than early 2021 levels, particularly from 2005-14, under the presidencies of George W. Bush and Barack Obama.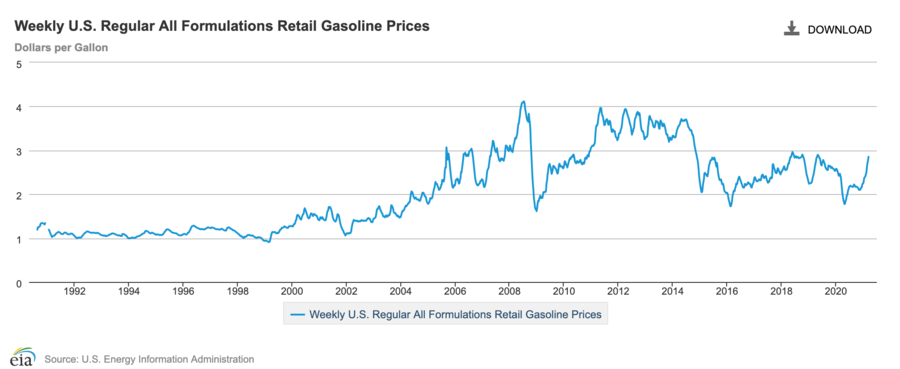 Prime among the factors driving the 2021 price rise is the recovering economy and the belief that the COVID-19 epidemic may be diminishing.
Jason Bordoff, founding director of Columbia University's Center on Global Energy Policy, told CNN for a February 26, 2021 story:
Higher oil prices are a reflection of optimism about economic growth as the world begins the process of vaccinations to move past the pandemic.
Oil prices are directly related to gasoline prices, as Robert Rapier noted in a March 6, 2021 story in Forbes:
The single biggest factor influencing changes in gasoline prices is almost always underlying changes in the price of oil. Show me a time that gasoline prices spiked or plunged, and the vast majority of the time you will find that oil followed the same pattern.
And the price of oil rose in 2021 for several reasons. Rapier highlights two:
One is that demand collapsed last year as pandemic measures were implemented and people stopped traveling. The price of oil plummeted. That, in turn, ended up idling 3 million barrels per day (BPD) of U.S. oil production relative to a year ago.

As the end of the pandemic nears, oil demand is bouncing back. Supply doesn't respond as quickly, and therefore that puts pressure on prices. If you think Biden is responsible for hastening the end of the pandemic, then you can place some blame for the rise in oil prices on him. But that's because the economy is beginning to recover, which is a good thing.

Second, unlike a year ago, OPEC and Russia recently decided to cooperate by extending most of the current output cuts. Despite some recovery in demand, Saudi Arabia kept in place a 1 million BPD cut. That decision sent oil prices sharply higher, and will likely ensure additional gains in gasoline prices.
That diminished supply of oil cannot be understated, analysts say. From a Fort Lauderdale Sun-Sentinel March 15, 2021 story:
Although gasoline demand is climbing, Americans are still consuming 9% less now than before the pandemic while U.S. daily oil production remains 20% below the 13.3-million barrel pre-pandemic peak, De Haan says, citing statistics from the U.S. Energy Information Administration.

Only 544 drilling rigs are currently in operation in the United States and Canada compared to 996 a year ago, De Haan pointed out. North American oil producers, still shaken by the unprecedented 60% drop in gasoline demand over two weeks last spring, are being cautious about restarting idled drilling rigs, which is allowing renewed demand to outstrip supply and keeping prices high.
It's not just drilling rigs. According to GasBuddy, millions of barrels of refining capacity have gone offline as a result of deep cold in the South during the winter of 2021. The travel and navigation app said in a February 17, 2021 release:
11 refineries in Texas and one in Kansas have at least partially shut due to the extremely cold weather. Refineries are exposed to the elements, and unlike facilities in the northern U.S. which are prepared for cold weather, few refineries in the south have protection from these historically low temperatures. GasBuddy calculations show 3.48 million barrels of refining capacity were offline as of midday [February 16, 2021], or nearly 20% of total U.S. refining capacity...Every day that these refineries are not operating the country is consuming more gasoline than it produces, swiftly impacting inventories.
The switch to summer fuel also adds to gasoline costs in the spring. The NACS global trade association explained the differences in a February 17, 2020 story:
In the winter, fuels have a higher Reid vapor pressure, meaning they evaporate more easily and allow cars to start in colder weather. In the warm summer months, these evaporative attributes would lead to increased emissions and the formation of smog.

There are also more fuels to produce during the transition season. In the winter months, only a few fuels are used across the United States. However, because of various state or regional requirements, 14 different fuel specifications are required for the summer months. Refineries must produce enough for each area to ensure there are no supply shortages, and that can complicate the production and distribution of fuels.

Summer-blend fuel is also more expensive to make than winter-blend fuel. First, the production process takes longer and, second, the overall yield of gasoline per barrel of oil is lower. These complexities add as much as 15 cents per gallon to the cost to produce these higher-grade fuels.
A president's policies can affect gas prices, short or long term, but no president has the power to unilaterally change prices.
Biden critics point to his cancellation of construction of the Keystone XL Pipeline shortly after taking office as a reason for increasing gas prices. Critics also single out Biden's order to bar approval of new oil and gas drilling leases on federal land as another reason gas prices have jumped.
In an online report by WHAM TV on February 16, 2021, De Haan discounted the immediate effects of those policy decisions:
President [Joe] Biden's decision a few weeks ago will, in the future, will cause price impacts, but we're talking years down the road. The short term right now has nothing to do with Keystone Pipeline.
As De Haan told the Fort Lauderdale Sun-Sentinel in a March 15, 2021 story, under the same circumstances, prices would be rising no matter who was president.