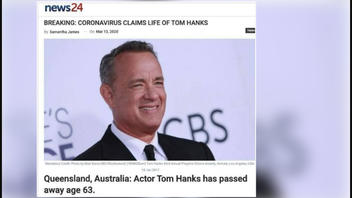 Did Tom Hanks die of coronavirus in March of 2020? Or, were reports of his 'death' last year just a code to let certain people know that he had been indicted? Was Hanks then executed in May of 2020? Has the public been tricked with computer-generated imagery (CGI) to believe that Tom Hanks has been alive all along? No, these conspiracy-laced speculations are based on a screenshot of a fake news article from a no-longer operational website and no credible publicly-available evidence supports them.
The claim appears in a post on Instagram (archived here) published by "Isis Wisdom" on March 16, 2021. It opened:
Boom!!! He was executed last may. Didn't I tell y'all they would start leaking out the deaths later? Remember the Corona Virus was code for any mainstream celebrity that got indicted. For the record I clearly see it is dated for 2020. This is a article written in code to let those who are in the know his time is up. Now go to his IG page and his Wife's IG page. Peep how their son got off social media because he found out via the internet. Wake up It's just CGI!!!
The screenshot in the Instagram post is from a fake news article posted on March 13, 2020, on the website the-daily-star.com.
This is how the post appeared on Instagram at the time of writing: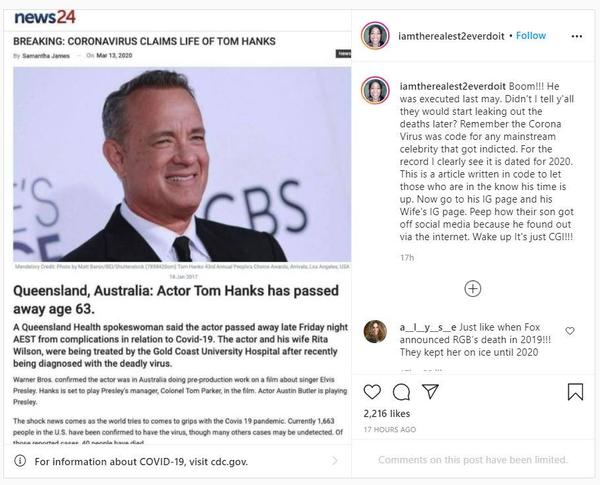 (Source: Instagram screenshot taken on Wed Mar 17 7:20:35 2021 UTC)
The conspiracy explanation spins into its narrative that the March 2020 report of Hank's death was not truthful but was actually a secret code. There is no source backing the theory embraced by many in the QAnon community. Tom Hanks is alive and published an essay about wasting time playing solitaire during the lockdown in the March 18, 2021 edition of The Wall Street Journal. Top-secret government operations involving an extra-judicial trial and execution of an A-List celebrity are not broadcast to the public as coded puzzles by means of a fake news "satire" website.
This Instagram post can be parsed in two elements:
The screenshot of a fake news article
The conclusions presented in the caption of this post
The screenshot shows an article (archived here) published by the-daily-star.com on March 13, 2020. This URL currently redirects to another website which prompts to download malware. The site was once discreetly labeled as "satire" with small, gray-on-black type at the bottom of the webpage. The click-bait article lacked the typical elements of satire: humor, irony, or witty criticism, appearing just two days after Tom Hanks announced that he and his wife Rita Wilson had tested positive for coronavirus. Below is how the satire label appears on the archived copy of the article at web.archive.org.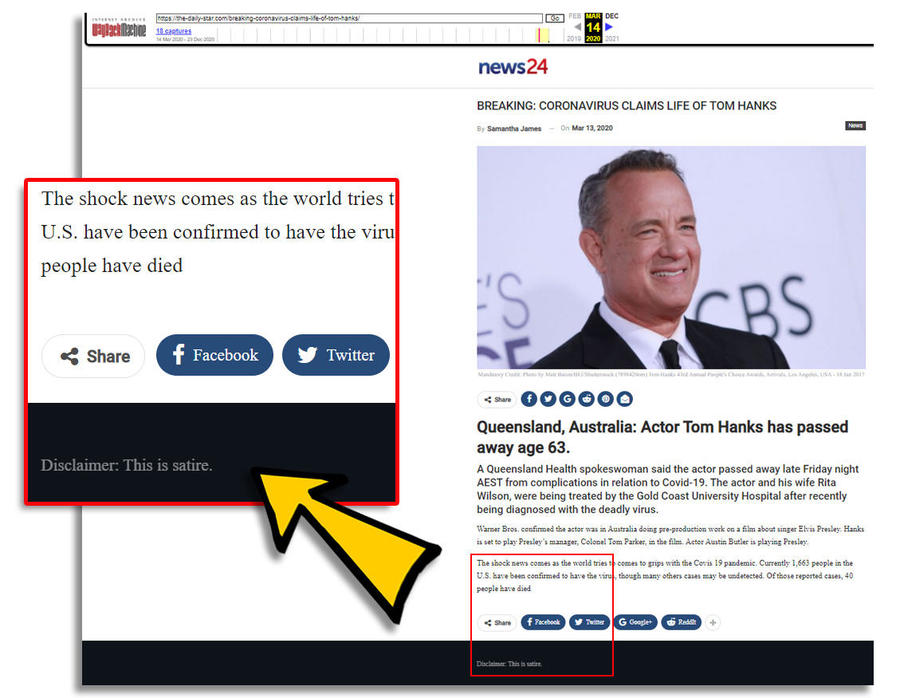 (Source: WebArchive screenshot taken on Wed Mar 17 13:15:40 2021 UTC)
Tom Hanks posted on Instagram on March 11, 2020, to tell his fans that he and his wife had tested positive for coronavirus. The following day he posted an update with a photo, together with his wife.
More QAnon conspiracies appeared shortly after. On March 18, 2020, Lead Stories debunked a claim that Hanks and others, including Canadian Prime Minister Justin Trudeau and Oprah Winfrey, had been arrested.
On April 11, 2020, Hanks hosted NBC's "Saturday Night Live" from his home, but the baseless rumors persisted.
Ladies and gentlemen, Tom Hanks! #SNLAtHome pic.twitter.com/jCmEnBjSzq

-- Saturday Night Live - SNL (@nbcsnl) April 12, 2020
On January 20, 2021, Tom Hanks was the host of the "Celebrating America" primetime special at the Biden-Harris inauguration.
A year after the-daily-star.com published a false clickbait article claiming Hanks had died, these conspiracies are still circulating. This Instagram post is not an anomaly, but repeats one established and baseless QAnon narrative that is still being pushed on social media in mid-March 2021.