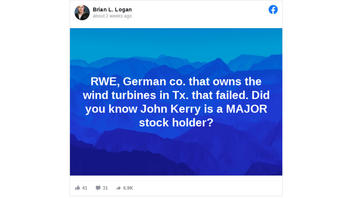 Is U.S. Special Presidential Envoy for Climate John Kerry a major stockholder in RWE AG, a German multinational energy company, that owns wind turbines in Texas? No, that's not true: In an email to Lead Stories, the company's head of investor relations said that Kerry is not a major stakeholder, and a State Department spokesman responding to Lead Stories' inquiry confirmed that.
The claim appeared in a Facebook post (archived here) published February 24, 2021, which opened:
RWE, German co. that owns the

wind turbines in Tx. that failed. Did

you know John Kerry is a MAJOR

stock holder?
This is what the post looked like on Facebook at the time of writing:
(Source: Facebook screenshot taken on Friday March 12 19:14:20 2021 UTC)
RWE has an onshore wind (turbine) fleet in Texas, which was partially out of service in February 2021 "because of icing and grid issues," the company wrote in a February 18, 2021, news release. Texas experienced massive power outages, lasting for several day in February 2021, which was set off by record-low temperatures.
Thomas Denny, head of investor relations for RWE, wrote that it is unlikely that Kerry, who was secretary of state in the Obama administration, was ever a major RWE stockholder. The German Securities Trading Act requires that shareholders owning a large amount of stock in any given company must be identified. Denny explained the disclosure system as follows:
Shares in RWE Aktiengesellschaft have been issued as bearer shares (Inhaberaktien) and not as registered shares (Namensaktien). Thus, there is no register in which shareholders of RWE Aktiengesellschaft are registered by name. Shareholders can generally not be identified by RWE Aktiengesellschaft, unless the shareholding of a certain shareholder exceeds certain thresholds triggering a notification obligation under the German Securities Trading Act. We can confirm that we have not received such notification from John Kerry. The minimum threshold for notification is 3%.

And as Head of Investor Relations, I can also confirm that I never had any interaction with John Kerry and I have no information that he was ever materially invested in RWE.
In a March 12, 2021, email to Lead Stories, a spokesman for the U.S. State Department, where Kerry now works, disputed the claim, writing "Secretary Kerry is not invested in RWE."
The Facebook post appears to support a belief that many conservatives hold about the cause of the massive power outages in Texas. They include the state's Republican Gov. Greg Abbott, who blamed the outages on the failure of wind and other renewable energy sources. The outages not only caused power failures, but many water infrastructure problems that left millions without water. Lead Stories addressed those questions in this fact check.