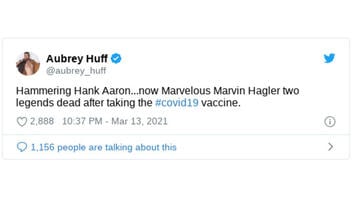 Were the deaths of baseball great Hank Aaron and famed boxer Marvelous Marvin Hagler caused by the COVID-19 vaccine? No, there's no publicly available evidence that's true: Hagler's wife said the vaccine "for sure" did not cause the death of her husband. Aaron's death was similarly not related to the vaccine, according to the medical examiner's office in Fulton County, Georgia.
The claim was implied in an Instagram post (archived here) posted by "Aubrey Huff" on March 14, 2021, whose Instagram account is topped with the phrase "Do not take the vaccine." Huff made the same claim about Aaron and Hagler on Twitter. The posts read:
Hammering Hank Aaron...now Marvelous Marvin Hagler two legends dead after taking the #covid19 vaccine.
Users on social media saw this:
The posts do not cite any sources or evidence, and there is no publicly available proof that either death was caused by the vaccine.
Following her husband's death, Hagler's wife posted a message on Facebook that said the vaccine "for sure" wasn't the cause. She wrote:
I was the only person close to him until the last minute, and I am the only person that know how things went not even his family know all the details and I do NOT accept to read some stupid comment without knowing really what happen. For sure wasn't the vaccine that caused his death. My baby left in peace with his usually smile and now is not the time to talk nonsense.

A statement on Hagler's official website cited "natural causes" as the reason for the famed boxer's death. He was 66. The statement read:
We are very sad to report that Marvelous Marvin Hagler died on March 13 of natural causes near his home in New Hampshire. He was a champion until the end. His family asks for privacy at this time of sorrow.
The claim about Hagler's life being in danger as a result of the vaccine apparently stemmed from an earlier Instagram post from fellow boxer Thomas Hearns. He reportedly wrote about Hagler: "he's in ICU fighting the after effects of the vaccine!" After Hagler died, Hearns wrote: "Allow us to have our peace. Our love and respect to Marvin and his family, this is not an anti vaccine campaign ... it's outrageous to have that in mind during the passing of a King, Legend, Father, Husband and so much more." Neither of Hearns' messages were still visible at the time of writing.
Similarly, there does not appear to be any link between the COVID-19 vaccine and Aaron's death. The Major League Baseball great died in January at the age of 86. According to Aaron's former team, the Atlanta Braves, he passed away peacefully in his sleep. Because Aaron had joined other civil rights icons in getting the vaccine shortly before his death, some social media posts -- like the one cited above -- tied those two events together.
Louis Sullivan, who was vaccinated along with Aaron and is the founding dean of the Morehouse School of Medicine, told a local station, WSB-TV, that such a connection is false. He said:
The people who are trying to say there was a relationship between Hank's death and the vaccine are absolutely wrong. That's not true ... That was a pure coincidence, and it is (as) though, if you might say, Hank was in a car before the day he died, and we try and attribute his death to being in a car. So that really is how ridiculous the efforts of the anti-vaccine people are in trying to discredit this vaccine.
Lead Stories also reached out to Fulton County Medical Examiner Karen Sullivan to ask about Aaron's death. In her medical opinion, she said, his passing was not related to his having received the COVID-19 vaccine.