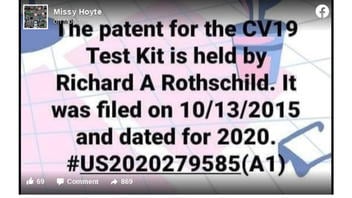 Did Richard A Rothschild patent a COVID-19 test kit in 2015? No, that's not true: Richard A Rothschild's patent application for a system and method to test for Covid-19 was submitted on May 17, 2020, not in 2015. The 2020 patent application lists several 'events' (a patent law term) and included in that list of events are several 'priority dates' for earlier patent applications on which this one piggybacks. The event with a 2015 priority date is a 'System and Method For Using, Processing, and Displaying Biometric Data'. In 2020, Rothschild built upon that older idea to design a method for testing for COVID-19. The priority date points to older ideas which are included in the 2020 invention. That date does not indicate that the 2015 patent application foretold the Coronavirus Pandemic of 2020.
The claim appears on Facebook in a post (archived here) where it was published on March 22, 2021. The text in the meme reads:
The patent for the CV19 Test Kit is held by Richard A Rothschild. It was filed on 10/13/2015 and dated for 2020. #US2020279585(A1)
This is what the post looked like on Facebook at the time of writing:
(Source: Facebook screenshot taken on Fri Mar 26 14:02:18 2021 UTC)
This Facebook post refers to a "CV19 Test Kit." Rothschild's 2020 patent application is not for a "Test Kit". The 2020 application outlines a system and method of health testing based, in part, on the inventor's earlier idea from 2015, a 'system and method for using, processing, and displaying biometric data.' Rothschild's 2020 patent application includes the priority date of 2015 because the new idea for how this could be applied to COVID-19 is based on his original idea from 2015.
A blog post by California Patent Lawyer James Yang explains this aspect of priority dates in general terms:
Does everything in the later filed patent application enjoy a priority date of the earlier filed patent application?
The claim of priority does not give the later filed patent application the benefit of the filing date of the earlier filed patent application for everything described or disclosed in the later filed patent application. Rather, only those things that are described in both the earlier and later-filed patent applications enjoy a priority date of the earlier filed patent application.
Posts about a purported 2015 COVID-related patent application were going viral in October of 2020. An October 1, 2020 post on Facebook in English uses a screenshot from a Dutch Patent search with a red circle around the word, "Prioritetsdatum: 2015-10-13." A video (archived here) with German language narration was published on BitChute on October 4, 2020. Most related posts on social media share authentic screenshots, patent application numbers and search results associated with Richard A. Rothschild's patents:
In many cases the posts make no direct false claims, but rely on the audience not understanding the use of 'priority dates' or 'prioritetsdatum' in patents. This results in false conclusions that an inventor by the name of Rothschild knew COVID-19 was coming and sought a patent for an invention related to the pandemic as early as 2015. The English language caption with the German language BitChute video, does spell out that false claim:
US patent: US2020279585
Was registered by Rothschild A. in 2015.
Here someone knew very early on that from [long before] 2019 you can earn money with an illness that will not exist until 4 years later ...
But we're all just conspiracy theorists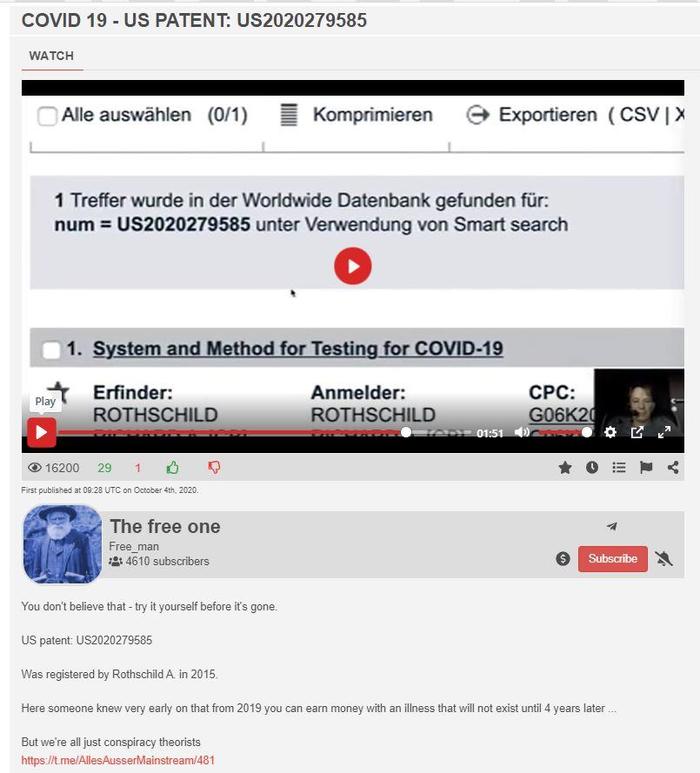 (Source: BitChute screenshot taken on Fri Mar 26 17:14:15 2021 UTC)
One way this misleading information was spread was through a hashtag containing the patent number. Regardless if the pound symbol was an intentional or inadvertent hashtag, Facebook presents these posts together when searched. Many of these posts do not make any claims, but instead simply point people to complicated patent filings.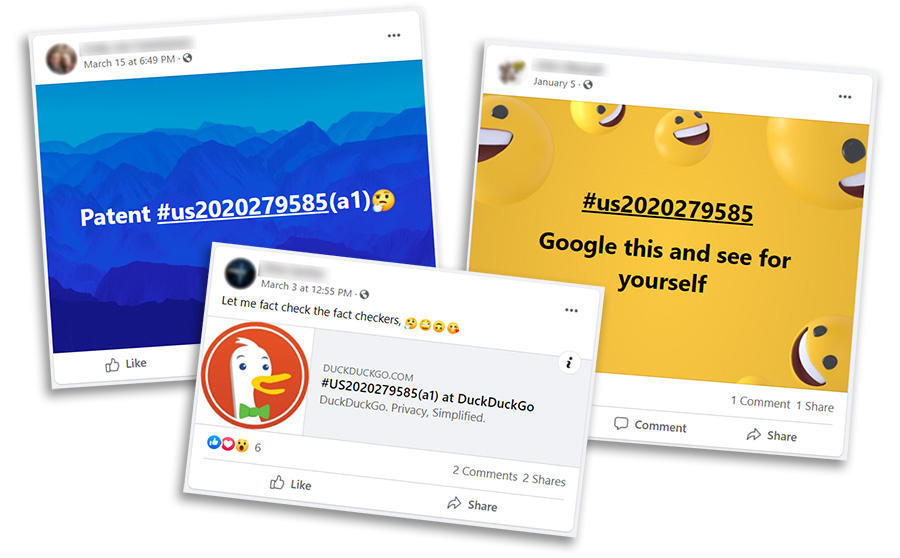 (Source: Facebook screenshots taken on Fri Mar 26 18:34:43 2021 UTC)
Lead Stories was unable to find any publicly available information linking the inventor Richard A. Rothschild with the famous banking family. On October 5, 2020 the Spanish Fact Checking website Newtral.es published an article addressing the rumors about this patent. They also looked into the question if there were ties between the inventor and the Rothschild family, which is often a target of conspiracy theories about Jewish plots for world dominion. Newtral.es wrote:
Facebook posts link this hoax to the Rothschild Family, the focus of various conspiracy theories. From Newtral.es we have contacted the company Rothschild & Company, the main company of the family, which claims "not to have a relationship with the person listed as the inventor."