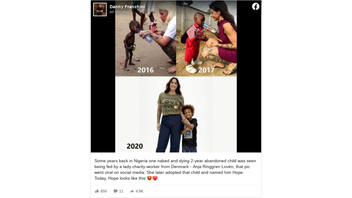 Do these photos show a charity worker from Denmark adopted a naked and dying 2-year-old abandoned child in Nigeria? No, that's not true. Charity worker Anja Ringgren Lovén is in all of the photos in the meme, with different-colored hair. The boy in the photos from 2016 and 2017 is the same young Nigerian child. She did not adopt him but he does live at the children's rescue center she runs with her husband in Nigeria, the Land of Hope charity organization confirmed to Lead Stories. The third photograph is her with her biological son, David, according to Facebook photos that clearly identify him as her son, not the child from the first two photos.
The claim appeared as a post (archived here) where it was published on Facebook on March, 22, 2021. It opened:
Some years back in Nigeria one naked and dying 2-year abandoned child was seen being fed by a lady charity-worker from Denmark - Anja Ringgren Lovén, that pic went viral on social media. She later adopted that child and named him Hope. Today, Hope looks like this
This is what the post looked like on Facebook at the time of writing:
(Source: Facebook screenshot taken on Fri Mar 26 19:00:04 2021 UTC)
The woman in the photographs is from Denmark and was a charity aid worker in Nigeria in 2016 when she was first photographed with the naked young child. She rescued the little boy and he moved into the Land of Hope center she runs with her husband, David Emmanuel Umem, according to an interview her sister, Tina Ringgren Lovén, gave to AFP Fact Check in 2018. A similar claim had gone viral with the photographs of Lovén and Hope and their photographs a year apart.
"(Anja Ringgren) Loven has not adopted Hope. She rescued him and he is now living at Land of Hope, which is a children's center in Nigeria that Anja and her husband David founded," Tina said.
The social media assistant for Land of Hope confirmed to Lead Stories that Hope was not adopted by Anja and that he, "lives at Land of Hope on the same terms as the other children."
Lovén's own son is the boy in the photo at the bottom of the meme. He is featured throughout her Facebook page with messages about how they spend Christmas together and in which she identifies him as her son.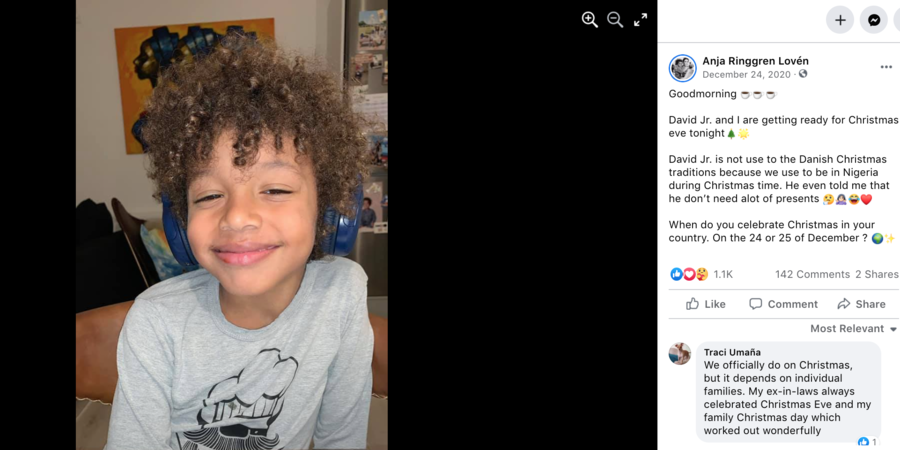 Lead Stories reached out to Lovén for comment and will update the story when she responds.