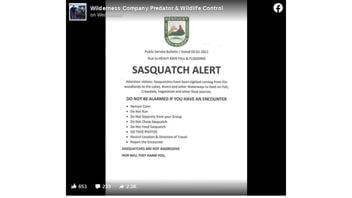 Did the Kentucky Department of Fish & Wildlife Resources issue a "Sasquatch Alert"? No, that's not true: This purported public service bulletin bearing the logo of the Kentucky Department of Fish & Wildlife Resources is a hoax. The Kentucky Department of Fish & Wildlife Resources has confirmed that this is not an official release from their department.
One example of a post (archived here) was published on March 3, 2021. It opened:
Public Service Bulletin / Dated 03-01-2021
Due to HEAVY RAIN FALL & FLOODING

SASQUATCH ALERT

Attention visitors: Sasquatches have been sighted coming from the
woodlands to the Lakes, Rivers and other Waterways to feed on Fish,
Crawdads, Vegetation and other food sources.

DO NOT BE ALARMED IF YOU HAVE AN ENCOUNTER
This is what the post looked like on Facebook at the time of writing:
(Source: Facebook screenshot taken on Mon Mar 8 14:32:04 2021 UTC)
The timing of this "Sasquatch Alert" hoax coincides with real flooding in Kentucky that prompted Gov. Andy Beshear to declare a state of emergency on the evening of Sunday, February 28, 2021, as heavy rain fell across the state.
The text of the fake sasquatch alert continued:
Remain Calm


DO Not Run
Do Not Separate from your Group
Do Not Chase Sasquatch
Do Not Feed Sasquatch
DO TAKE PHOTOS
Record Location & Direction of Travel
Report the Encounter

SASQUATCHES ARE NOT AGGRESSIVE
NOR WILL THEY HARM you.
Lead Stories reached out by email to Kevin Kelly, chief communications officer at the Department of Fish & Wildlife Resources to find out more about this alert. He replied:
This fake "alert" has been making the rounds on Facebook in recent days, mostly by individuals. It's not an official release from the department and did not originate from the department to my knowledge.

A police department in northern Kentucky posted this "alert" yesterday on its Facebook page and presented it as a "release." We quickly reached out to the police department through Messenger and respectfully requested its removal. The police department took down the post soon after.