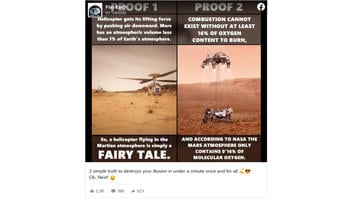 Is the atmosphere on Mars too thin for the Ingenuity helicopter to fly and does it lack enough oxygen for combustion to brake any ship on landing? No, that's not true: Mars' atmospheric volume is less than 1% of that on Earth and the Red Planet has less than the 16% oxygen found on Earth, but scientists have found ways to circumvent those limitations: the helicopter is ultralight and has large rotor blades, and the engines produce their own oxidizer for thruster combustion.
The claim appeared in a post (archived here) published on Facebook on March 2, 2021. It opened:
2 simple truth to destroys your illusion in under a minute once and for all

Ok, Next!



This is what the post looked like on Facebook at the time of writing:
(Source: Facebook screenshot taken on Fri Mar 5 19:53:13 2021 UTC)
'Proof 1' Mars' atmosphere is too thin
The first clue that these claims about Mars are not true should be that the United States was able to land and safely return to Earth 12 astronauts from six lunar missions from 1969-72. The moon's atmosphere is so thin, that it is basically considered a vacuum. It does not contain any measurable oxygen. Nonetheless, lunar excursion modules were able to use the descent engine to control their landings and later blast off from the moon's surface using the ascent engine to return to the command module. Both of those engines required combustion without any atmospheric oxygen.
Likewise, NASA says, the atmosphere on Mars in no way resembles that on Earth:
The atmosphere of Mars is much thinner than Earth's. The Red Planet's atmosphere contains more than 95% carbon dioxide and much less than 1% oxygen.
NASA also points out that Mars also has much less gravity than Earth:
Mars has about one-third the gravity of Earth. A rock dropped on Mars would fall more slowly than a rock falls on Earth. A person who weighs 100 pounds on Earth would only weigh about 38 pounds on Mars because of the reduced gravity.
Helicopters basically lift by pushing air down, as the Liberty helicopter company pointed out in a December 11, 2018 posting:
For a helicopter, a lift is generated by the way the main rotor blades are formed so the air is pushed in a downward movement when the blades spin. As the air pressure changes, the helicopter lifts up.
So while a helicopter would need stronger lift capacity due to a thinner atmosphere, that is compensated for somewhat because there is less gravity to hold it down. NASA's Jet Propulsion Laboratory explains in a January 2021 press kit how the Ingenuity helicopter will fly:
Mars has a rarefied atmosphere - just about 1% of the density of our atmosphere on Earth. Because the Mars atmosphere is so much less dense, Ingenuity is designed to be light, with rotor blades that are much larger and spin much faster than what would be required for a helicopter of Ingenuity's mass on Earth. Mars does give the helicopter a little help: The gravity there is only about one-third that of Earth's. That means slightly more mass can be lifted at a given spin rate.
The Jet Propulsion Laboratory offers these facts about Ingenuity:
Weight: About 4.0 pounds (1.8 kilograms) on Earth, and about 1.5 pounds (0.68 kilograms) on Mars
Height: 1.6 feet (0.49 meters)
Rotor system: Four specially made carbon fiber blades arranged into two 4-foot-long (1.2-meter-long) counter-rotating rotors that spin at roughly 2,400 rpm
Fuselage (body) dimensions: 5.4 inches by 7.7 inches by 6.4 inches (13.6 centimeters by 19.5 centimeters by 16.3 centimeters); four carbon composite landing legs, each 1.26 feet (0.384 meters) long, giving the helicopter about 5 inches (13 centimeters) of clearance above the ground
Power: Solar array on top of the rotor system charges six lithium-ion batteries
Here is a more-detailed recounting of how scientists and engineers designed Ingenuity, as told in the February 16, 2021 issue of Smithsonian Magazine:
To generate enough lift, MiMi Aung, the project's manager at NASA's Jet Propulsion Laboratory (JPL), and a team of engineers led by JPL's Bob Balaram had to redesign traditional rotorcraft down to the very shape and material of the rotor blades, while also dramatically cranking up how fast those blades spin. The final product sports two stacked rotors featuring blades roughly four feet in diameter that spin in opposite directions at 2,400 revolutions per minute ...

... reducing Ingenuity's weight was a constant obsession for those on the project, says Aung. No matter what, the helicopter had to weigh four pounds or less ...

"Everything we did to make it incredibly lightweight was countered by the need to make it strong enough to withstand launch and the trip to Mars," says Balaram.
'Proof 2' rockets/thrusters need atmospheric oxygen unavailable on Mars
The second claim is also incorrect: the rocket engines landers use to steer and fly do not need external oxygen to combust. The spaceships bring their own oxidizer. This is how the lunar excursion modules were able to lift off from the moon's surface. And it's how the Perseverance Mars Rover was able to land, according to the Defense Logistics Agency in a Feb. 23, 2021, release:
Fueled by Defense Logistics Agency Energy-supplied liquid oxygen and rocket propellant, NASA's rover Perseverance safely touched down on Mars on Feb. 18 after a seven-month, 292-million-mile journey.

Using thrusters fired with DLA Energy hydrazine, the $2.7 billion rover landed in an ancient lake bed called Jezero Crater. The Perseverance is on a two-year mission to find evidence of past life on Mars.

"DLA Energy hydrazine has always been used by NASA for its missions to Mars," said DLA Energy Aerospace Energy Director of Customer Operations Steve Nichols. "The hydrazine propelled the spacecraft in its cruise stage from Earth to Mars and small thrusters were used to adjust the vehicle's course. Most of the hydrazine is used to fire bigger thrusters to control entry, descent, and landing on the Martian surface."
NASA is exploring ways to bring a spacecraft back to earth using "technology that converts carbon dioxide into oxygen with a process called electrolysis," as outlined here.
NASA offers a timeline of the entry, descent and landing here.