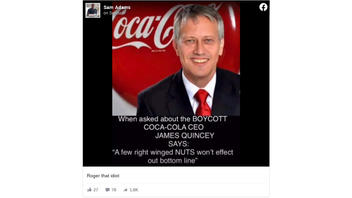 Did the CEO of Coca-Cola say boycotters are "a few right winged nuts"? No, that's not true: There's no publicly available evidence James Quincey ever said that. A spokesman for the company told Lead Stories the quote is fabricated.
The claim appeared in a Facebook post (archived here) published on March 7, 2021. It included a brief introductory message, "Roger that idiot," and read:
When asked about the BOYCOTT COCA-COLA CEO JAMES QUINCEY SAYS: 'A few right winged NUTS won't effect out bottom line'
This is what the post looked like on Facebook at the time of writing:
(Source: Facebook screenshot taken on Mon Mar 8 14:55:10 2021 UTC)
The post's obvious grammatical mistakes (effect v. affect, out v. our) suggest the quote is not authentic. Also, the post does not provide any sourcing for its claim.
Lead Stories conducted searches on Bing, DuckDuckGo and Google and found no credible corroboration of the CEO's purported quote. In fact, what turned up were other fact-checks, debunking the claim. We also reached out to Coca-Cola. In an email, dated March 8, 2021, company spokesman Scott Leith said the quote is fabricated.
The false post was likely inspired by a true controversy. Last month, images of slides, reportedly from a Coca-Cola online racism training, were made public. The slides urged staff to "try to be less white."
Coca-Cola responded to the controversy in a statement, dated March 2, 2021, stressing that the content, available through its training platform, was not part of its training curriculum. The statement read, it part:
The goal of our diversity training is to help build a better workplace, one that is respectful for all. Recently, we learned that content accessible through our company training platform did not align with this approach. To be clear, this was not a part of our training curriculum and we immediately removed the links to that content.

We apologize to those who were offended by this content. We would never encourage anyone to be any less of themselves.
Lead Stories has written about the Coca-Cola controversy before. See our previous reporting here.