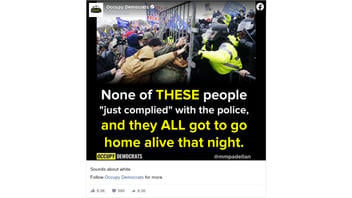 Did all the rioters at the U.S. Capitol survive their encounters with Capitol Police during the January 6, 2021 assault? No, that's not true: Ashli Babbitt, one of the rioters, was fatally shot by a Capitol Police officer while breaking into the lobby of the House of Representatives' chamber.
The claim appeared in a Facebook post (archived here) by Occupy Democrats on April 13, 2021. The post, captioned: "Sounds about white. Follow Occupy Democrats for more," included an image of rioters pushing against a barricade outside the Capitol building and the following text:
None of THESE people "just complied" with the police, and they ALL got to go home alive that night.
This is what the post looked like on Facebook on April 14, 2021:
(Source: Facebook screenshot taken on Wed Apr 14 22:43:16 2021 UTC)
The original picture of the riot scene was published by the Los Angeles Times website on January 6, 2021. The Facebook post suggests that those photographed survived the riot without being killed by Capitol Police officers. That seems true, as Babbitt does not appear to be in the frame of the photo.
The implied message, however, is that Capitol rioters overran police and were not arrested or shot. The post appeared when the nation's attention was focused on several deaths of Black Americans, some compliant and some not, at the hands of police.
Babbitt, a 35-year-old U.S. Air Force veteran, gained entry into the Capitol building through a broken window. Once inside, she was shot in her shoulder and killed by an unidentified Capitol Police officer while she was trying to breach a door into a lobby of the House of Representatives chamber. On April 14, 2021, the U.S. Department of Justice announced that it would not pursue criminal charges against the officer who killed Babbitt.
There were also three other civilian deaths that occurred due to health complications during the riot. Officer Brian Sicknick, a Capitol Police officer, was beaten during the riot and died the following day, although as of April 14, 2021, the Capitol Police have not released information about the exact cause of his death.