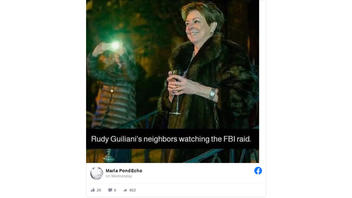 Is there a picture of Rudy Giuliani's neighbors watching his residence being raided by the FBI? No, that's not true: Although the apartment of the former New York City mayor and personal attorney for Donald Trump was searched by the FBI, no pictures have been released of his neighbors watching the raid take place.
The claim appeared in a Facebook post (archived here) on April 28, 2021. it featured an image of a woman in a fur coat holding a wine glass and smiling on outdoor residential steps while another person in a down coat stands in the background using their phone as a camera. The text in the image read:
Rudy Guiliani's neighbors watching the FBI raid.
This is what the post looked like on Facebook on April 30, 2021:
(Source: Facebook screenshot taken on Fri Apr 30 18:48:18 2021 UTC)
Using a TinEye reverse image search on April 30, 2021, Lead Stories discovered that the picture featured in the Facebook post originated in an article published by the Daily Mail on April 2, 2017. That article was about a protest for climate justice in the form of a dance party on April 1, 2017, in front of the Washington, D.C., residence of Ivanka Trump, former President Donald Trump's daughter. A screenshot of the description of the dance party is below: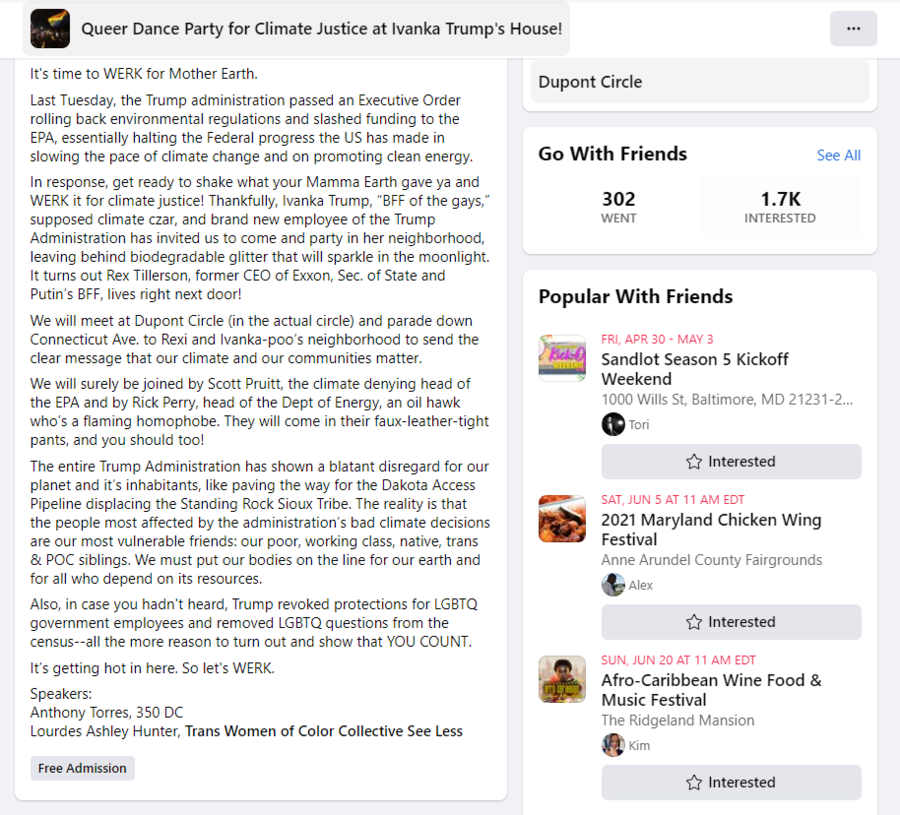 (Source: Facebook screenshot taken on Fri Apr 30 18:22:00 2021 UTC)
According to the Daily Mail article, many of Ivanka Trump's neighbors were not happy about the event. However, some, such as Dianne Bruce, the woman in the fur coat below, were seemingly more amused than annoyed. A screenshot of the image as it appeared in the article is below: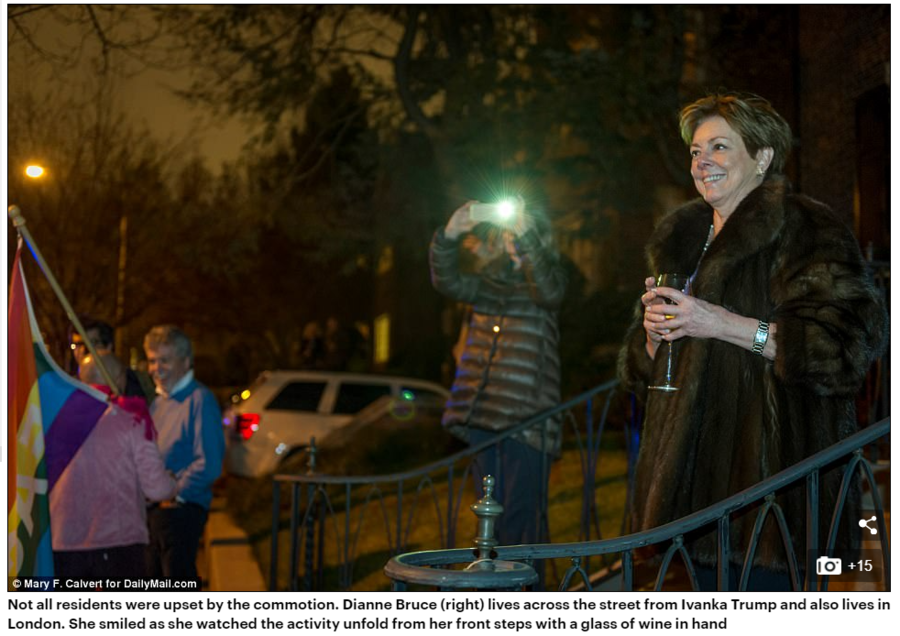 (Source: DailyMail.com screenshot taken on Fri Apr 30 14:04:06 2021 UTC)
Giuliani's Madison Avenue apartment was searched on the morning of April 28, 2021, for evidence that could relate to his dealings with Ukraine. His office, located in Manhattan, was also searched. Investigators seized electronic devices such as cellphones and computers. The U.S. Department of Justice and U.S. Attorney for the Southern District of New York have not issued press releases about the case.
While no images or videos of Giuliani's neighbors' reactions as the raid was taking place were released, one neighbor did speak to the press about what she witnessed after the search and seizure occurred. Clips of her comments were posted to Twitter by The Recount on April 28, 2021 and one of the tweets of the clips are embedded below:
Michele Herbert, a tenant in Rudy Giuliani's building, discusses the suspected FBI raid on his residence. pic.twitter.com/6eeET0TkVt

-- The Recount (@therecount) April 28, 2021